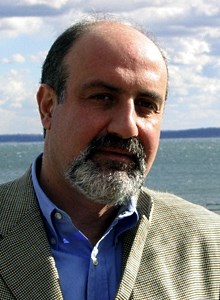 Nassim Nicholas Taleb is a Greek Orthodox Christian from Lebanon; the Levant. In the course of his book Antifragile, he promotes skepticism, theism, tradition, the writings of the stoics and seeks to restrict the claims of theory and "naïve rationalism."
Elsewhere I have said that often theory seems to make us stupider than we would be without the theory. This is particularly true when theory says something is not possible. A key phrase Taleb appeals to is from Friedrich Nietzsche, hardly a defender of tradition or theism, "Just because something is unintelligible to you does not mean it is unintelligent." Many traditions, such as those involving fasting may seem unintelligible to many but there can be reasons for thinking that they are intelligent.
One of the things I have found interesting about Taleb is the way he extends what I had in my own thinking thought of as 'mystery' to areas of human life I had not previously considered. My list of the 'mysterious' had included life: what is it, where did it come from and why; consciousness, morality and free will. Emotion too is mysterious because it is implicated in a proper existential attitude to the world and yet it is not fully intelligible. Emotion complements reason but by definition is not simply reason itself. Thus its workings and logic has to be intuited and felt rather than fully explicated.