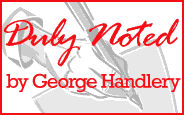 The decline and fall of civilizations is man-made and as such reversible.
To the extent that it is run by the Red-Greens, the apple of Western civilization has been allowed by its supposed guardians to house maggots. The resulting rot is not the product of unavoidable decay at work. Those that think that a law makes civilizations rise and then fall hide behind a fake determinism that excuses the accountable.
Civilizations, like the graphic tabulations of temperatures, have their natural ups and downs. Not "rise and fall", rather "achievement, stagnation, correction, decline, recovery or crash" are the fitting words. Whether a down is followed by a recovery or a collapse is not an expression of "fate" but of choices. Like wealth and poverty, so decline and subjection are largely man-made. A translatable Yiddish-Hungarian proverb expresses the idea when it warns, "misfortune seldom comes from above".