Grafisch ontwerper en student journalistiek Rik Boey uit Borgerhout heeft een interessante webpagina waarop hij "verdachte logo's" verzamelt. Logo's van verschillende bedrijven, organisaties of initiatieven, die opvallend op elkaar gelijken. Er hoeft daarom niet noodzakelijk sprake te zijn van plagiaat. Maar The Brussels Journal ontdekte nog een opvallende en verdachte gelijkenis, die Boey kan toevoegen aan zijn lijst.
Als je de lijst van Boey bekijkt, zijn de gelijkenissen inderdaad opvallend. Neem nu de logo's van de provincie West-Vlaanderen, van het Indiase telecom-bedrijf Hutch, en van Maas Services, een verhuurder van tabaksautomaten.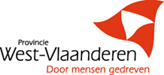 Boey heeft ook een gelijkenis gevonden tussen het logo van het Britse voorzitterschap van de EU, dat gisteren van start ging, en Convention Management, een conferentie-organisator uit Nieuw-Zeeland.


Maar zoals we kunnen lezen in een artikel van Paul Belien op de Engelstalige sectie van deze website, is er nog een opvallender gelijkenis met het logo van het Britse voorzitterschap, en wel binnen de Europees-Britse politieke sfeer: de Britse eurosceptische denktank The Bruges Group.

Het is inderdaad zeer ironisch dat de Britse regering al dan niet onbewust een logo koos dat zeer sterk lijkt op dat van een denktank die een losse confederatie van vrije onafhankelijke staten voorstelt als model voor Europa.
In hetzelfde artikel lezen we ook dat zelfs de Europese vlag als een "verdacht logo" kan beschouwd worden: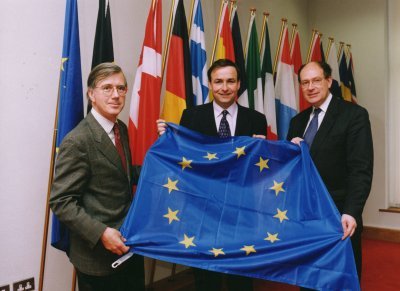 De Europese vlag.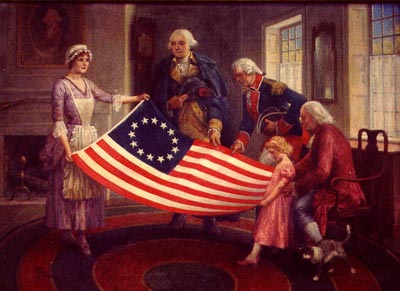 Mei 1776: Betsy Ross presenteert de eerste Amerikaanse vlag aan George Washington.