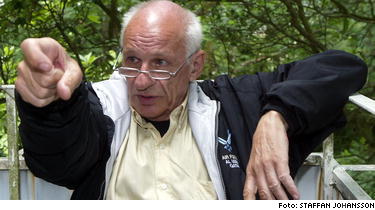 Ulf Hjertström, a sexagenarian Swedish oil broker who was released by kidnappers in Iraq on 30 May after an ordeal of 67 days, has already "invested" 50,000 dollars to exact revenge on the "bastards." He is prepared to "invest" even more.
Hjertström had been held hostage together with the Australian Douglas Wood. According to the Australian newspaper Herald Sun, the Swede made a deal with "bounty hunters to track down his former captors, promising to eliminate them one by one."
In an interview with the Swedish tabloid Expressen Hjertström said: "I've lived [in Iraq] for a long time. This is how things are done there. It's nothing new to me." He told the paper he expected the total sum for finding all the kidnappers to be higher than the 50,000 dollars already paid. So far, two of his former captors have already been "taken care of" by the bounty hunters, Hjertström said. He does not know exactly what this entails and he does not inquire but he has his suspicions.
This story proves that Iraq is far from a working democracy under the rule of law. Otherwise Hjertström would not need to take such action. It is hard not to feel sympathy for what the Swede is doing, given the ordeal he suffered during captivity. His kidnappers put him through ten mock executions and made him look on while they killed other prisoners. Hjertström thinks that he and Wood only survived because they were wealthy. The terrorists killed captives they considered too poor to bring in a ransom. Hjertström says his primary motive is not revenge: "I just want the people of Baghdad to feel safe on the streets."
According to Billy McCormac of the Swedish Spectator Giuliana Sgrena "could not be reached for comment."