Groot-Zwitserland. Mag Vlaanderen er ook bij?
From the desk of Alexandra Colen on Sat, 2010-07-24 15:06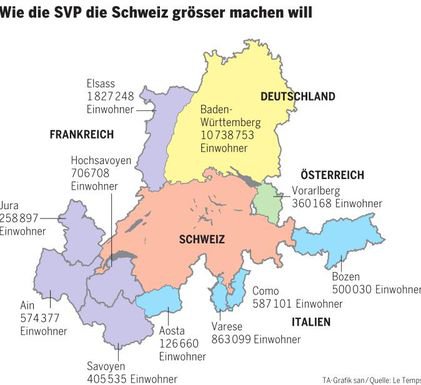 Een politicus van de Zwitserse Volkspartij SVP stelt voor om de Zwitserse grondwet te wijzigen zodat Zwitserland uitgebreid kan worden met aangrenzende provincies en deelstaten van Duitsland, Frankrijk, Oostenrijk en Italië (zie kaart). De Zwitserse bevolking zou daardoor toenemen van 7 naar 24 miljoen inwoners.
En wat blijkt uit een opiniepeiling in deze aangrenzende regio's? Dat een verbluffende 63% van de bevolking in deze aangrenzende regio's zich liever van hun huidige staat en de EU wil afscheuren en bij Zwitserland voegt.
Naar verluidt werd op het SVP-voorstel schamper gereageerd door de Duitse ambassade in Bern die zich afvroeg wanneer Zwitserland een uitweg naar zee zal eisen. Wat mij betreft mogen ze die uitweg hebben. Ik zou Vlaanderen immers maar al te graag bij Zwitserland voegen. Vlaanderen wordt soms Beieren-aan-de-Noordzee genoemd, maar ik zou liever hebben dat het Zwitserland-aan-de-Noordzee wordt. Dan hebben we eindelijk een echte democratie!