Something Rotten in the States of Holland and Turkey
From the desk of Anthony Salvia on Tue, 2012-11-06 05:26
Dutch Prime Minister Mark Rutte is in Istanbul this week to meet with his Turkish counterpart, Recep Tayyip Erdoğan, with a large retinue of Dutch CEOs in tow. The aim is to boost bi-lateral economic ties between the two NATO allies, which are now valued at over €5.5 billion a year.
Highly unlikely to figure in the official talking points is any mention of lawsuits that were brought against a Dutch citizen by two Turkish citizens -- Mustafa Y. and Osman B - in 2008 and 2010, respectively, and which still have not been taken up by Dutch or Turkish prosecutors.
Why the delay in prosecuting the case? Perhaps because the plaintiff -- Mr. Joris Demmink, former Secretary General of the Royal Dutch Ministry of Security and Justice -- was, until his retirement two weeks ago, the Netherlands' highest ranking law enforcement official.
What is the charge? The young Turkish men claim Demmink raped them and numerous other boys in the 1990s in Turkey when Mustafa was 14 and Osman was 12 years old. A third Turkish victim has since come forward.
Imagine Jerry Sandusky as Attorney General of the United States, and you can begin to fathom why this case has never seen the light of day.
Mr. Demmink denies ever having been in Turkey during the years in question -- despite evidence to the contrary:
Istanbul's then-chief of police has stated publicly that he assigned agents to protect Demmink on visits to Turkey at that time.
A senior Turkish intelligence officer has authored a report detailing Demmink's travels to and from Turkey throughout the 1990s and early 2000s, including the aliases he used when entering and exiting the country.
A Turkish policeman, Mehmet Korkmaz, has told Turkish media that he procured boys for Demmink at Demmink's behest when Demmink was in Turkey. He has said he would be happy to testify to this effect for Dutch investigators.
But no investigation is under way because Dutch legal authorities (Demmink's subordinates) have accepted at face value Demmink's claim not to have been in Turkey during the times specified in the lawsuits.
Two weeks ago, the Turkish daily newspaper, VATAN gave readers a sweeping overview of the Demmink affair. Since publication, thugs telephoned Mustafa and Osman, as well as Mehmet Korkmaz, the policeman who supplied Demmink with boys, and the journalist Buhran Kazmal, who has written about the case, threatening to harm them and their families unless they retracted their statements. All are now in hiding and reported by their attorney to be scared to death.
Although a bilateral affair between the Netherlands and Turkey, the United States has every right to insist that justice be served. For one thing, protecting human life, the safety of children and the innocence of childhood is a matter of transcendent, global concern, and one of the cornerstone values of what used to be known as Christendom.
In addition, the Atlantic Alliance must uphold the rule of law, human rights and due process, or the enlightened civilization it came into to being to defend will be at serious risk.
Shockingly, but not surprisingly, the US Department of State has steadfastly defended Demmink, saying no charges have ever been proved.
That is because no investigation has ever been allowed to get underway, let alone reach any meaningful conclusions.
Representative Christopher Smith (R-NJ), who recently chaired a Congressional hearing on the Demmink affair, expressed his astonishment that the very Dutch agency charged with investigating and prosecuting the heinous crime of pedophilia is itself headed by an alleged pedophile.
The Netherlands is an affluent country, a long-time friend and ally of the United States, and a staunch proponent of such liberal values as the rule of law, human rights and due process. For all of that, the United Nations has designated the Netherlands one of the world's top ten centers of pedophilia.
The task of ridding the world of transnational child sex trafficking becomes a lot harder to achieve without the full cooperation of the Dutch authorities -- and those very authorities appear to be engaged in a conspiracy to protect Mr. Demmink and the other members of his ring. That is unacceptable.
If the meeting of the Dutch and Turkish heads of government later this week can do anything to facilitate a full and open investigation of the charges against Demmink, they will be striking a blow for the rule of law, the triumph of humane values and children everywhere.
Meanwhile, watch Demmink like a hawk. He recently announced his retirement. He is a risk to flee to a country with no extradition treaty with the Netherlands.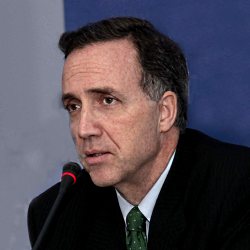 Anthony Salvia is an independent consultant in international governmental relations and public advocacy based in New York. Previously, he served as special advisor to the US Undersecretary of State for Political Affairs in the Reagan Administration, Deputy Director of the Arms Control and Disarmament Agency, and Director of Radio Free Europe/Radio Liberty's Moscow bureau.