Allons Enfants de la Jihad
From the desk of Paul Belien on Tue, 2005-11-08 14:01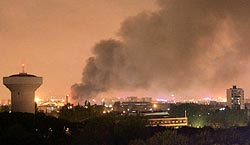 Yesterday, Michel Pajon, the mayor of Noisy-le-Grand near Paris, asked for the French army to intervene and stop the violence which is taking over France. The mayor – a Socialist – went on French radio to say that what is happening in his country is absolutely appalling:
"Women have been made to stop on the streets of my town. They were dragged from their cars by their hair, they were practically stoned and their cars were set ablaze... The situation is absolutely dramatic and inacceptable. This is a real scandal. I sound the alarm bell in my town. If the state is incapable of defending us, we will have no choice but to defend ourselves. My town has a psychiatric hospital which has been attacked with molotov cocktails. This is beyond comprehension. I have never seen anything like this in my entire life. I do not ask for the resignation of the Interior Minister [Nicolas Sarkozy]. I want him to do his job. At the moment he is not doing his job.

Send in the army? I do not know, for a socialist to say that the army has to intervene is an inconceivable admission of defeat, but what I can say is that one cannot abandon the people like this. At some point we need to know whether this country still has a state."
According to some reports the French media are downplaying the extent of the violence and lawlessness in France. This seems perfectly credible to me, since the same is happening in Brussels. This morning the Belgian state radio announced that the Brussels Fire Brigade had to intervene "some twenty times" last night to put out fires lit by vandals. A spokesman of the Fire Brigade acknowledged that ten cars and six garbage bins had been set alight. The authorities speak of "isolated incidents." By midday the news broadcast mentioned only "five burned out cars." According to the Fire Brigade, "they would rather not give more information so as not to give any publicity to these acts of violence." Cars were also set alight in the towns of Dilbeek and Sint-Niklaas. In Liège "youths" threw a molotov cocktail at a bus stop and damaged a car. Today it was revealed, with a delay of three days, that two cars had been torched in Liège last Saturday.
The authorities prefer not to speak about what is going on because they fear copycat actions from disgruntled "youths." However, when the authorities cut off information, rumours (not all of them unfounded) will fill the news vacuum. Most of the "isolated incidents" in Brussels appear to be taking place in Sint-Gillis, where stones were thrown at police cars yesterday evening. Sint-Gillis is only a few kilometres from the European Parliament. As Elaib Harvey, our friend and roving correspondent in the European Parliament, wrote on his weblog: "Gloriously of course nothing is officially being talked about here in the Palace of Vanity. Nothing official, however the coffee bars are ablaze with rumour." Yes, this is Europe in the year 2005.
The worst may yet be to come. If the French authorities prove unable to restore law and order, then people, as mayor Pajon indicated, will "have to defend themselves." France has a tradition of bloody revolutions and street fighting. It also has a tradition of violent "résistance" to foreign occupation. If the state abdicates and the "youths" continue to go on the rampage, one can expect that some of the French patriots will fight back: The enfants de la patrie against the enfants de la Jihad. If the patriots fight it will prove that France still exists, but if they do not then clearly everything is lost.
Some claim that this is not about religion and "has more to do with Arab and African nationality and race", or with a "lack of attention and communication" or "alienation caused by high unemployment and endemic racism." Though some of this may be true to a certain extent, I believe that religion, or rather culture (and at the heart of every culture is a cult), is what this conflict is really about.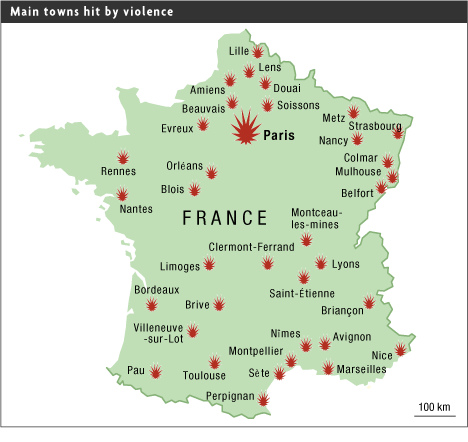 I have pointed out before that multiculturalism cannot exist, except as several cultures living side by side in defined territories, where the laws of one culture do not apply in the territories of the others. It is easy to understand why the "youths" in the suburbs turned so violent when Sarkozy announced that he was going to establish law and order there. The "youths" have held sway there, unchallenged, for years. If they allow the French authorities to reassert their authority, they lose their power base. The police and the gangs are fighting over whose laws will apply in the neighbourhood: the laws of the French Republic or the laws of Eurabia. Unlike the Western intellectuals, the "youths" realise that everything boils down to the question of who wields power over a specific territory. In order to protect their turf the generals of Eurabia are now attacking the territory of the enemy, such as a psychiatric hospital in the town of mayor Pajon.
It is possible that Nicolas Sarkozy did not realise what was really at stake when, a week before the rioting started, he declared "war without mercy" in order to recapture the suburbs for the French Republic. However, for the Muslim radicals – invariably described in the media as "youths" – this is quite literally a war. It is not about social injustice, race or alienation, but about territory – a territory to establish a culture and a cult which are alien to the culture and the cult that gave France its European and, despite all its socialist flaws, Western character.