Allah Takes Over Catholic Church
From the desk of Paul Belien on Sun, 2006-05-07 11:40
The Belgian Bishops have opened their churches to illegal immigrants in order to pressurize the Belgian authorities to allow the immigrants to stay in the country.
Most of the immigrant squatters in the churches are Muslims. They display banners in the church showing the name of Allah (picture taken in the church of Our Lady of Perpetual Succour, Brussels).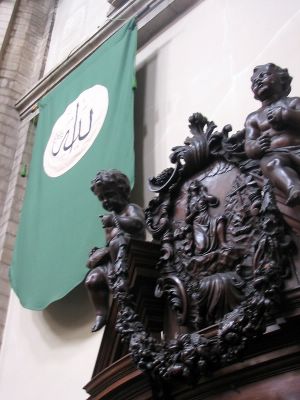 The Belgian Bishops are so ignorant that they do not see what is going on: their churches are being turned into mosques before their very eyes.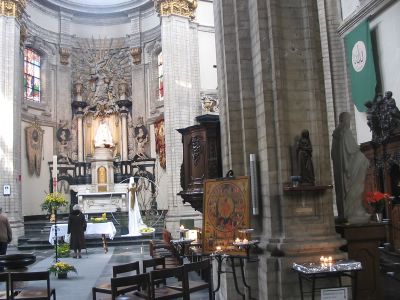 The Muslim squatters hold Islamic prayer services in the church. The altar has been moved and the statue of Our Lady covered by a cloth to hide her from the eyes of the Muslim believers.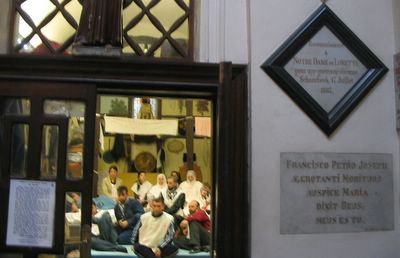 The squatters are living in the churches. "Church occupations" by illegal immigrants have been going on for a number of years in Belgium. They are not really "occupations" because the Bishops condone the actions and actively support them. Chris Gillibrand visited a number of Brussels churches to take these pictures.
The squatters live in tents in the churches. The tents are being provided by Catholic relief organisations. They have also been offered radios, television sets and computers.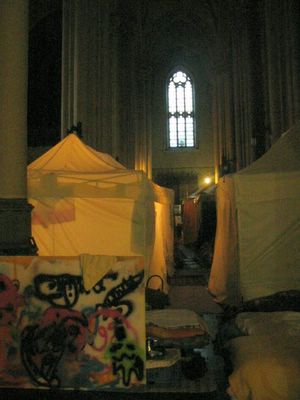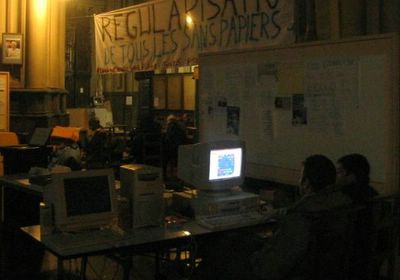 Chris saw them light a fire. We apologize for the poor quality of the photo. The man was quite aggressive. Aggression in desecrated churches that are being turned into mosques with the approval of Cardinal Godfried Danneels. This is Brussels, AD 2006.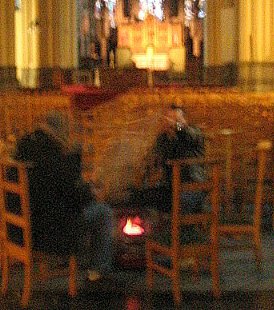 More on this topic:
Belgian Church Organizes Illegal Immigrants, 5 May 2006
Updates:
Muhammad Takes Over Protestant Church, 8 May 2006
Vatican Representative Supports Church Squatters, 10 May 2006
Bishops in Ever Deeper Pickle over Support for Illegal Aliens, 11 May 2006