Allah Conquers the United Nations
From the desk of Paul Belien on Mon, 2006-02-20 15:15
Logos are usually not chosen at random but rather for the message they convey, though sometimes mistakes seem to happen.
Logos can easily offend people, certainly those who have a very broad definition of blasphemy. This is the Arabic script for "Allah." It resembles a flame with five tongues that increase in size:
Six years ago Nike had to recall 800,000 shoes because Muslims took offense at the logo on a certain brand of its models. According to "offended" Muslims the logo could be read as "Allah." Below is the shoe logo: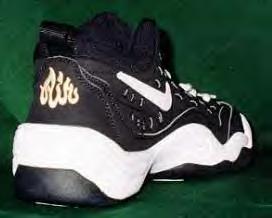 Last year Burger King had to change the logo of an ice-cream cone because, according to "offended" Muslims it could be read as "Allah."
The chain is being forced to spend thousands of pounds redesigning the lid with backing from The Muslim Council of Britain. It apologised and said: "The design simply represents a spinning ice-cream cone." The offending lid was spotted in a branch in Park Royal last week by business development manager Rashad Akhtar, 27, of High Wycombe. He was not satisfied by the decision to withdraw the cones and has called on Muslims to boycott Burger King. He said: "This is my jihad. How can you say it is a spinning swirl? If you spin it one way to the right you are offending Muslims."
Below is the ice-cream logo and the Arabic script for Allah: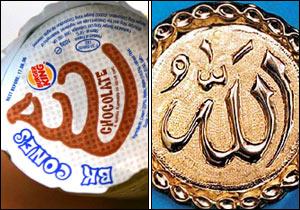 In 1987 the United Nations changed the logo of its Human Rights Commission from a flame (below, on the left) into something (below, on the right) resembling..., well, that looks strikingly like the Arabic word "Allah."
So far, there have been no protests from "offended" Muslims, though the logo definitely looks more like "Allah" than the Nike and Burger King logos.



Was the change in the UN Human Rights logo a coincidence? Some specialists do not think so. Apparently it may have been a high-ranking Muslim UN official who changed the logo. It is perhaps as much a coincidence as last week's common declaration signed by EU Foreign Policy Coordinator Javier Solana, UN Secretary-General Kofi Annan and Ekmeleddin Ihsanoglu, the Secretary-General of the Organisation of the Islamic Conference (OIC). The three men pledged to rewrite the UN Human Rights Charter to "protect the sanctity of religions and the prophets." About the uproar in Muslim countries regarding the Danish Muhammad cartoons they said: "We understand the deep hurt and widespread indignation felt in the Muslim world. The freedom of the press [...] should respect the beliefs and tenets of all religions."