Jihad Against Danish Newspaper
From the desk of Paul Belien on Sat, 2005-10-22 20:25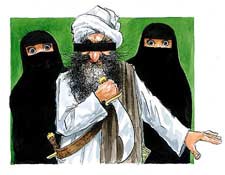 Islam is no laughing matter. The Danish newspaper Jyllands-Posten is being protected by security guards and several cartoonists have gone into hiding after the newspaper published a series of twelve cartoons (see them all here, halfway the article) about the prophet Muhammad. According to the Islam it is blasphemous to make images of the prophet. Muslim fundamentalists have threatened to bomb the paper's offices and kill the cartoonists.
The newspaper published the cartoons when a Danish author complained that he could find no-one to illustrate his book about Muhammad. Jyllands-Posten wondered whether there were more cases of self-censorship regarding Islam in Denmark and asked twelve illustrators to draw the prophet for them. Carsten Juste, the paper's editor, said the cartoons were a test of whether the threat of Islamic terrorism had limited the freedom of expression in Denmark.
The publication led to outrage among the Muslim immigrants living in Denmark. 5,000 of them took to the streets to protest. Muslim organisations have demanded an apology, but Juste rejects this idea: "We live in a democracy. That's why we can use all the journalistic methods we want to. Satire is accepted in this country, and you can make caricatures," he said. The Danish imam Raed Hlayhel reacted with the statement: "This type of democracy is worthless for Muslims. Muslims will never accept this kind of humiliation. The article has insulted every Muslim in the world."
Flemming Rose, the cultural editor at the newspaper, denied that the purpose had been to provoke Muslims. It was simply a reaction to the rising number of situations where artists and writers censored themselves out of fear of radical Islamists, he said. "Religious feelings cannot demand special treatment in a secular society," he added. "In a democracy one must from time to time accept criticism or becoming a laughingstock."
The affair, however, has also led to a diplomatic incident. On Thursday the ambassadors of eleven Muslim countries, including Indonesia, a number of Arab states, Pakistan, Iran, and Bosnia-Herzegovina, complained about the cartoons in a letter to Prime Minister Anders Fogh Rasmussen. They say the publication of the cartoons is a "provocation" and demand apologies from the newspaper.
Jyllands-Posten was also included on an al-Qaeda website listing possible terrorist targets. An organisation which calls itself "The Glorious Brigades in Northern Europe" is circulating pictures on the internet which show bombs exploding over pictures of the newspaper and blood flowing over the national flag of Denmark. "The Mujahedeen have numerous targets in Denmark – very soon you all will regret this," the website says.
Meanwhile in Brussels a young Muslim immigrant published a poster depicting the Virgin Mary with naked breasts. Though the picture has drawn some protest from Catholics (though not from Western embassies, nor from the bishops), this artist need not fear being murdered in the street. On the contrary, he is being subsidised by the Ministry for Culture.
Updates:
Cartoon Case Escalates into International Crisis, 27 October 2005
Out of the Iranian Frying Pan into the Danish Fire, 29 October 2005
Pigs Do Not Fly, 17 November 2005
Bounty Offered for Murdering Cartoonists, 4 December 2005
UN to Investigate Racism of Danish Cartoonists, 7 December 2005
Dispatch from the Eurabian Front, 9 December 2005
Europe Criticises Copenhagen over Cartoons, 21 December 2005
Cartoon Case: EU and UN Call Denmark to Account, 28 December 2005
Danish Cartoon Affair: Letter from a Muslim, 31 December 2005

Danish Muslims Divided over Cartoon Affair, 8 January 2006
Danish Prime Minister Shocked at Lies, 11 January 2006
Scandinavian Update: Israeli Boycott, Muslim Cartoons, 14 January 2006
Denmark: Moderate Muslims Oppose Imams, 19 January 2006
Danish Imams Propose to End Cartoon Case, 22 January 2006
European Appeasement Reinforces Muslim Extremism, 24 January 2006
Norway Apologizes over Muhammad Cartoons, 27 January 2006
Cartoon Paper Justifies Itself to Saudis, 29 January 2006
Cartoon Rage: Vikings Warned to Leave Palestine, 30 January 2006
Buy Danish. Nothing Rotten in the State of Denmark, 30 January 2006
Danish Paper Apologizes. Dutch Cartoon on Its Way, 31 January 2006
Take Note Cardiff: We Are All Danes Now, 1 February 2006
France Soir Backs Down. Others Stand Firm, 2 February 2006
"The War Is On", 3 February 2006
British Appease While Moderate Muslims Speak Out, 4 February 2006
Cartoon War Leads to Role Reversal, Makes First Victim, 4 February 2006
Danish Muslims Rebel Against Imams, 5 February 2006
Appeasing Oslo Strikes at Press, Al-Guardian Strikes at Danes, 7 February 2006
The Cartoon Hoax, 7 February 2006
BBC Admits Fatal Negligence, 7 February 2006
Cartoons in Egypt Last October, 9 February 2006
Some Light in the Darkness, 10 February 2006
More and More Moderate Muslims Speak Out in Denmark, 13 February 2006
Muslims Create Islamophobes, Then Want Islamophobes Punished, 14 February 2006
Dutch Vexed with Solana. Europeans Quarrel over Cartoons, 16 February 2006
Jesus Christ Sacks Minister over Muhammad, 18 February 2006
Dairy Producer Who Boycotted Israel Gets Boycotted by Muslims, 19 February 2006
Turkey on Collision Course with Europe, Demands Danish Apologies, 24 February 2006
Turkey Denies Demanding Danish Apologies. Finns Fire Editor, 25 February 2006
Danish Cartoons International, 2 March 2006
Cartoon Case: Denmark Will Not Prosecute, 16 March 2006
Muslims Take Cartoon Case to UN's "Allah" Commission, 18 March 2006
"Danish Queen Masterminded Muhammad Cartoon Affair", 2 October 2006
Danish Victory: Radical Imam Leaves! 10 November 2006
Let the "House of War" Prepare for War, 14 February 2008