Danish Paper Apologizes. Dutch Cartoon on Its Way
From the desk of Hjörtur J. Guðmundsson on Tue, 2006-01-31 12:59
An article by Hjörtur Gudmundsson (with Filip van Laenen and Paul Belien)
Carsten Juste, the editor of Jyllands-Posten, has apologized on behalf of his newspaper for offending Muslims by publishing twelve Muhammad cartoons last September (see them here, halfway the page). Previously (as in his open letter to the Saudis) Mr Juste had only "regretted" it, without using the word "apology." Mr Juste emphasizes, however, that he apologizes for offending people, but not for publishing the cartoons. He explains that for the sake of freedom of expression he cannot apologize for publishing them. He says that Jyllands-Posten has not changed its position on the publication as such. "We believe that if we would go out and apologize [for the publication] then the dictators in the Middle East would decide what we should publish in our newspaper. That is of course totally unacceptable," Juste told the Danish news agency Ritzau.
In an editorial, published in Jyllands-Posten yesterday evening, the editor writes:

"In our opinion the 12 cartoons were moderate and not intended to be insulting. They did not go against Danish laws, but have evidently offended many Muslims, for which we apologize. Meanwhile a couple of offending cartoons have circulated in the Muslim world which were never published in Jyllands-Posten and which we would never have published if they had been offered to us. We would have dismissed them on the grounds that they breached our ethical limits."
Mr Juste added that Jyllands-Posten prides itself on having high ethical standards. He said that therefore it was especially tragic that those additional cartoons are being presented as if they have something to do with the newspaper.
As The Brussels Journal reported earlier radical Danish Muslim organizations toured the Arab world three weeks ago and themselves added three additional pictures to the original twelve. One of them shows Muhammad as a pedophile demon, another the prophet with a pigsnout, while the third one depicts a praying Muslim being raped by a dog. These pictures had been intentionally added by Muslim radicals in order to incite antipathy towards Denmark, or, as they themselves put it, to "give an insight in how hateful the atmosphere in Denmark is towards Muslims." Danish Prime Minister Anders Fogh Rasmussen commented that he was "speechless" at such behaviour from "people whom we have given the right to live in Denmark."
Meanwhile former US President Bill Clinton has condemned the publication of the (twelve original) cartoons at a conference in Qatar. He called them "appalling" and "totally outrageous" and warned of rising anti-Islamic prejudice in Europe, which he compared to Europe's historic anti-Semitism. Mr Clinton was the American president who spent his time in the Oval Office smoking cigars which he had first placed in peculiar locations.
Norway
Yesterday Muslim outrage over the cartoons led to an armed raid on the EU offices in Gaza. Terrorist groups threatened Scandinavian officials and demanded that they leave Palestine at once, despite the EU's donation of $338 million per year to Palestine, a donation which includes money from Danish taxpayers. All over Palestine Danish and Norwegians flags have been burned in protest against the publication of the cartoons. In addition to Jyllands-Posten three Norwegian papers also published the cartoons: Magazinet, Aftenposten and Dagbladet.
While the pro-Palestinian and anti-Israeli Norwegian government was quick to apologize, even before apologies were demanded, this has not prevented Muslims from boycotting Norwegian products. Meanwhile Magazinet journalist Vebjørn Selbekk has already received more than twenty death threats. Mr Selbekk and his family are now under police protection.
Unlike the Norwegian government, Per Edgar Kokkvold of the Norwegian press association Norsk Presseforbund defended the right of Magazinet and the other papers to publish the cartoons. Anne Lene Dale Sandsten, the spokesperson of the Norwegian Ministry of Foreign Affairs, however, declared that the ministry never apologized for the publication of the cartoons, but only for the unrest they have caused. Foreign Minister Jonas Gahr Støre claims that "since no leading Norwegian paper has published the cartoons" the Norwegian press has shown its sense of responsibility. However, though Magazinet is a small Christian paper, Aftenposten is Norway's second largest paper and its leading quality newspaper, while Dagbladet is the third largest paper in the country, read by a quarter of the Norwegian adult population.
Yesterday Yasser Najjar, the Palestinian ambassador to Oslo, said that those who published the cartoons were asking for a "war of civilizations." He said that freedom of speech does not allow one to "insult 1.3 billion Muslims." The cartoons, he said, are not the expression of an opinion but pure provocation. "Our Prophet cannot be humiliated. I do not believe a Muslim has ever said anything negative about Christianity or Jesus Christ."
Media commentator Henrik Færevåg, however, declared that Norway should reconsider its financial aid to Palestine. The Norwegians have been "stupid idiots" to give more subsidies to Palestine than Saudi Arabia, he said. If the Palestinians cannot tolerate Norway's freedom of speech they should not accept its money either.
Though the twelve Muhammad cartoons are pretty mild, except perhaps for two of them (which are also mild by Western standards), Muslims are offended by the simple fact of depicting their prophet. According to Islam it is blasphemy to draw Muhammad. Nevertheless the Mohammed Image Archive shows many depictions of the prophet throughout history, some of them apparently made by Muslims.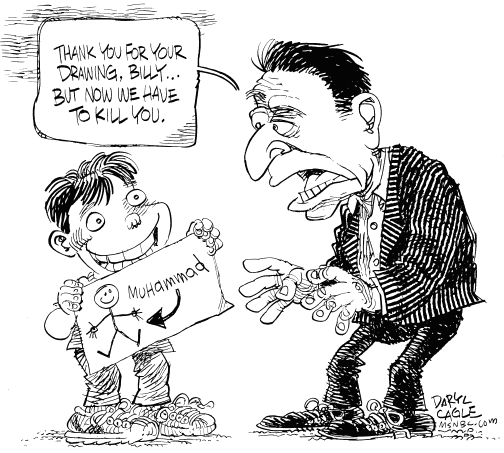 The Netherlands
In an article in the Amsterdam newspaper De Volkskrant today Dutch cartoonists admit that they do not depict Muhammad out of fear for violent retaliations. "It is a kind of self-censorship," Stefan Verwey admits. "I have large windows and would rather keep them intact," says Peter de Wit, while Joep Bertrams concedes. "It causes a lot of problems. Why throw oil on the fire?"
Other cartoonists, however, who have asked to remain anonymous, think that Western artist should not allow themselves to be intimidated and propose an international "Draw Muhammad Week." Next month a book will be out in the Netherlands which contains a cartoon by Gregorius Nekschot [a pseudonym] of the prophet "in a compromising pose" with his child-wife Aisha.
Will the Netherlands soon be on the Muslims' boycott list as well? And will Belgium, Germany, Britain and the United States because bloggers in these countries are republishing the Jyllands-Posten cartoons, as well as other pictures of Muhammad?
More on the Cartoon Case (see links at end of article)
Update:
Dutch Police Arrests Cartoonist, 16 May 2008