Cartoon War Leads to Role Reversal, Makes First Victim
From the desk of Paul Belien on Sat, 2006-02-04 20:42
For four months this website has been one of the few places (apart from the Danish media, of course) where information could be found on the cartoon affair. Today the story is all over the global mainstream media (MSM). Hence there is no need for us to repeat what has been mentioned elsewhere. Our readers probably already know that the Danish and Norwegian embassies in Damascus have been set on fire, that the U.S. and British governments are pleased that their newspapers do not have the guts of some European ones, and that the venerable BBC – never hesitating to offend prudish Christians – found itself in a "dilemma" when it had to decide whether or not to show prudish Muslims twelve, mostly inoffensive cartoons [see them here, halfway down the page] – so inoffensive in fact that alienated Danish Muslim fanatics had to add three truly offensive cartoons (of their own making?) to deliberately incite Islamic hatred against Denmark.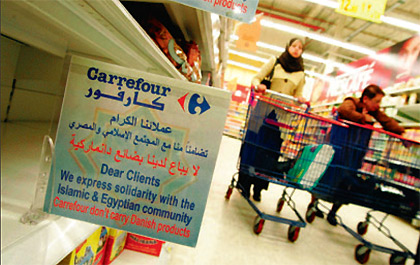 The Brussels Journal will concentrate on facts that the MSM hardly devote attention to, such as an e-mail campaign in Belgium for a boycott of French international supermarket chain Carrefour. The reason for this call is that Carrefour has taken all Danish products off the shelves of its stores in Muslim countries, proudly declaring "Carrefour don't carry Danish products." In the internet age pictures of posters with the Carrefour logo proclaiming a boycott of Denmark, intended for use in Egypt, are also seen in Brussels, where the result is… a boycott of Carrefour. This illustrates how in the "cartoon war" it will be hard to remain neutral. Everyone will be forced to take sides.
Today an e-mail reached us from Poland, saying:
The notorious cartoons have been published in one of major Polish newspapers, Rzeczpospolita. The editor, Grzegorz Gauden, commented that the European press has divided into two camps: those who decided to publish and those who explain why they are not going to do it. The editorial board, while recognizing the controversional nature of pictures' contents, totally rejected the methods resorted to by the opponents of the publication: burning of national banners, terrorist threats, etc. Free press and free states cannot give in to this sort of pressure, was the unsurprising conclusion.


The reactions [to the publication in Rzeczpospolita] deprived me of any illusions concerning both the Polish governement and the Polish press as the whole. Mr Marcinkiewicz, Polish prime minister, claimed the cartoons insulted not only the Muslims, but also "everyone who did not accept religious and ethnic hatred."


Thus, he "shares the feelings of everyone who felt insulted." Even though the Polish government cannot influence the press, he said that "'properly understood' limits of freedom of speech" have been violated by Rzeczpospolita in this "unnecessary provocation."

Mr Marcinkiewicz was never thought to be a courageous or independent politician. Therefore, it shouldn't perhaps come as a big surprise. What I found truly pathetic is that the president of national journalists' association quickly supported his views. She said that she is personally a Catholic and it would be painful if anyone dared to laugh at her religion. It is also telling that the largest Polish national newspaper, Gazeta Wyborcza, failed to publish any editorial comment on the whole cartoon affair. Poland, solidarity, freedom. Don't forget that abstract notions should always be "properly understood."
We do not know to what extent the official reaction in Poland corresponds with those in other countries of Donald Rumsfeld's so-called "New Europe," but if it does then this is in line with the remarkable role reversal that we noted earlier in the different approaches of the French and German governments (which defend the right of Westerners to draw Muhammad) and the "appeasing" British and American governments (which condemn this as being "offensive"). We had never thought that we would end up on the side of "Old Europe," but that is where we are today.
Meanwhile, Jihad Momani, the only Arab editor who had the courage to publish some of the Muhammad cartoons, has been arrested by the Jordanian authorities. Last Thursday Mr Momani's paper, al-Shihan, published three of the cartoons, including the one of Muhammad with a bomb in his turban. The cartoons were accompanied by an editorial in which Mr Momani wrote that suicide bombers and terrorists slashing throats of hostages in front of cameras cause much more harm to Islam than these drawings. Before the day was over Mr Momani had been sacked, while all remaining copies of the paper were destroyed by the publisher, Arab Printing Company.
Mr Momani was forced to offer public apologies. "I ask Allah's forgiveness and express my apologies for the serious mistake that I made in Shihan. It was a mistake that happened unintentionally and was caused by my enthusiasm to defend our faith," he said.
Yesterday the Brussels-based Flemish newspaper De Morgen interviewed Mr Momani over the phone. The Jordanian journalist appeared to be in a panic. According to the interview, which was published today, he told De Morgen:
"I cannot assess what severe penalties await me."
It is possible that the authorities arrested Mr Momani today in order to protect his life from assassins, but it is also possible that they will prosecute him for blasphemy. During the interview he also told the Brussels paper that he still holds the opinions he defended in his editorial.
"The frenzied reactions to the publication of the cartoons is out of all proportions and does the Muslim cause more harm than good. […] I could have published the editorial without the three illustrations, but I chose not to do so. Look, it has been five months since the cartoons were published in Denmark. […] I wanted to show the people why they were so furiously protesting in the streets, as these are only a few silly pictures. I thought it might defuse the situation a bit if people saw the actual cartoons."
Mr Momani said he is himself a Muslim and realizes perfectly well that the cartoons can be offensive.
"These pictures are really insulting to us. I myself was not happy when I saw them […] But to react to them in such an extreme way is a big mistake and can be as foolish. That is what I wanted to make clear."
Mr Momani had not imagined that the publication could lead to his dismissal. He said he felt let down by the Jordanian government.
"I feel hunted down. I am very disappointed in our government. There are thousands of ordinary Muslims who completely agree with me, but this inquisition is being inflated to a religious war by certain people, and certainly by those with power. That is a dangerous and foolish thing to do."
The jailed Mr Momani is the first victim of the Cartoon War. His fate should concern all of us – including the timid American press.
More on the Cartoon Case (see links at end of article)