An Undiplomatic Official Visit
From the desk of Luc Van Braekel on Thu, 2005-06-30 23:17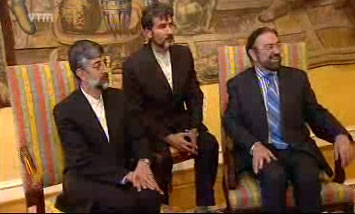 Parts of an official visit from an Iranian delegation to the Belgian parliament were cancelled on Thursday, after a row over the serving of wine and the refusal to shake hands with women.
The delegation from the Majlis, the Iranian parliament, had made it clear to the Belgians: not only did they not want to drink alcohol during lunch, but they would not even tolerate anyone drinking in their presence. This made Belgium's speaker of parliament, Herman De Croo, decide to cancel the whole lunch, rather than having to serve lunch without wine or beer. "Guests are not obliged to have alcohol, but we don't want to bow to outside rules", a spokesman for Belgian parliament said.
Shortly thereafter, Belgian senate president Anne-Marie Lizin cancelled talks with members of the Iranian delegation, when they refused to shake hands with her and with other female members of the senate, simply because they were women. "Iranians should respect local customs in Belgium", Lizin declared in a statement.
The visiting delegation was headed by the speaker of the Iranian parliament, Gholam-Ali Haddad Adel. His daughter is married to the son of ayatollah Khamenei, the supreme leader of Iran.