EU Will Help Libya Stop Africans
From the desk of Paul Belien on Wed, 2005-06-29 11:41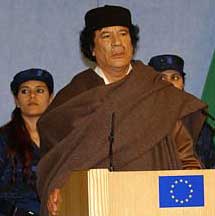 Franco Frattini, the European Commissioner for Justice, Freedom and Security, announced on Tuesday that the EU will set up a training programme for Libyan police and border guards. In addition, the Commission will today approve an action programme of 2 million euros to secure Libya's southern borders. Next week, José Manuel Barosso, the President of the Commission, and Louis Michel, the Commissioner for Development and Humanitarian Aid, will discuss additional aid to Libya. What is going on here? Europe is trying to stop an African invasion, using Libya as its outpost, while Qadhafi is counting his money, letting the Europeans modernise his police forces and army.
In his memoirs Fedor Burlatskii, a former political adviser and speechwriter to Soviet dictator Nikita Khrushchev, wrote that during the 1961 Cuba crisis, the Chinese dictator Mao Tse-tung had advised his Soviet colleague to start a nuclear war. "A large part of humanity, including in our own countries, will die," Mao acknowledged, "but thanks to our demographic surplus we will retain the most people and will be able to impose Socialism in the entire world."
Mao's words indicate that he recognized the strategic potential of demographics, which may be surprising considering that he did his utmost to curb the demographic growth of his own people. While Mao regarded demography as a weapon he apparently considered it to be a harmful one to have if it was not used. Today, another dictator is aware of the demographic weapon.
Colonel Muammar Qadhafi, the Guide (or Führer as they say in German) of the "Libyan Socialist People's Jamahiriya," lives like a spider in an airconditioned Bedouin tent on a grassy patch with camels, white dove tills and a dozen palm trees, surrounded by bunkers and four concentric concrete walls in the middle of an army barracks outside Tripoli. The walls of the bunkers are adorned with posters showing scenes from recent visits by Italian Prime Minister Silvio Berlusconi, French President Jacques Chirac, Venezuelan President Hugo Chávez, and a man with spectacles and a beard who is not known internationally: Minister Herman De Croo, the Speaker of the Belgian House of Representatives.
Before being admitted to the tent international visitors have to pass through the ruins of the Libyan Führer's villa. It was reduced to rubble by American fighter planes on 15 June 1986 in punishment for Libya's support of international terrorists. The visitors are explicitly reminded that during this bombardment Qadhafi's four year old adoptive daughter lost her life. Two years later, on 21 December 1988, Qadhafi retaliated by making a Panam jumbo from London to New York explode over the Scottish village of Lockerbie thereby killing 270 people, mainly Britons and Americans. In those years, from 1982 to 2004, Washington still considered Libya to be a "rogue state."
Today, Qadhafi is said to have renounced his nuclear armament plans and his support of terrorism. He is now considered an ally of the West. But is he really? Perhaps he has realised that terrorism and nuclear weapons are no longer needed to bring down the decadent West. "Immigration is changing the demography of the world," the Libyan dictator recently told the unknown Belgian. "It is happening on a scale unprecedented in history. The Africans are establishing themselves in Europe. Europeans who do not like this better leave and move to America."
Herman De Croo and three Belgian parliamentarians visited the Libyan Führer last Winter. Libya has only one problem Qadhafi said. On their way to Europe many illegal immigrants use Libya as a transit country: "Our population has doubled owing to the influx of Black Africans who move to the Mediterranean coast in the hope of finding a passage to Europe." According to the CIA World Factbook Libya has a population of 5,631,585 individuals including 166,510 non-nationals (July 2004 estimate). This is a serious underestimation if the remarks of the Libyan dictator are anything to go by.
Libyan officials acknowledged that, though to say that their country's population has doubled may be somewhat exaggerated, the estimate that there are at least 2 million illegal immigrants in Libya is a realistic one. In addition thousands die each year while attempting to enter Libya through the vast desert in the south which separates the country from the rest of Africa or while attempting to leave it by boat in the north. The Libyans find their bodies in the Sahara or washed ashore along the Mediterranean coastline after a vain attempt to escape. The lucky ones safely strand on the Italian coast, on the tiny Italian island of Lampedusa off Sicily, or on Malta.
Last August, the Italian Prime Minister Berlusconi visited Tripoli to discuss the problem. Each month the Italian authorities detain on average 1,000 African immigrants who have arrived by boat from Libya. The number of those who drown or are able to get into Italy unseen is not known. Qadhafi told Berlusconi that Europe would have to donate Libya "a lot of money" plus "high-tech detection equipment" if Libya was expected to guard its long desert border and its Mediterranean shores.
When the Belgian parliamentarians came to Tripoli last December hoping to further improve Belgian-Libyan trade relations they were amazed that their hosts' priority was to discuss immigration rather than economic cooperation. We are being swamped by Africans Mohamed Al Chalgam, the Libyan Minister of Foreign Affairs, complained: "Entire Arab villages have suddenly become African without the authorities being able to do anything about it. The police is afraid to enter certain quarters of Tripoli. There are enormous problems with food provision, crime and drug abuse."
According to the official report of the Belgian delegation the Minister for African Affairs, Said Arabi Hefiana, added: "The immigrants are causing an alarming increase in crime, sometimes perpetrating acts of hitherto unseen aggressiveness. The most dangerous individuals come from Nigeria, Liberia and Ghana. They enter the country illegally and spend a few months trying to acquire money in any conceivable way before attempting to emigrate further north. The situation has become unacceptable. This is a political, social, economic and also a moral problem that Libya can no longer deal with on its own."
The Belgians were put in an old passenger Yak of the Kyrgyzian airforce with a Ukranian crew and flown to Ghat, a desert oasis near the border with Algeria and Niger. Mohammed Al Zenati, the official Libyan Head of State, explained Libya would like to establish over 100 checkpoints along the 2,000 miles of its southern border. The Libyan authorities accuse the Egyptian mafia of human trafficking. They say the immigrants, who have to pay large sums to be helped across the Sahara, are brought from Niger to Libya in convoys of jeeps.
The Führer in his Bedouin tent, however, took a less dramatic and more phlegmatic approach to the problem than his ministers when he addressed the issue. He stressed the need for European assistance, especially in providing high-tech equipment to guard the Libyan borders and coastline, but implied that the problem is primarily Europe's problem. Qadhafi will not lament the fact that soon more people in Europe will be praying in mosques than in churches. Europeans who do not want to take the immigrants in, Qadhafi warned, should either "emigrate to America" (which to him is the same as Satan) or pay Libya to keep its borders closed. The choice was Europe's to make. In either case Qadhafi wins. At the time the Belgians were visiting Libya it was not yet clear what Europe would do. Today it is. They have made Colonel Qadhafi their border guard.