Edward Heath en het Cordon Sanitaire
From the desk of Marc Vanfraechem on Fri, 2005-07-22 21:00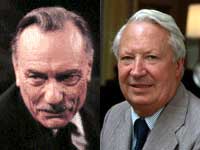 Onze kranten en media hebben aan de dood van de Engelse eerste minister Edward Heath een paar korte beschouwingen gewijd. Een goede Europeaan was hij, en De Gaulle was zijn grote boeman, en hij kon Margaret Thatcher niet luchten, en zij hem niet.
Heaths dood moet voor vele redacties als een verrassing zijn gekomen. Waarschijnlijk verkeerden nogal wat analisten in de waan dat die man al lang dood was, maar evenmin is het uitgesloten dat zijn dood voor sommigen het eerste was dat ze van hem vernamen. In elk geval is Heaths grootste bijdrage aan de geschiedenis overal ongemerkt voorbijgegaan.
En nochtans heeft die man zijn plaatsje in de geschiedenis verdiend: hij was de Engelse uitvinder van de politieke correctheid en de geestelijke vader van het cordon sanitaire.
Om dat duidelijk te maken moet ik eerst een partijgenoot van hem voorstellen: John Enoch Powell, een classicus van Cambridge (waar hij o.a. bij de grote dichter Housman Latijn had gestudeerd), auteur van een gezaghebbend woordenboek bij Herodotus en Thucydides dat hij schreef rond zijn 23ste, zodat men hem voor zijn 25ste al professor maakte, een man die acht talen sprak waaronder het Urdu en het oud-Welsch, een man die uit zijn professoraat ontslag nam toen de oorlog uitbrak, in dienst ging als gewone soldaat en in recordtijd opklom tot de graad van brigadegeneraal, later minister van volksgezondheid werd ...en die in 1965 met Edward Heath de strijd aanbond om het voorzitterschap van de Conservatieve Partij, wat mislukte.
Powell had ondertussen wel een indrukwekkende aanhang, ook bij de arbeidende klasse, en hij was in intellectueel opzicht Heaths meerdere (op zich geen schande voor Heath, zelf ook geen minus).
Enoch Powell is altijd tegenstander geweest van een toetreding van het Verenigd Koninkrijk tot Europa, én hij zag grote gevaren in de massale inwijking van cultureel niet-Europese groepen.
Over dat laatste thema hield hij op 20 april 1968 een beroemde redevoering, die bekend werd als de "Rivers of Blood"-speech. Daarin voorspelde hij grote, zelfs bloedige conflicten op Engelse bodem, niet omdat hij een "racist" was, maar wel omdat hij wist wat taal, geschiedenis en cultuur betekenen, en hoe zwaar die begrippen wegen. Dat hij helemaal geen racist was blijkt uit vele dingen: zo had hij zijn hart aan India verloren en verwierp hij het begrip Commonwealth als zijnde een vorm van geringschatting voor de vroegere koloniën. En hij kende zoals gezegd acht talen, wat op zich racisme uitsluit (voor deze laatste bewering kwamen er recent wetenschappelijke aanwijzingen).Nochtans zette Heath hem na die speech uit het schaduwkabinet, en werd er een campagne opgestart om hem overal het spreken te beletten en hem het etiket racialist op te plakken. Zijn stem mocht niet meer worden gehoord. Heath slaagde wonderwel in zijn opzet, was van zijn concurrent verlost en kon eerste minister worden.
Powell had het bestaan om een probleem bij naam te noemen, 'to see, and not to speak, would be the great betrayal' zei hij, en dan mochten de dokwerkers nog ter ondersteuning van een conservatief! het werk neerleggen: tegen alle gebundelde krachten kon hij het niet bolwerken, en nooit heeft hij nog in een kabinet gezeteld.Later, toen hij dood was zei men: "he was the best prime minister England never had".Zijn bewuste speech begon zo:
The supreme function of statesmanship is to provide against preventable evils. In seeking to do so, it encounters obstacles which are deeply rooted in human nature. One is that by the very order of things such evils are not demonstrable until they have occurred: at each stage in their onset there is room for doubt and for dispute whether they be real or imaginary. By the same token, they attract little attention in comparison with current troubles, which are both indisputable and pressing: whence the besetting temptation of all politics to concern itself with the immediate present at the expense of the future. Above all, people are disposed to mistake predicting troubles for causing troubles and even for desiring troubles: "If only," they love to think, "if only people wouldn't talk about it, it probably wouldn't happen.
Vertaling:
De hoogste taak van staatsmanschap bestaat er in om voorzieningen te treffen tegen voorkoombare kwalen. Bij die betrachting ontmoet zij obstakels die diep geworteld zijn in de menselijke natuur. Eén daarvan is dat zulke kwalen uiteraard niet aantoonbaar zijn alvorens zij zich hebben voorgedaan: in elk stadium van hun opdoemen is er plaats voor twijfel, en voor dispuut of het om werkelijkheid gaat of om inbeelding. Ergo trekken zij weinig aandacht, vergeleken bij actuele bekommernissen die zowel onbetwistbaar zijn als dringend: vandaar de hardnekkige neiging van elke politiek om zich met het onmiddellijke nu bezig te houden, ten koste van de toekomst. Bovenal zijn mensen geneigd om het voorspellen van problemen te verwarren met het veroorzaken van problemen, of zelfs het zoeken van problemen: "Als men" willen ze graag denken, "als men er maar niet over praat, dan gebeurt het wellicht niet."