This Failure Of A War
From the desk of Joshua Trevino on Mon, 2006-08-21 16:10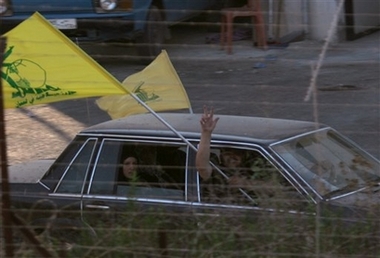 "We will not allow the Hezbollah flag to be lifted again on the fences of the state of Israel." — Israeli Defense Minister Amir Peretz, 27 July 2006.

"A car decorated with Hezbollah flags drives on the Lebanese side of the Israel-Lebanon border, near the northern Israeli town of Metula, Thursday Aug. 17, 2006."
There is little to be said on the denouement of this round of the Hezbollah-Israeli war that has not been said already. Israel has failed: this much is certain. Hezbollah is neither disarmed, nor crippled, nor pushed off the northern border. The kidnapped Israeli soldiers who provided the casus bellum still languish in captivity. The Iranian sponsors of Hezbollah celebrate and push forward with their own plans. (On this count, it should be noted that the run-up to 22 August, cited by Bernard Lewis as an Iran-related date to watch, sees the indefinite war-footing mobilization of the Iranian armed forces; I am also told that there is substantive terror-related "chatter" as we approach that date.) Et cetera: that Israeli bellicosity is reduced to the occasional raid and anonymous posturing for the benefit of American print media is telling. In the absence of an actual victory, there's nothing left.
The failure is hardly Israel's alone — it is, rather, a result of a moral abdication afflicting the entire West.
A half-decade after the definitive announcement of Islamism's war upon us, we have seen the West (in which we must include Israel) engage in five major campaigns in riposte:
In Iraq.
In Afghanistan.
In Lebanon.
In "Palestine."
In the banlieus and ethnic neighborhoods of its own cities.
Not one of them is won, nor even close to being won. This is something astonishing, especially with five years' time to win at least one, and the superior resources and technology of the West to draw upon. Victor Davis Hanson has something of a cottage industry in his exposition of the superiority of the "Western way of war," and the concurrent proposition that a democratic people once aroused will seek (and generally achieve) annihilation of the foe. There is much to recommend his thesis — but in the absence of the very capacity for moral provocation within a democratic people, it tells us little about our present state. The lesson of our failure to win in this half-decade of war, of which the Israeli failure against Hezbollah is merely the latest example, is that that capacity, if not wholly gone, is severely crippled.
In warring with a religion, decades of secularism have left us utterly disarmed. We are trained to think of faith as either irrelevant or benign: and when it is undeniably malign, we ascribe its malignancy to "fundamentalism," which is (in direct negation of the meaning of the word) somehow separable or diversionary from the fundamentals of the faith in question. See Andrew Sullivan for a shining example of this self-contradictory foolishness; or worse, see the President of the United States on Islam. Mark Steyn noted it well: these days, when Muslims slaughter our own, the political leaders of the victims generally rush to a mosque to make friendly overtures. We are assured that "real" faith does not do awful things, nor encourage them, nor give succor to those who do: and in the very hour of grief, as the bodies are lifted, or unearthed, or scraped, from the scene of the latest horror, that is what we must remember. We are not to believe the perpetrators, nor their sympathizers, nor the Palestinians celebrating the news of thousands dead in New York City. The true interpreters of Islam are not Muslims themselves — though they certainly deserve that basic respect — instead, we must listen to John Esposito, Juan Cole, Karen Armstrong, and George W. Bush.
The willful ignorance of faith, and its moral sanitization, are not prerequisites of classical liberal democracy, and certainly not prerequisites of American identity. For most of the history of the United States, faith's compatibility with the national self-concept was a current question in the public square. George Washington admonished the Quakers for their failures as citizens in the arena of the common defense; Thomas Jefferson was given to condemn the anti-democratic machinations of "priests"; the Know-Nothings warned of the incompatibility of Catholicism with Americanism; the Mormons were made to conform to general morality through legislation and force; and the religious basis of 1940s Japanese militarism — not so unlike jihad in its way — was subjected to thoroughgoing public ridicule, absent any Presidential admonitions to respect "true" Shinto. Keep in mind that not all of these contentions were right — the anti-Catholicism of the 19th century being a particularly egregious error — but the bottom line is that these were legitimate areas of contention until the modern day. Their removal from the bounds of acceptable discourse would confound the American Founders. "Were the Pope, or his holy allies," wrote Jefferson in 1823, "to send in mission to us some thousands of Jesuit priests to convert us to their orthodoxy, I suspect that we should deem and treat it as a national aggression on our peace and faith." That was then: now, the foreign funding of mosques that fail to eschew the basic tenets of jihad — not that we would dare demand such a thing! — raises only pragmatic concerns.
This is not, pace the defenders of the new order, enlightenment. It is not a sign of our superiority over our predecessors. It is not evidence of the betterment of this era over that. It is, rather, a sign of our disconnect from a reality in which our foes remain firmly grounded. They, at least, retain a consciousness of the enduring truth uttered by Simone Weil: "Who were the fools who spread the story that brute force cannot kill ideas? Nothing is easier. And once they are dead they are no more than corpses." The University of Michigan's Juan Cole is an archetype of the American academic who can hardly find an anti-Western barbarism he cannot apologize for: in fulminating against the Israeli war on Hezbollah several weeks ago — back when it appeared possible that Israel might dare win — he wrote, "[T]his is nothing less than an ethnic cleansing of the Shiites of southern Lebanon, an assault on an entire civilian population's way of life. Aside from ecology, it is no different from what Saddam Hussein did to the Marsh Arabs of southern Iraq, and the Israelis are doing it for exactly the same sorts of reasons that Saddam did." It was, as with most of Cole's writings on the hated Jews, a deeply stupid statement. And yet, in the aftermath of this failure of a war, those of us who wish Israel well (and by extension care for our own self-preservation) might wish he had accurately described the Israeli moral capacity — if not the Israeli intent. An Israel capable of total war against an enemy bent on its extermination would be an Israel that might survive.
The sad truth is more accurately described by Doron Rosenblum of Ha'aretz:
If the Israeli mentality is "inferior" to that of Hezbollah, Iran and Hamas in that it does not seek suicidal death, the virgins in Paradise and genocide for its neighbors; if Israel has pity on the lives of its sons, on its comfort, on the nurturing of its landscapes and even on bed and breakfasts, wineries and the pleasures of life, it is nothing to be ashamed of. On the contrary: We shall proudly bear our weaknesses as fragile, vulnerable human beings.

Israel is not Sparta, and this is a good thing. It was not established in order to be a spearhead against global Islam, or in order to serve as an alert squad for the Western world. It was established in order to live in it. And after the obvious is stated — with respect to the importance of might and strength — this too shall be said: Unlike some of its enemies, Israel has a far more means of existential solace — in vitality, culture and in creativity — than the planting of a flag of victory among the ruins.
Rosenblum's sentiments are noble, and he speaks not merely for Israel, but for the West at large that cannot bring itself to acknowledge, and still less act upon, the obvious truth of our enemies in this war. But do we bow to unreal nobility in the face of a real threat? Was it not the Spartans who trod upon the ruins of Athens? What are the pleasures of life when life is ripped away? What is existential solace when existence is erased?