Is about the size of a book(let!) handed out by the Directorate General for Justice, Freedom and Security (don't laugh!) entitled, "My fundamental rights in the European Union".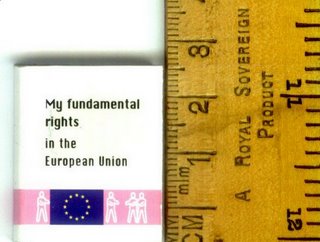 The EU "citizens" on the front cover are even smaller than their rights. Midgets in the EU's scheme of things.
The ruler is Made in Great Britain and is a Royal Sovereign Product! Unlike a tape measure which I own, it does not need European certification to prove that it accurately measures length.