Mapping the New Europe
From the desk of Chris Gillibrand on Thu, 2006-09-07 22:36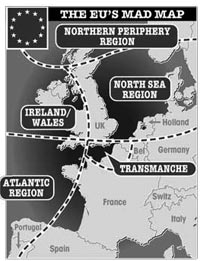 Ever since the Germans started using their word Lebensraum in connection with their policy towards Eastern Europe before the Second World War, one has to be suspicious when the word "Raum" is used in any policy connection by the Germans. For instance, Raumordnung can mean "spatial planning" if you want it to sound innocent and "area order" if you don't. "Raum" can also mean territory. A "Raum" can also mean something as small as a habitat (as in the biological sense of "Lebensraum"), but the Germans have the same word as the British for region, and a "Raum" can also be something bigger than a region (which has its political expression in the German Länder.
But when Germans start to use the idea of "the European Area Development Concept" which includes chunks of the United Kingdom, one has to get really jumpy. This could also be translated as "European Spatial Development Concept" which, if anything would be worse.
So when it was reported in The Telegraph this week that "New EU map makes Kent part of the same nation as France", I thought it was worthwhile going back to some of the sources.
My Austrian wife was rather concerned about the fate of her own country – even if she has been resident in the UK for decades and shares my concern about the fate of mine. After all Germany ate the country whole in 1938.
See also the other news reports here:
Plan wipes Britain off the map
What a carve up!
The Mad Map as featured in The Sun.
And their editorial, "Wolf at the door" containing the immortal phrase, "Not if The Sun has anything to do with it, Wolfgang."
The Wolfgang that The Sun refers to is Wolfgang Tiefensee, the Socialist Minister of Construction in the German Coalition government. He says, "There is great hope underlying the goal of a United Europe that we can permanently overcome old borders." Here is a previous example of a German tank just having overcome the old borders of Poland in 1939, and wandering about the streets of Warsaw.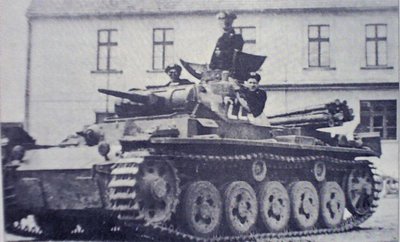 Mr Tiefensee (rougly translated Mr Deepsea – more or less out of his depth) was even elected World Mayor in a competition of Mayors in 2004, giving a new meaning to the word Oeberburgermeister – Senior Town Mayor.
Here he is, seen trying to recapture the sixties rather than territory lost by Germany: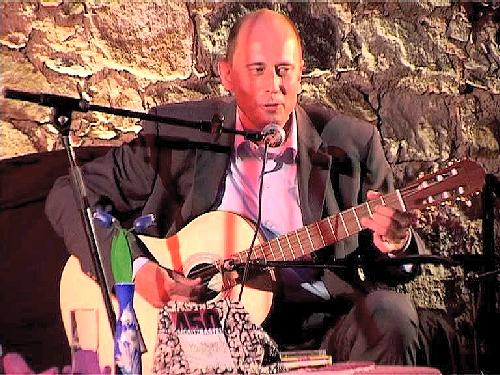 It seems much of the madness comes from a German-based organization called Deutscher Verband für Wohnungswesen, Städtebau und Raumordnung e.V. – The German Association for Habitation, Urban Development and Spatial Planning.
Here is a translation of most of the link:
Promotion, support, information and lobbying for implementing the European Spatial Development Concept (EUREK) and the common initiative, INTEREG III B/C.

[EU wreck is quite a good name for this project]

European spatial development has increasingly gained in importance over the last years. The continuing European integration mandates a European vision for the concept of area development. In this context, a European spatial development concept has been worked out and has been passed into legislation by the informal Area Planning Ministerial Council in Potsdam in 1999. [Yes, that's a Potsdam Conference II!]

EUREK transmits a commonly held vision of a future European space, approved by one of the member states [guess which one, Germany!] and the European Commission. It constitutes a general relationship framework for measures important to areas and provides a role model for the formulation of their policies and actions with respect to public and private decision makers. EUREK is thereby targeted to those political areas which are in need of a spatial orientation and EUREK will provide guidelines through its political scenarios.

Apart from the Member States, EUREK addresses itself to regional and local authorities within an area as well as important private enterprises such as transport and communications, and/ or energy providers.

EUREK provides with this, the basis for an intensive discussion on spatial developmental perspectives and framework options, in and for Europe, with three main goals.
Economic and social cohesion
Sustainable development
Balanced competitiveness

For this reason, EUREK has formulated three area models

1. A balanced and polycentric town system and a new relation between town and country
2. An equal access to infrastructure and knowledge
3. Sustainable development, intelligent management and the protection of nature and culture

EUREK's statements as well as the trans-national [they are talking about us!] activities in this connection are of a high political relevance for Germany. This is readily derived from its central location, and in relation to the accession countries in Middle and Eastern Europe.

[...]

This initiative is continued in the new structural funds support period 2000-2006, entitled INTEREG III B and it has a European-wide support level of 1.3 billion euro, a better financial facility than INTEREG II C and is therefore more ambitious for its projects. Circa 700 million euro are available for trans-national co-operation projects in which German public and private institutions participate. It is therefore expected that the projects will more concrete, i.e. a greater emphasis is placed on implementation than previously [how much money has been wasted before?] and a trans-national exchange of experience will no longer been sufficient in the future [they have real plans for us!]

[Not only an EU project but a gold mine]

The primary contact is the manager of the German-Austrian Urban Network. [In this strange world, the joint- destinies of Germany and Austria become more closely intertwined than they have been for more than fifty years.]
End of translation with my added comments.

This is the map that they produce of interlocking circles: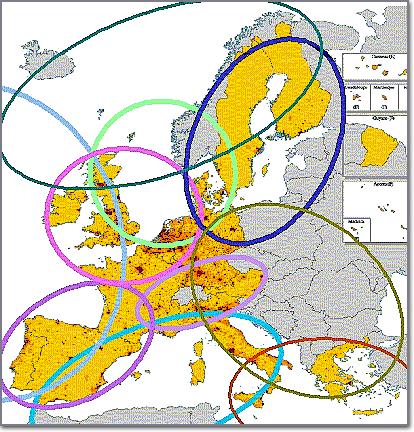 France will be, much to their surprise, at the centre of nothing. If you look at the map with the pessimism of a Frenchman, Burgundy, including Paris has been returned to England (as has Ireland!) reversing the victories of St Joan of Arc.
Looking at it another way, Belgium is part of Northern France as it was in World War II. Scotland has in two circles become part of Scandinavia, only being part of the Union in one circle. London has been crossed out – partly by an Atlantic circle and partly by a Scandinavian circle.
If Greece is not part of Central Europe, she becomes an associate of Turkey.
Curious that Germany is also not at the centre of anything. For fear of being seen as Greater Germany, they have been seeking to dissolve themselves in Europe for the last forty years. Some might see the end result as pretty similar.
There was a wartime joke "What will you do after the war, Fritz?" "Oh, take a tour around Greater Germany." "And what will you do in the afternoon, then?"
Important to this concept of Europe is the idea of power centers for these circles. Just don't ask where these power centres are going to be.
But we have been here before.
Here is the passion for circles around power centres applied to the region around Kutno in Poland in the German's General Plan East. (from National Socialist Spatial Planning in the General Plan East):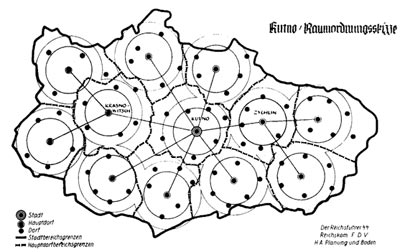 Here is a map of the CURRENT Interreg planning idea of Europe taken from their own website. The UK survives although poor old Italy, France and Greece get divided in two. Further sub-divisions and proposed allegiances are not shown: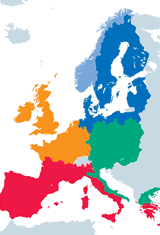 The EU is seeking not just the regionalisation but also the atomisation (in the sense of dividing down to the smallest possible administrative unit) of the nation state. Europe will become like a chemistry experiment as new molecules are formed, new and ever changing combinations of atoms and newly-existing groups of atoms, with shifting loyalties, very few of which will be permanent.
Old loyalties are beginning to fade. Transmanche was developed under the Interreg IIC programme. The University of Kent was even looking to set up a University of Transmanche apparently sponsored by the Erasmus programme. He who pays the piper plays the tune. Unless you think Europe is an intrinsic good, which it is not, this is a world away from the traditional concept of the University loyal to learning and knowledge alone.
And here is the ArcManche promoting the TransManche network. And pseudo-democracy at work, they even have their own assembly.
Another incriminating map of projects supported by Interreg. Ireland in partnership with the nationalist western half of Wales: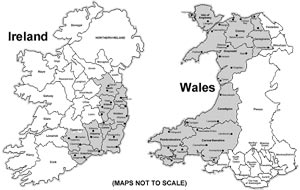 The Conservatives may have discovered this wickedness and got the story almost right. But you will have to wait for years to draw the right conclusions and for ever for them to do anything about it. For ever, will be too late.
Don't forget the bureaucrats already sank Wales and here is Europe as a piece of cake, the full list of Euroregions.
But here is a sign of hope just to prove the modern Germans can laugh at themselves.
Among other maps. The Crossed Bananas of European Prosperity: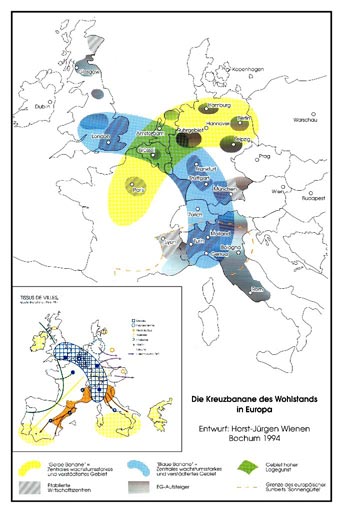 Just as long as they keep on laughing while we leave. This nonsense is all too serious.

Footnote on Spatial Planning/ (Area/Territorial order!) in Germany:
Raumordnung is the planned order, development and security of large territorial units, (regions, länder or areas) for the sustaining of the best possible utilization of the Lebensraum.

Spatial planning in Germany has been codified in the Spatial Planning Act (ROG). The implementers of spatial planning work according to the Gegenstromprinzip [contrasting the outcome with the initial situation].

A model for Spatial Planning is a sustainable spatial development which can bring in accord the socio-economic demands on the area with its ecological functions, which results in a permanent order in the larger area.

Spatial planning is a complex concept which comprises all measures, serving forward planning of a goal orientated spatial distribution of assets and facilities and it is envisaged to have an orderly territory that serves public interests. The following aspects have to be laid down.

· To maintain the free demonstration of communal personality and the responsibility towards future generations
· To protect and develop the basic foundations for life.
· To create the standard premises for economic developments
· To open framework possibilities for the area utilization on a long-term basis!
· To strengthen the marked multiplicity of the sub-areas.
· To produce equal living conditions in all sub-areas.
· To balance the spatial and structural imbalances between the partitioned areas prior to the unification of Germany.
· To create the territorial presuppositions for the cohesion in the European Community and in the larger European space.

In order to achieve these targets, important spatial planning and measures have to be agreed, contradictory demands on space have to be evaluated and any arising conflicts thereby have to be balanced. At the same time, provisions for individual spatial functions and utilisations have to be made. The results of this raumordnung have to be noted in summary and planning projects.
[...]
Expect to see more on this site soon about the history and future strategy of Interreg, as well as the associated funding programmes. They are proceeding by a policy of little steps.