European Commission as Guilty as Tintin
From the desk of The Brussels Journal on Thu, 2007-08-23 08:33
A quote from a Liberty and Law press release, 22 August 2007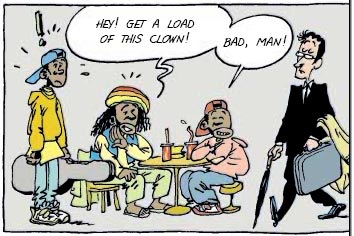 The European Commission is to remove the comic What me a racist from its Europa website following a complaint from civil liberties group Liberty and Law […] The glossy A4 comic [pdf] produced in 1998 to combat racism was published in all the official European Union languages. It was "designed for teachers to use when addressing the subject of racism with young people" and has been on its website since 2001.
Liberty and Law complained about the offensive racial caricatures of the black characters portrayed, reminiscent of the treatment given to Africans in Hergé's 1931 book Tintin in the Congo. […]
Just a few hours later Commissioner Spidla's spokesperson asked the Communications Directorate General to remove the comic from its website.
The Commission also confirmed that the paper copies were out of print and would not be reprinted. The […] Commission "did not intend to offend African Europeans (or any other group addressed in the cartoon) and should this have been the case they regret this deeply and offer their sincere apologies."