Belgium, the EU's Destiny. The End of Nothingness
From the desk of Paul Belien on Sat, 2007-08-25 11:32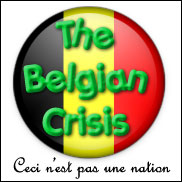 Upon approaching its 175th anniversary, Belgium was finding it increasingly difficult to maintain the image of a normal liberal democratic nation-state, governed by consent of the people. At the heart of its hybrid, unrepresentative and largely unaccountable regime is a democracy deficit that is there for the whole world to see. The Belgian politicians do not seem to care, however. Despite its failings, the authorities in Brussels continue to propagate the 'Belgian federal model,' which, according to Crown Prince Philippe, 'can be an inspiration for the European Union.' [Crown Prince Philippe in De Standaard, 19 May 2001] The heir to the Belgian throne perceived the striking parallels between Belgium and Europe as an artificial state in the making. Like him, many members of the Belgian political class feel perfectly at home in the European institutions. Familiar with Belgium, the 'discontinuity perpetuating itself in a permanent state of constitutional reform,' [Prof. Roger Lallemand, La Belgique, pays d'incertitude, Brussels, 1998] they function better than anyone else in a scenario that is constantly changing. 'There are all kinds of interesting parallels between Belgium and Europe,' Belgian Prime Minister Guy Verhofstadt said: 'Belgium is the laboratory of European unification. Foreign politicians watch our country with particular interest because it can teach them something about the feasibility of the European project.' [Verhofstadt in Humo, 29 July 2003]
Like 'Europe,' that other gravy train in Brussels, Belgium has never been based on a sense of national unity. It has been held together by a political class prepared to subvert democracy to its own ends. The Belgian regime, because it could not be based on a real nation, could never tolerate a democratic form of governance. Ironically, in the early 21st century, the Belgian model, the ideal of the 20th century welfare state corporatists, came to fascinate an entirely new group of intellectuals and artists. These so-called 'neo-Belgicists' began to sing the praises of Belgium as the world's first post-modern or post-national nation, unaware that they were actually applauding a post-democratic model. In 1985, in his book De afwezige meerderheid (The Absent Majority), the [Flemish-nationalist] philosopher Lode Claes had pointed out that Belgium is characterised by an 'identity of non-identity.' This was repulsive to Claes, who argued that without identity and a sense of genuine nationhood, there can also be no democracy and no morality. The neo-Belgicists, however, regard the absence of identity as the supreme morality. On 6 March 1998, they published the Open Letter Gedaan met nationalistische dwaasheid (Let's Stop Nationalistic Foolishness) in which they stated that they do not believe in the existence of 'national identity' and are not prepared to march behind any national flag, except the Belgian flag 'because the latter does not represent anything.' An identity is nothing to be proud of, their message read, but Belgium is something to be proud of exactly because it is nothing. As Belgium does not stand for an identity, it is 'an antidote against nationalism.'
Moreover, because it stands for nothing, Belgium can easily be replaced by a larger 'non-identity concept' such as Europe. In the early 1940s, Hendrik De Man had already said that one had to proceed beyond nationalism. In a speech in Antwerp on 20 April 1941 (Hitler's birthday), De Man told his followers that it was necessary to 'transform Belgium, not abandon it,' through 'an Anschluss to Europe.' What was needed, he said, 'was as much federalism and as little separatism as possible,' so that 'Belgium, exactly because it is not based on a unique national sentiment, can become the vanguard of the European Revolution; the principle on which the new European Order hinges.' De Man's ideal was echoed by the neo-Belgicist intellectuals and artists.
Even though, or perhaps exactly because it stands for nothing, Belgium needs a tangible symbol. Without the civic glue that binds countries with a genuine national identity, Belgium, as we have seen, could not have survived for already six generations if it had not been for two basic elements: its corporatist social welfare system that has corrupted a substantial section of the electorate, and its royal family that has given it an element of mystique and a semblance of unity. 'The monarchy is the only way to keep an artificial country such as Belgium together. In a homogeneous country, I would be a republican, but not in Belgium,' the Socialist Party leader Louis Tobback said in December 2001. [Tobback in Gazet van Antwerpen, 29 December 2001] According to the Walloon Socialist Claude Eerdekens 'the King is the last bulwark against the continuing advance of Flemish imperialism.' [Eerdekens in L'Echo, 3 June 2000]
Perhaps Europe, in order to become a viable Federal European State, needs an institution no Europhile has yet considered: a common dynasty. This may even be more fundamental than a common social policy, a common currency, a constitution, a flag and an army. Would the Belgian Saxe-Coburgs not be the most likely candidates to become the monarchs of such a 'post-national, non-identity' state, precisely because they are nothing: not British, not French, not German, not Italian, not Danish, not Spanish, not even Flemish or Walloon? Being nothing, they are the only 'true' Belgians, the only 'true' Europeans.
This would imply, however, that all European citizens would have to become Belgians. And that is a nightmare which these citizens, if they watch Belgium as carefully as Belgian Prime Minister Verhofstadt says their politicians do, will want to avoid. The history of Belgium confirms that without a sense of national identity, democracy and public morality wither away. The Flemings and the Walloons have had to pay a heavy price for the artificial, 'non-identity' State that the international powers bestowed on them in 1830. The reader must ponder the question whether all that has happened in Belgium could also have happened in any other country. Or is the 'Belgian disease' unique to Belgium because Belgium itself is unique? If so, how long will it continue to be unique? Will the 'Belgian disease' soon become the 'European disease?' Will Europe, like Belgium, become a Federal State which fails in the basic duty of a state: to guarantee law and order, provide a fair judicial system, and protect its citizens and their children? In a few decades from now, will Europeans, like Belgians today, be obliged to say of their pan-European – supra-national, or rather post-national and post-democratic – State: Thou feedest us with the bread of tears (Psalm 80:5)?
The future of the European continent depends to a large extent on the reader and on the decisions he allows his politicians to take. It is not inevitable that all Europeans will be Belgians, with the British in the position that the Flemings have occupied for the past 175 years. Perhaps – and what an irony that would be – the people of Flanders, citizens of a nation designed to deny nationality, will become the forerunners of the countermovement, bringing down the Belgian construct and thereby proving that Europe as a federal superstate is a non-starter – the non-starter that Belgium, but for the Saxe-Coburgs on their gravy throne, would have been.

(This is an excerpt from Paul Belien's 2005 book "A Throne in Brussels".)
A Throne in Brussels
Author: Paul Belien
ASIN: 184540033X