A quote from a leader in The Economist, 6 September 2007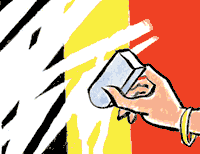 True, in opinion polls most Belgians say they want to keep the show on the road. But when they vote, as they did on June 10th, they do so along linguistic lines, the French-speaking Walloons in the south for French-speaking parties, the Dutch-speaking Flemings in the north for Dutch-speaking parties. The two groups do not get on – hence the inability to form a government. [...]
No doubt more good things can come out of the swathe of territory once occupied by a tribe known to the Romans as the Belgae. For that, though, they do not need Belgium: they can emerge just as readily from two or three new mini-states, or perhaps from an enlarged France and Netherlands.
Brussels can devote itself to becoming the bureaucratic capital of Europe. [...]
[Belgium] has become a freak of nature, a state in which power is so devolved that government is an abhorred vacuum. In short, Belgium has served its purpose. A praline divorce is in order.