*** Crisis in Belgium: Read the Only Book Which Explains Why ***
From the desk of Paul Belien on Sat, 2007-09-08 19:23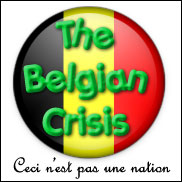 "A Throne in Brussels," my history of Belgium, was published in 2005. The book predicts that "Belgium will collapse in the next ten years." It also warns that "Belgium's past might be Europe's future." The collapse of Belgium has begun. International journalists who would like a review copy can request one from the publisher [Imprint Academic in Exeter (UK) and Charlottesville, VA (US)] here.

My book is a history of Belgium since its foundation until today. It is the ONLY English-language history book that explains the causes of the coming collapse of Belgium and its implications for Europe. Read a sample chapter (pdf) of the book here.

The sample chapter relates how the Belgian King Albert I conspired with the Germans against the Allies during the First World War, only switching to the Allied side when it became clear that the latter were going to win the war.