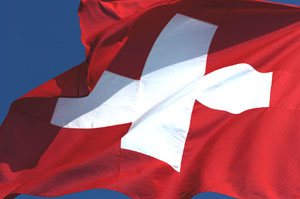 A quote from Ian Traynor in The Guardian, 8 October 2007
Switzerland is an exercise in exceptionalism. Not least among the exceptions is that the hardline anti-foreigner campaign is coming not from a small neo-fascist party on the margins, but from the strongest political force in the country.

A quote from Elaine Sciolino in The New York Times, 8 October 2007

Unlike the situation in France, where the far-right National Front leader Jean-Marie Le Pen campaigned for president in the spring alongside black and ethnic Arab supporters, the SVP [Swiss People's Party] has taken a much cruder us-against-them approach.
In a short three-part campaign film, "Heaven or Hell," the party's message is clear. In the first segment, young men inject heroin, steal handbags from women, kick and beat up schoolboys, wield knives and carry off a young woman. The second segment shows Muslims living in Switzerland – women in head scarves; men sitting, not working. The third segment shows "heavenly" Switzerland: men in suits rushing to work, logos of Switzerland's multinational corporations, harvesting on farms, experiments in laboratories, scenes of lakes, mountains, churches and goats. "The choice is clear: my home, our security," the film states.
[…] As most of the rest of Europe has moved toward unity, Switzerland has fiercely guarded its independence, staying out of the 27-country European Union and maintaining its status as a tax haven for the wealthy. It has perhaps the longest and most arduous process to become a citizen in all of Europe: candidates typically must wait 12 years before being considered.