On Schrödinger's Cat and Joshu's Dog
From the desk of Takuan Seiyo on Mon, 2007-10-29 14:30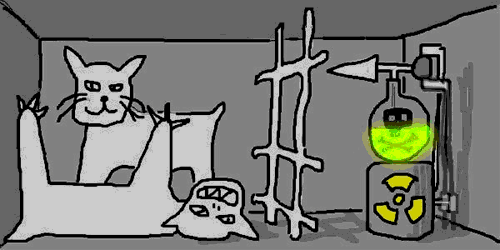 Paul Belien's analysis of the EU Inquisition and the racist smears thrown at the Vlaams Belang party should be required reading for all, so called, conservatives, who are really economic capitalists and social marxists. For such conservatives, even as important as George W. Bush or as useful as Charles Johnson, often harbor a tangle of unexamined liberal-egalitarian assumptions wrapped around an inner strongbox of shallow shibboleths that they haven't either the intellect or the civic courage to examine.
The issue of the Holocaust and Europe's civilizational guilt over the fate of its Jews is indeed central to understanding how "racism" has become the dirtiest word in white-man's vocabulary and "Nazis" or "fascists" lurk behind any social truth the left doesn't like. Thus was the Frankfurt School born and the inner spring sprung that has animated the ruling elites of the West in their suicidal quest to eradicate "racist and xenophobic behaviour" and "discrimination."
Something I wrote here recently bears on this subject:
"It has not been explained how admitting to Switzerland over 300 thousands mostly primitive and Jew-hating Muslims can expiate for indifference to the Nazi slaughter of the Jewish kin of Einstein, Freud, Mahler, Mendelssohn, Wittgenstein, von Neumann, von Mises, and von Stroheim."
And elsewhere:
"The evil lies of racist National Socialism cannot be expiated with the mawkish lies of its revolted daughter, universalist multiculturalism. The former ended in 62 million dead, and a continent destroyed; the latter is well on its way to a cave-in of civilization." (2)
The Spanish writer Sebastián Vivar Rodríguez may have best expressed the paradox of the Eurabian gambit in his lament "Europa murió en Auschwitz". A poor English translation can be read here, but Vivar Rodriguez deserves better, and perhaps will get it in this forum.
Unlike the Confucians, Daoists or Zenists, we are a cultural species apparently unable to internalize and act on any reality but that which we construe at either of the far ends of the arc of the pendulum. We go from Hitler to our self-inflicted Hitler's revenge; from vile, racially targeted, industrial-scale mass murder to masochistic, self-erasing impotence; from scientific racism to nonscientific anti-racism; from ein volk to "celebrating diversity."
To dwell only at either of the far ends of the pendulum's arc is a perversion of human reality and its relegation to the quantum realm of Schrödinger's cat. Invented by Erwin Schrödinger to challenge the thinking of quantum theorists, this cat lives with an artificially induced 50% chance to die, and therefore is construed in orthodox quantum physics as simultaneously dead and alive. But in the reality inhabited by sentient beings, a cat may only be alive or dead. Besides, the idea that anything alive can be isolated from reality and treated as a theoretical or ideological construct is so crazy, even in the realm of theoretical physics, that Einstein praised Schrödinger in these words:
You are the only contemporary physicist, besides Laue, who sees that one cannot get around the assumption of reality — if only one is honest. Most of them simply do not see what sort of risky game they are playing with reality.
Nowadays, the risky games with reality are played by Eurocrats and Democrats, pseudo-Tories and ersatz-humanists. Paragraphs 6 and 7 of the European Parliament's Holocaust remembrance resolution that Paul Belien quotes are a perfect example of the Euroelite's demented utopianism bearing evil seed. Viewed in the context of the "Framework decision on combating racism and xenophobia," the thrust of EU's actions is to muzzle the European people and exact their submission to a vision of Eurabia dear to the hearts of Europe's bien-pensants. And, precisely as Paul Belien states, Europe's sadomasochist and profoundly tyrannical dhimmis–by-choice are running away from the Holocaust into the arms of another Holocaust.
Fjordman once wrote that the European elites have traded international warfare for civil war at home. The European peoples will not subject themselves to socialist Eurabia indefinitely. The people, betrayed by the actions of their own leadership caste, now find themselves culturally impaired, disarmed, overtaxed, gradually losing their civil liberties, tied-up-and-muzzled in the face of an unending stream of vile abuse, violence, petty crime, ingratitude, insensitivity, and exploitation by tens of millions of Third-World foreigners who should never have been allowed to settle in Europe in the first place.
They will not be satisfied with sullen submission for much longer. Looking in vain for leaders, for political parties that have the courage to state that the Emperor's new clothes are just tattered figments of utopian insanity, simple-minded people may fall for fringe neo-fascist leaders who, almost alone, seem to see what the townsmen on the street see.
It is the great luck of Europe's priestly caste that parties like the Vlaams Belang, SVP and BNP exist, for they too see and speak the truth, and provide an alternative that the common folks can join instead of supporting fringe movements that may expound the truth in some ways but spout lunacy (e.g. "the Jews did it") in others. If civil wars and Hitler redux are to be avoided in Europe, it will only be because parties like Vlaams Belang have ascended to power and have given a voice and a vent to the suppressed aspirations and anger of many millions. So if Nazi skinheads applaud VB, therein lies the hope that violent sociopaths be transformed into content, enfranchised citizens. It's no different from MoveOn crazy fringe lefties showing at the Democratic Party's convention.
One hopes that the knee-jerk overreaction by Charles Johnson and other American "conservatives" will yield to a more thoughtful posture. For the Western white elite's endless preoccupation with racism and perceived xenophobia, and its worship of tolerance as the supreme virtue is a deep psychosis -- Hitler's revenge -- that ought to be recognized as such. Moreover, as this psychological dysfunction leads to acts as insane as building mosques in West Point and Oxford, dropping the Holocaust from the British school curriculum, and turning Brussels' storied churches into Islamic asylums, it is in fact a staggered suicide-by-Trojan-horse. And lastly, the psychosis leads to a denial of reality; even reality as solidly established through 80 years of statistical research as racial differences of mean IQs, body types, comparative advantages etc. And reality is a jealous mistress. Spurned, she will return to take her revenge.
The normal folks, who have not graduated from École normale supérieure or Oxford, have no use for Schrödinger's cat or EU's 278-page, single-spaced definition of cat that includes all the prohibited attributes thereof. They live with and love the cats of reality: playful and cruel, and full of paradoxes, and full of life's energy until they fall under a truck one day, however socially unjust that may be.
If the elites play at Schrödinger's cat, normal people have more use for Joshu's dog. Joshu, one of the greatest Zen masters in history, lived in China in the 9th century. One day a monk asked Master Joshu: "Has a dog Buddha-nature or not?" Joshu answered: "Mu."
"Mu" may sound nonsensical, but it's a direct response to foolish sophistry. It is one of the most famous one-word affirmations of reality in history, the other one being General Anthony McAuliffe's response, "Nuts", to the request of surrender made by German commanders besieging Bastogne, during the Battle of the Bulge.
The distance from Bastogne to Brussels is only 150 kilometers. But the distance from Tony McAuliffe's 101st Airborne Division of 1945 Bastogne to the Eurabian pashas sitting on high thrones in the Brussels of 2007 may be expressed in light years. The role of saying "Nuts" now belongs to the Vlaams Belang. The least racial hysterics ought to do is reflect upon that before launching their N, R and F projectiles.
---
Notes:
1. Source of the Schrödinger paradox illustration: http://en.wikipedia.org/wiki/Image:Katze.jpg.
2. Takuan Seiyo, "The Wolfe, the Buffalo, and Our Lost Ability to Make Distinctions," Quarterly Review, Spring 2007.