Europe's Permanent Revolution
From the desk of John Laughland on Wed, 2008-01-23 19:47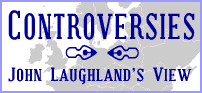 The introduction of the Lisbon treaty this week for ratification by the House of Commons reminds us that the European Union has been in a state of permanent revolution now for more than two decades.

Ever since the Single European Act was passed in 1986, there has been a new treaty every three or four years: Maastricht (1992), Amsterdam (1997), Nice (2000), the European Constitution (2004) and now Lisbon. In addition to this, three new member states joined in 1995, ten more in 2004, fifteen national currencies were abolished in 1999, and the Schengen agreement abolishing border controls was signed in 1985, amended in 1990, and extended to nine new states at Christmas.

Pro-Europeans have often compared the EU to a bicycle, saying that it must always move forward or else fall over. They evidently do not know how to ride a bicycle, since when a bicycle stops, it is usually placed carefully against a wall until it is needed again. One assumes, though, that their choice of the bicycle metaphor was inadvertent, since it was originally used by Che Guevara to describe the revolution which also had to keep moving forward permanently or risk collapse.

Or was it inadvertent? Just as Valéry Giscard d'Estaing more or less admitted in Le Monde on 26 October 2007 that the Lisbon treaty had been written in an impenetrably style (as a series of amendments to existing treaties) in order to obviate the need for a simple Yes or No answer in a referendum (indeed, the government of all EU states have collaborated with one another to ensure that there will be no popular vote), so there are several commentators on Europe who specifically say that they like it because it is a post-modern political construction, i.e. a construction in which nothing is clear and everything is in a permanent state of flux.

One of these commentators is Ulrich Beck, a German who teaches at the London School of Economics. This historically unique form of international community," Beck wrote recently in The Guardian, "cannot be explained in terms of the traditional concepts of politics and the state." Europe was neither a federation of states nor a federal super-state but instead something which guarantees "the coexistence of different ethnic, religious and political forms of life across national borders based on the principle of cosmopolitian tolerance."

Like the ideas in which he claims to believe, Beck's writing is not clear. What is clear is that he thinks that "Europeanisation means creating new politics" – a new politics in which nation and state are henceforth separate. More clear is the writing of the Italian philosopher and MEP, Gianni Vattimo. Like Beck, Vattimo clearly believes that "Europe" has replaced socialism as a political utopia: Beck calls Europe "Europe's last remaining realistic political utopia" – "last remaining", one assumes, because socialism has vanished – while Vattimo writes more explicitly, "The European ideal is a valid, perhaps the only valid, substitute for the Marxist project for the construction of a disalienated society." [L'Unita, 24 January 2002]

Vattimo goes on, "Europe, as a project of political construction which is founded solely on free adhesion – of citizens and of states with equal rights – is today the most visible manifestation of an anti-naturalist policy." By anti-naturalist, he means that it is not based on any form of heredity or nationhood – no "blood" or "soil". As such, he writes, it is a Marxist concept. (Vattimo also calls it Christian and socialist too, but that it because he promotes a deliberately self-contradictory personal philosophy, according to which he thanks God for the fact that he is an atheist.)

There is no doubt that the cosmopolitanism which so excites Beck, Vattimo and others has Marxist antecedents. Cosmopolitanism was one of Marxism's most important tenets, encapsulated by the slogan, "The worker has no country". Marx and Engels wrote excitedly in The Communist Manifesto of how world capitalism would destroy family and nation and thereby usher in world socialism. They wrote,

The bourgeoisie has through its exploitation of the world market given a cosmopolitan character to production and consumption in every country. To the great chagrin of Reactionists, it has drawn from under the feet of industry the national ground on which it stood. All old-established national industries have been destroyed. […] In place of the old local and national self-seclusion and self-sufficiency, we have intercourse in every direction, universal inter-dependence of nations […] National one-sidedness and narrow-mindedness become more and more impossible […]
However, there is a deeper sense in which Europe's permanent institutional revolution is being deliberately carried over by old Marxists into Europe's political reality, and it is a sense which comes from the very heart of darkness of Marxism-Leninism. For various authors – Edgar Morin, Jacques Derrida, Antonio Negri, among others – Europe is desirable precisely because it is "polymorphic" and "multifunctional", because it has no centre and no summit, because nothing is fixed and everything in a state of flux. This idea has been expressed as "multilevel constritutionalism" by Giuliano Amato, the former Italian Prime Minister who helped draw up the now defunct constitution, and as "a post-Hobbesian order" by Philippe Schmitter, a professor at the European University Institute in Florence.

This is nothing but the Marxist-Leninist dialectic in new guise. As Solzhenitsyn wrote in his 1973 Letter to the Leaders of the Soviet Union, the key fact about communism is not the dictatorship of the proletariat or even state ownership of the means of production but instead ideology. And that ideology, according to the great Yugoslav onetime Communist, Milovan Djilas, as well as to the great French anti-Communist historian of thought, Alain Besançon, is the dialectic: the belief in the primacy of change, in the fact that nothing is fixed, and in the idea that one thing and its opposite can both be true. Just as Engels drew on Darwin in the Dialectics of Nature to argue that in nature, "nothing remains what, where and as it was, but everything moves, changes, comes into being and passes out of existence" and that therefore one could never say that everything is what it is and not another thing (the cardinal rule of Aristotelian logic). Indeed, Engels specifically attacked the view of the "metaphysician" thus:

For the metaphysician, things and their images in thought, concepts, are individual objects of enquiry which follow one other without the other being observed: they are fixed and unchangeable. The metaphysician thinks in purely unmediated sentences: he says 'Yes, yes, No, No.' For him, a thing either exists or it does not. A thing cannot be itself and another thing. Positive and negative exclude one another completely; cause and effect stand in similarly stark opposition to one another.
Instead, things were in a permanent state of flux, and political institutions had therefore to imitate nature and be in a permanent state of flux as well. In a famous passage, Marx explained the link:

Social relations are closely bound up with productive forces. In acquiring new productive forces men change their mode of production; and in changing their mode of production, in changing the way of earning their living, they change all their social relations. The hand-mill gives you society with the feudal lord; the steam-mill society with the industrial capitalist.
This is precisely the argument advanced in favour of Europe today – not just the argument that the nation-state has had its day because of technological developments, but more profoundly the argument that henceforth there can be no sovereign to say "This" and not "That", no ultimate choice, no clear alternative. Everything instead in suffused in a welter of permanent change. Whether Engels knew that he was quoting the Bible when he caricatured the metaphysician, I do not know, but he was. Here is what St. Matthew has to say on such views: "But let you speech be, 'Yes, yes, No, no,' and whatever is beyond these comes from the evil one." (Matthew 5: 37)