Blair to Brussels? Not to Brown's Liking
From the desk of The Brussels Journal on Mon, 2008-01-28 20:11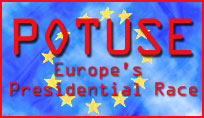 A quote from The Daily Telegraph, 28 January 2008

Senior allies of Gordon Brown are plotting to wreck Tony Blair's ambition to become the first permanent President of Europe amid fears that his appointment would reignite old divisions in the Labour Party.

The Brown camp is determined to enlist high-powered support within the EU to prevent a Blair bandwagon, backed by President Nicolas Sarkozy of France, gathering pace.

The Daily Telegraph has established that Mr Blair is taking a serious and growing interest in the £200,000-a-year post, which would thrust him back to the centre of the international stage.

One authoritative source close to Mr Blair said: "In the end I think he will take it. If, as already indicated, Sarkozy wants him to get it, I cannot see why it will not happen. Sarkozy is one of the most powerful leaders. Will Gordon really be upset?" […]

Yet the mere mention of Mr Blair becoming the first president is enough to irk Mr Brown, who spent a decade in his shadow. […] A Brown ally said: "Imagine what a field day the British media will have by comparing Tony's court in Brussels to Gordon's in London.