Why France Wants to Rejoin NATO
From the desk of Soeren Kern on Mon, 2008-04-28 21:57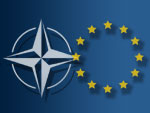 French President Nicolas Sarkozy says he will decide by late 2008 or early 2009 whether France will fully rejoin the North Atlantic Treaty Organization (NATO). It is one of the more important issues left unresolved at the recently concluded Bucharest Summit, where Sarkozy proclaimed: "I reaffirm here France's determination to pursue the process of renovating its relations with NATO."
General Charles de Gaulle withdrew France from NATO's military structure in 1966 in protest over American dominance of the Atlantic Alliance. And more than 40 years later, the issue of American influence over European security remains a fundamental stumbling block to improved Franco-US relations.
But France has been toying with the idea of rejoining NATO for more than a decade. Indeed, in 1995, Sarkozy's predecessor, the neo-Gaullist Jacques Chirac, told US President Bill Clinton of his desire to bring France back into the Alliance command structure. But the effort was abandoned when the Clinton Administration rejected French conditions for full re-integration, and when Chirac lost his governing majority in snap parliamentary elections in 1997.
Sarkozy, who has been called "an American neo-conservative with a French passport" because of his desire to mend relations with the United States, first announced the possibility of a French rapprochement with NATO in a September 2007 interview with The New York Times. But even if Sarkozy has pro-American leanings, he also is thoroughly Europe-centric in his worldview; correspondingly, he has spelled out French conditions for rejoining NATO that are very similar to those of Chirac: American acceptance of an independent European defense capability and a leading French role in NATO's command structures.
Sarkozy reiterated his demands in November, when, in an address to the US Congress, he called on "the Alliance to evolve concurrently with the development and strengthening of a European defense." France's Minister for Europe, Jean-Pierre Jouyet, echoed this by saying: "We want to make openings with regard to NATO. […] But let's be clear: We are ready to make these openings only if they allow the strengthening of a real European security and defense policy."
But French calls for an autonomous European military capability have been greeted with skepticism by several European countries that are reluctant to undermine the existing security links with the United States established through NATO. Indeed, some of the more US-leaning European states suspect that France's renewed interest in rejoining NATO is in fact a Trojan horse designed, ultimately, to destroy the Atlantic Alliance from within.
Sarkozy, therefore, seems to have concluded that if he wants to advance the cause of autonomous European defense, he will first have to placate euroskeptics on both sides of the Atlantic by proving his commitment to NATO. But France is unlikely to rejoin NATO if it does not promote European integration. Indeed, the President of the EU Military Committee, French General Henri Bentégeat, has said: "I think that if France normalizes its relations with NATO, European defense projects will become easier to progress." Says Sarkozy: "The more we are friends with the Americans, the more we can be independent."
Nowhere are French proposals for an autonomous European defense capability more controversial than in euroskeptic Britain, whose government is seeking ratification of the highly unpopular Lisbon Treaty (the repackaged European Constitution) this summer. British Prime Minister Gordon Brown, who had earlier promised to hold a popular referendum on the Treaty, has now decided it will be easier to obtain a "yes" vote by sidelining British voters altogether and instead submitting the document directly to Parliament for ratification.
With this in mind, Brown presumably advised Sarkozy during his first official visit to Britain on March 26-27 to frame his proposals for European defense in such a way as to avoid endangering the Lisbon Treaty ratification process. Indeed, Jouyet, the French Minister for Europe, recently said that: "We will obviously take care not to jeopardize the ratification process of the Lisbon Treaty, because we know that in certain countries these issues are sensitive."
This probably explains why the symbolically important issue of French re-integration into NATO has been postponed to a meeting of the North Atlantic Council at the level of foreign ministers in December 2008, or even perhaps to NATO's 60th anniversary summit in April 2009.
An EU Army to Rival NATO?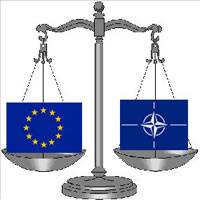 France will assume the six-month rotating presidency of the European Union on July 1, 2008. And Sarkozy has already made it clear that the centerpiece of his (exceptionally ambitious) agenda will be the full development of an autonomous European Security and Defense Policy (ESDP).
The full extent of Sarkozy's vision for European defense will be published in the forthcoming "White Book" on French defense sector reform. But according to senior aides, Sarkozy's central proposal for the French presidency of the EU revolves around using provisions in the Lisbon Treaty that call for "permanent structured cooperation" to create what many believe in effect will become a common EU army.
In practice, the French plan is to proceed around an inner core of the biggest European countries ("strengthened cooperation" in eurospeak) called the G-6: Britain, France, Germany, Italy, Poland and Spain. (Other countries can join this initial group at any time.) France wants each G-6 country 1) to contribute 10,000 troops to a 60,000-strong "common intervention force" and 2) to commit to spending a minimum of 2 percent of GDP on defense.
France also wants the EU to have its own independent military planning capability (with its headquarters in Brussels). Says Europe Minister Jouyet: "We propose that Europe acquires the operational means for intervention with a planning center in Brussels." This has been echoed by French Defense Minister Hervé Morin: "An own planning staff in Brussels forms part of our ideas."
Another French proposal involves the creation of common EU arms market and the "definition of a common European disarmament and arms control policy." Says Jouyet: "We are ready for an internal market and an arms agency at the European level which will allow us to reinforce our industrial bases." Indeed, the European Commission recently proposed two new directives: one on defense procurement and another on intra-EU transfers of defense products.
France is also expected to proceed with a plan that would create a "common arms export policy" based on a proposal recently passed by the European Parliament. Furthermore, France wants to harmonize military training in Europe, as well as to "Europeanize" the foreign military bases of EU member states.
For the United States (and other pro-NATO allies), Sarkozy's plans pose a dilemma. On the one hand, the Americans want the Europeans to assume more of the burden for transatlantic defense. On the other hand, they want the Europeans to do this in a way that does not undermine NATO. And most of Sarkozy's proposals seem to be geared toward creating a rival European defense structure that over time will duplicate but not double NATO resources.
For example, the 60,000-strong EU force would draw on the very same troops that are currently committed to NATO. For such an EU force to be viable, troops would need to be on constant standby for EU missions. Considering that all EU countries are already stretched to the limit, Sarkozy's plans would almost certainly divert manpower away from the NATO mission in Afghanistan. And nearly all observers agree that the future of the Atlantic Alliance hinges on success or failure in Afghanistan.
Several European countries, especially Britain, have also resisted the creation of an autonomous EU military planning cell because of fears that it will duplicate the existing operational planning center at NATO known as SHAPE. And some EU countries are concerned that the creation of an internal EU arms market will make it more difficult for them to reach bilateral agreements with third countries (such as the United States) in relation to the licensing of exports of military equipment.
In an effort to alleviate some of these concerns, NATO in March 2003 reached a series of agreements with the EU known as the Berlin Plus arrangements. These guarantee that NATO not only maintains the right of first refusal to conduct crisis management operations (if the EU wishes to use NATO resources, it may only act independently in an international crisis if NATO chooses not to), but that all members have an effective veto by virtue of the fact that the EU may only draw on NATO assets if the whole alliance approves.
But the Berlin Plus agreements (and thus the whole debate over the EU's institutional relationship with NATO) will be reopened as a quid pro quo for France rejoining NATO. And if Sarkozy succeeds in creating an independent EU military, it will be at the expense of NATO, which in turn will dilute American influence over European security policy.
French Pro-Americanism Unlikely to Outlast Sarkozy
Although some analysts believe the pro-American Sarkozy is filling the shoes vacated by former British Prime Minister Tony Blair, most of the French political class does not share their president's enthusiasm for things American. Indeed, their goal for more than 60 years has been to reduce American influence in Europe. Thus it seems doubtful that Sarkozy's overtures to the United States will outlast his own administration.
This was foreshadowed on April 8, when Sarkozy faced down a vote of no confidence because of his plans to deploy a battalion of 800 French troops to Afghanistan (France already has 1,600 soldiers in Afghanistan, mostly around the capital, Kabul.) French leftists accused Sarkozy of a dangerous "Atlanticist drift" that risked turning France into Bush's lackey. The leader of the "moderate" opposition Socialists, François Hollande, said Sarkozy decided to send French troops to Afghanistan "under pressure from the Americans" and that France risked losing its independence on the world stage.
For most of the French ruling elite (the anti-American Left and the nationalist Right), the United States is considered to be the main problem in international affairs because of its reluctance to share its power. The only solution, in their view, is a French-led EU superstate that can counterbalance America on the global stage. And a unified EU foreign and defense policy that is completely independent from NATO (ie, the United States) is essential to achieve equal status. Until then, anti-Americanism will continue to be the preferred means to accelerate the process of loosening the transatlantic link.
Sarkozy may be sincere in his desire to rejoin to NATO. But by conditioning such a move on support for an independent EU defense capability, he is saying that to be more European tomorrow, he has to be more Atlantic today.

Soeren Kern is Senior Fellow for Transatlantic Relations at the Madrid-based Grupo de Estudios Estratégicos / Strategic Studies Group. This analysis was first published by World Politics Review on April 23, 2008 .