Down with America: the Sequel
From the desk of Alexandra Colen on Sat, 2005-10-08 11:54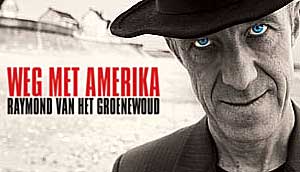 In
his report on the anti-American hate lyrics
of the Belgian songwriter
Raymond van het Groenewoud
Luc Van Braekel made the point that "more and more, it seems that racist or semi-racist expressions are punished when they originate from popular culture or from right-wing politicians and are directed against muslims, Arabs or Africans, but that similar expressions remain unpunished when they come from 'progressive' artists and leftist intellectuals and are directed against the Americans, the British or the Dutch".
The sequel to this story proves him right. Quite a few people were indignant at the liberties taken by Mr. van het Groenewoud in his song "Down with America". Flemish pro-Americans and American expats living in Belgium accused him of xenophobia. There were discussions on radio and TV and a number of people felt so insulted that they lodged complaints against him with the Centre for Equal Opportunities and the Fight against Racism, an institution which has been mandated by the government to defend those targeted by hate speech before the courts.
The Centre received twelve formal complaints. These, however, will not make it to the courts. The Centre contacted the singer and his manager, and the latter agreed to "explain" the song in an open letter to the public. The twelve complainants will receive a personal letter from the Centre. Its director Marco Van Haegenborgh says:
We understand that this song may shock or wound people's feelings, but we do not think it contains any intention of hatred or discrimination, and it does not incite to violence. As far as we are concerned the case is closed. The twelve complainants will be sent a personal reply.

In this reply the Centre will explain to the complainants that its court actions against texts in publications of the former Vlaams Blok party (which led to its being condemned for racism in 2004 and hence outlawed) were inspired by the fact that "harsh criticism is allowed but one cannot disseminate just anything, not even under the guise of artist's license, and that the artist remains ultimately responsible for content and form of his work." The Vlaams Blok texts criticized government policies on immigration and asylum seekers. Mr. van het Groenewoud's lyrics apparently qualify as legitimate artist's license.

At the request of the Centre Mr. van het Groenewoud published an open letter "explaining" his lyrics. It reads like a communist pamphlet against America's power and policies, its "imperialism" and its "fundamentalism."

"I cannot see what I am being accused of," he says. "I am white myself and I criticize the policies of mostly white Americans (…) I am not talking about American immigrants but about American policies, political, economic, cultural and military." He claims that the expressions he uses "surely clarify what I mean in a poetically childlike manner" and that he employs the term "America" as a "symbol" of "power, abuse of power (for instance Clear Channel, CNN), lust for power (the Terminator syndrome)."


"About the sometimes crude and violent language: I wish to point out that I am using a swearing technique which I have drawn from an American cultural phenomenon, rap, a style in which vulgar and abusive language abounds (…) A taste of their own medicine, I thought, as I collected statements like 'a hot poker up their ass';"
His song includes the phrase: "down with those rappers and their never-ending f*ck!"
Mr. van het Groenewoud conveniently forgets that rap is not a white but a black American phenomenon.

The letter is accompanied by a remark from the Centre for Equal Opportunities and the Fight against Racism:
It is important to note that each artist is, and should be, responsible for content and form of his work. Obviously one can thoroughly disagree about the acceptability of the various ways in which one chooses to "amuse, shock, provoke or inform". People will have differing opinions on this and it is a good thing for a democracy that one can debate about these things.