Postcard from Zinnlandia
From the desk of Takuan Seiyo on Fri, 2008-07-11 21:37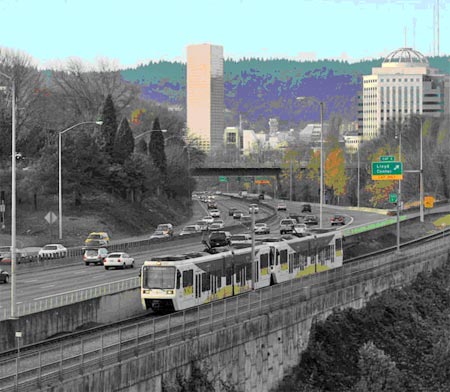 I am on the MAX Red Line light rail car going from downtown Portland to the Airport. Some things socialists do better. Among them are public transportation, recycling, French poetry readings, yoga, coffee, artisan food and arthouse cinema. Would it that the counterscale were not so much more loaded.
Two hefty women in Birkenstocks and Nordic sweaters sit on the bench in front of me. They are either academics or lesbians or both. Portland is a babe magnet for this kind of babes.
One of them, silver bangles jangling, is showing a souvenir purchase to the other. It's a garden gnome, complete with a red cap and a Walt Disney tunic stretched taut over a rotund belly. The face, though, is less jovial than one expects on a gnome. An etched inscription on the base reads, "Howard Zinn."
We are leaving Zinnlandia, after all – that great land of the Pacific Northwest, rich in good wine, including zinfandel, and other bounties of nature. Howard Zinn and his doppelgänger, Noam Chomsky, are to the coastal zones of this blessed land what St. Patrick is to the Emerald Isle. And, like Finlandia, Jutlandia and Hollandia, Zinnlandia too has much Northern European DNA.
Zinnlandia is in Amerikka – that racist, capitalist land of injustice, sexism, specieism, lookism, theism, militarism and homophobia. As a material and cultural Marxist, and skillful propagandist, Zinn – a master of sieving American history for its worst nuggets – is the perfect avatar for the self-flagellating white inhabitant of this land.
A Zinnlandian I met on this trip, a WASP physician endowed with the best education much money can buy, told me that he does not celebrate July 4th because the Declaration of Independence had been written by a slave owner and signed by other slave owners. He was just as hotly critical of the "racism" of Americans in dealing with the growing Muslim immigrant minority. The conversation unfolded over a bottle of Oregon Vino Pinko, with the likeness of a notorious Cuban mass murderer on the label.
Besides the pervasive lefty obtuseness as to the true nature of Che Guevara, there is one central paradox in this Zinnlandian, as there is in all of them. In the case of the good doctor, he donates his time and money to schools and clinics in Tanzania, where he has visited several times. And Tanzania, particularly Zanzibar, is a living memorial to the horrors of slave trafficking by Moslem Arabs and black Africans -- far larger and crueler than the slave trade that soiled the New World, preceding it by a thousand years, evident still in the 1960s, and ended only due to Western insistence.
So we have here a mind twisted into self-contradicting loops designed to screen out everything good about "us" and everything bad about "the other." This particular dhimmi-in-training has managed not only to block out all the greatness and goodness of the American Founding Fathers, and the merits of the nation that they launched, but also to overlook that his favorite country, Tanzania, exemplifies the horrors he purports to abhor and that, unlike America, it has hardly any countervailing merits.
Behavioral psychology has names for various information perception and analysis biases, but at least fifteen of those would have to be added to encompass the depth and width of the Zinnlandian's – let's not beat around the bush – craziness. Take, among others, the Bias Blind Spot, add some Omission Bias and Selective Perception, leaven with white racial guilt propaganda. Whip that into a mixture of Belief Bias, Selective Memory, Bandwagon Effect, Déformation Professionnelle and Disconfirmation Bias. Pour the mixture into a pie shell made of Neglect of Probability, My Side Bias, Optimism Bias and Positive Outcome Bias, and bake for 30 years in an oven designed specifically by mainstream media and the educational system to make that kind of dough rise. Voilà!
Barack Hussein Obama drew a crowd of 74,000 people in Portland, which amounts to about 13.5% of the population in this third whitest city in America. It's doubtful one fourth that number would have come, had his name been Bartholomew Henry Oglethorpe and the title of his book were Dreams from My Mother: A Story of Race and Inheritance.
And now I am heading out of this second key city of Zinnlandia, the first one being Seattle. The train's computer announces each stop first in English, then in Spanish. I catch a few familiar words: puerta, izquierdia, por favor, la ligna roja, aeropuerto. I feel like my mother did when the Soviets invaded her hometown in 1939 and within one week of entry changed its name and all its public and store signs into Russian written in Cyrillic letters that no one could read.
Except here it's the land of the voluntarily submitted, the natural dhimmis. There are no conquerors; not yet. Just like in England or Holland, except the same kind of First World people are submitting to a different kind of Third World people: Mestizo peons here, Moslem hoi polloi there. The submission includes constant panic lest one be accused of the high crime of "racism," leading to acts of conspicuous politically correct piety as ubiquitous as the jambon serrano sides that hang by custom in the front of Spanish bars since the days when a publican had better proved to Inquisition agents, and quickly, that he was not a secret Judaizer.
La Raza, a racist, irredentist, Mexican fifth column organization is a valued component of Zinnlandia. Its sponsors in these parts include megacorporations like Boeing, Lilly and Washington Mutual. It is feted by Euro-American mayors and by the entire education industry, e.g. here.
To get a better idea of what La Raza (The Race) is, one might read a short expose here. Or, one might jump from Spanish to German and say aloud, with the proper Hochdeutsch accent, die Rasse. And in pandering to this organization, and to its sister agents of America's decomposition, not only the Pacific Northwest but the entire sectors of American government, politics, media, education and commerce trip over each other in the contest who will be the best Zinnlandian, or to use another term, quisling.
In the week starting July 12th, the two U.S. presidential nominees made their pilgrimage to kneel at the preferred race's altar at the annual convention of La Raza, just as soon as they were done trolling for Mexican voters at the LULAC convention. About their participation in the latter, the blog Powerline stated:
The LULAC event signals a new era in political pandering. And since the group on the receiving end of the pandering is a predominantly low income, low-skill one, the pandering will ultimately focus on income transfer, however it may be dressed-up.

That receiving end – tens of millions of it, with some 14 millions more to be admitted officially soon after whichever new U.S. president is sworn in – brings with it a tradition of state control of the economy, militant labor, backwardness, clientism, massive corruption, rampant lawlessness, narco-terrorism and rigging of the electoral system. America is voluntarily transforming itself into a dysfunctional, socialist Third World country, just as EU is transforming itself into a totalitarian empire straight out of Blade Runner, complete with a seditious replicant caste.
On the basis of the cui bono principle, it helps to note that at The Race's shinding, Messrs. McCain and Obama were joined by two more localized but notorious collaborators of the invasion forces, Antonio Villaraigosa, Mayor of Los Angeles, and Jerry Sanders, Mayor of San Diego. All underwritten by The Coca-Cola Company, GEICO, General Mills, TOYOTA, Wachovia Corporation, Amtrak, Ford Motor Company, U.S. Postal Service, and Washington Mutual. All happy to pay obeisance to the passel of dignitaries from the Hispanization industry – mostly Mexicans in nationality or allegiance, pushing their tribe's interests at the expense of the larger, docile, post-tribal society that has lost its defensive reflexes.
But I am digressing. Of the 26 riders in my light rail car, three seem Latino. One, who looks illegal to me, sleeps sprawled over a fat, natural blonde. The other two are more established, judging from their new shaves and clothes and their $150 Timberland boots.
This in contrast to the rest of the passengers, all lower middle class whites, half of whom wear flip-flops. Such flimsy footwear on people who will soon be shuffling in long security lines and dragging heavy suitcases through crowded airports bespeaks of thoughtless insouciance. These people cannot imagine a hard heel stepping on their exposed toes, let alone a soft "diversity," voluntarily imported, rising to stomp on their faces, one day.
Starting right here, in this car. "An assault by five teenagers on a North Portland MAX train this week revived worries about mass transit safety since several high-profile incidents last winter," reads the opening paragraph in The Oregonian's news today. The story goes on, "Teenage boys and girls punched, used racial epithets and stole the purse of a 28-year-old Vancouver woman who was taking her first-ever MAX ride early Monday evening. The woman, who is white, had just had a conversation with the teens, who are African American and were harassing another woman".
It's uncharacteristic for the progressive press of this progressive town – just what are they progressing toward? – to disclose the racial identity of violent perps, since this could dent the very foundation on which Zinnlandia and all postmodern Western civilization are built on: that all people, and all racial, ethnic, gender and national groups of people, are equal in their proclivities, abilities and merits, and are equally deserving of uncritical acceptance. They just have different "narratives," you see. But it's interesting how gingerly the racial identity is mentioned, when it is, with what curious, for a newspaper, waste of words. The story could have opened, after all, "An assault by five black teenagers on a North Portland MAX train this week… etc".
As to the "several high-profile incidents last winter," the story is less forthcoming. The reader is reminded that "a 16-year-old boy" was just sentenced to 9 1/2 years in prison for pounding a 71 year-old man with a baseball bat at another stop of this rail system. The account does not mention that the "boy's" name was Abel Chavez-Garcia and his smashing the old (and white) man, Laurie Lee Chilcote, to pulp was also accompanied by racial taunts. One has to fish through another article to find out about the hoodlum that he is an illegal alien. And it takes yet another, much earlier article to find out that Mr. Chilcote, whom the savage "Hispanic" punk has gifted with, among others, partial paralysis, double vision, dimmed hearing and a speech impediment is so brainwashed, good Oregonian that he is, that the only question he voiced after the attack was "what would make a teenager swing a baseball bat at an elderly man." (1)
The story then goes on to remind the reader that "Weeks after the beating, a 19-year-old man was stabbed in the chest at the Rockwood Transit Center, and on Christmas Eve a woman was groped at a MAX stop in Gresham." Curious about the identity of the stabber and the groper I do a little research on my laptop, soon after arriving at the Departures lounge of the PDX Airport terminal.
The groper – and it was a full-fledged assault – was a Mario Santiago-Montelongo. More extensive research, later, reveals that Santiago-Montelongo, who got 22 months in prison for this assault, is a Mexican illegal immigrant (2).
I cannot find anything more about the stabber, though the report implies that the police are in possession of such information (3). But a paragraph mentioning this crime also informs that four days after this stabbing "Thaymon Earl Watson, 19, was sentenced to 14 years in prison for stabbing to death a 19-year-old in December 2006 at a Gresham transit station." So we have here another activist minority, though this one homegrown.
In the course of my 15-minute visit with Google, I also find out that on January 08, 2008 a Mr. Mynor Guerra Perez, 29, tried to force a woman into the trunk of an automobile and stabbed her in the stomach and left chest. The stabbing caused a lockdown at three Beaverton schools. Also on the same date, in the same supersprawling Latino magnet town, a 46-year-old woman was assaulted in her bed by a night invader. Although the man has fled, his sketch, based on the woman's description, leaves little doubt as to the wonders of the great mosaic of our strength in diversity.
A few months earlier, a 40-year-old was stabbed in the stomach on a crowded bus of the same transit system. Although it's certain that witness testimony was recorded as to the race of the stabber, the news report prefers to avoid a "sensitive subject," but still tips off the knowing by noting that the perp was wearing a white do-rag.
The same television station reports of a fight on another TriMet bus: "When police showed up, they saw several people running from the bus and heard several shots fired." There must have been something else the police noted about the fleeing perps, but it's not disclosed.
And in Hillsboro, "police are looking for two teenagers who attacked a Gresham man near a MAX station last week. The teens reportedly followed him and beat him with their fists, rocks and chunks of concrete. The suspects are described as teen males, 16 or 17 years old." No, they must have been described otherwise too. And it's far from irrelevant.
Also in Hillsboro, a "16- and 15-year-old" were arrested for attacking two boys near a MAX station. One of the victims had a fractured skull after being hit on the head with a hammer. Could there have been a common denominator for the attackers other then their teen age?
It seems endless. "Sixteen-year-old Joe Crane is afraid to ride Portland's MAX light-rail. Four years ago he was attacked on a MAX platform near the Lloyd Center. And recently he was jumped at night by three men, who pulled him off the MAX, kicked him in the head and stole his wallet, cash and cell phone." At the end of the story, there is a reference to surveillance camera footage "as pictured above." What's "pictured above" are three young black men pouncing on Joe Crane like beasts of prey on a cornered doe.
The article goes on to blame the transit police for its insufficient presence. Such arguments are now ubiquitous in the Portland media's editorials, demanding more funding, more TV cameras, better lighting, better inter-agency cooperation. Everything is discussed, everything is noted – except for the 10-ton rhinoceros wearing a tutu and, balanced on his horn, spinning pirouettes right in the middle of the room. For what is required is a better populace, not better lighting. And to have a better populace, its rotten part must be clearly identified, watched, and punished for every crime committed, to the full extent of the law. Punished and cordoned off from society, rather then left to the "compassionate" ministrations of the social saboteurs proliferating among the ruling, clueless and cowardly Western elites.
And inasmuch as young blacks and 'Hispanics' in America produce a widely disproportionate number of criminals, a normal people would demand of its quisling leaders that police and security forces employ crime profiling – including by race, gender, nationality and religion – and that Hispanic criminals be headed off a lot more effectively at the border, rather than courted by US presidential contenders once they have jumped the fence.
But we are still in denial relative to even the first part of the solution, identification. The media are either staying clear of the issue or engaging in its active camouflage. Mute white politicians, police chiefs and judges are being attacked vociferously for the disproportionate number of blacks in prison, as though that, per se, were proof of pervasive white racism rather than of pervasive black criminality.

America's presumptive president, BH Obama, and all black political leaders and TV talking heads distort every possible crime statistic, with no national politician, even from the allegedly "conservative" wing of the Republican Party, putting them on the spot for it. The black demagogues, and their enablers such as Mr. Obama, shift blame from black criminals onto white "racism," faults in the law and its application, society etc. The racial "healing" and coming together Mr. Obama sells on the stump is a veiled promise that inconvenient truths will no longer be tolerated, and a trillion dollars more will be dumped down the drain for a "cure" of the willfully imaginary social "causes" of black and brown crime.
For black and Hispanic crime is not the result of poverty or of racism. One is safe walking among the poor in Thailand, the disfranchised Ainu in Japan, or the downtrodden Jews still living among Moslems. Until the crazies took over Islam again, for the nth time in history, a white person could walk – and this author did walk– through the poorest sections of Arab cities without fearing for one's life. One may sometimes suffer violence at the hands of unemployable young sociopaths in white-only precincts of Birmingham or Bratislava, but murder and serial rape are not a feature of everyday life there.
Everyday, in the U.S., in Great Britain and elsewhere in the West, there are headlines attesting to barbarity, reflexive violence, lack of any moral restraints and grave societal danger posed by large numbers of blacks, Mexicans and Central Americans, Albanians and other Moslem immigrants living among people of Euro-Christian ancestry. When one reads a headline, "Pack of cigarettes ignites 200-person ruckus at Fort Myers gas station," it no longer matters whether the race is mentioned or the photos shown, because everyone knows. Or does he?
Two young white men in Dallas are locking up their fledgling recording studio. The men and the studio are devoted to Christian causes. Two young black men drive up and ask for a cigarette. A conversation develops that lasts 30 minutes. With this man, who then pulls out a gun and executes the white innocents for a take of $2.
For white Westerners born in the last 50 years are all honorary Zinnlandians. They have grown up indoctrinated to squash their own survival impulses, to be ashamed for preferring their own people and culture, to admire the "authentic" and "noble" savage.

I should not like to single out Portland, Oregon for scorn or ridicule. This type of paralyzing cowardice or suicidal stupidity exists in every American, Western European, Canadian and Australian city I have visited over the past thirty years.
In Portland, the "youth" often just beat you up. In the City of Brotherly Love, aka Killadelphia, the brothers shoot on sight. In Malmö they rape your sister and then wait in ambush for the ambulance. In Epinay-sur-Seine they set a car on fire and then, armed with brass knuckles and iron bars, wait in ambush for the police. France alone has 751 Zones Urbaines Sensibles, and yet its entire fancy elite keep singing in unison of the glories of Third World Moslem immigration. The chronicle of the West's shame is thicker than a phone book.
A recent London Times article discusses the alarming plague of knife murders in Great Britain, of course without discussing the demographics of the perpetrators (4).

Among the dozens of anxious comments, one, Cris, states, "The black elephant is in the room. 43% of all violent crime is committed by the Afro-Caribbean population. One part of the answer (not the whole of it) is to deport each an every immigrant caught carrying a knife."
To which another commenter, Piers, retorts, "Typical racist BNP facism; what about the 57% of non-black people who commit violent crime- will u deport them?"
That's how the cultural left silences the voices of reason and objectivity: blind frothing at the mouth with words like "fascism" and "racism" spraying out with the spittle. For what matters is not which group commits more crimes but how that crime rate relates to the group's percentage of the population.
What matters is this: Blacks are 3.5% of the British population. Now, when you perceive that 43% of violent crime in Great Britain is committed by members of a demographic group comprising 3.5% of the population, then you are on to something.
In San Francisco, Honduran crack-dealing hoodlums are treated to a city-paid flight back to Honduras with a carte blanche to return, in order to shield them, in this 'sanctuary city,' from federal deportation. "The strategy is appropriate, (chief of the Juvenile Probation Department) Siffermann said, because deporting young offenders would doom them from ever becoming productive residents of the United States."
The boot-wearing young Latinos I saw on my train ride to the Portland Airport are constitutionally unable to indulge in such self-erasing idiocy. Shorter, darker, more primitive and far less foolish, they flow in naturally to fill the vacuum inhabited by the white flip-floppers.
Perhaps the time has come to give more attention to the existential AIDS that has disabled the immune system of the West. There is nothing intrinsically worse about Moroccans, Mexicans or Memphis blacks than there was in 1950. What has changed is the cultural immune system of the Euro-ethnics around the world. The Moroccan in 1950 did not live in Amsterdam, and the Mexican did not in Portland. They wouldn't and couldn't. The black was in Memphis then and now, but in 1950 he had the church if he was a good man, and long-term, harsh prison if he was not. Nowadays such institutions grate on the Zinnlandian sensibility.
Opportunistic infections do not penetrate but decaying organisms. Non-discrimination as the central organizing principle of Western society does to a body politic what AIDS does to a living body.
For now, we can rest easy knowing that virtue is winning. "Welcoming people of color makes a city," coos The Oregonian in a Nov.17, 2007 sidebar. Particularly if they are 19, at a tribal stage of arrested development, and handy with sharp implements.

Footnotes
(1) "MAX security 'too late for me'," The Oregonian, November 13, 2007
(2) "Man gets 22 months for MAX assault," The Oregonian, February 20, 2008.

(3) "Outcry follows MAX stabbing," The Oregonian, December 1, 2007.
(4) Such reticence is usually missing when revolting crimes are committed by whites. The media, for instance, mentioned persistently that the suspects in the recent murder of two French students in London are white. Entirely proper too, except comparable indications ought to be given also when criminals are not white.