A Marriage Made Up?
From the desk of Paul Belien on Fri, 2005-10-14 22:27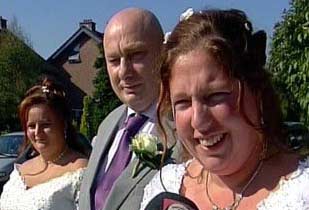 Our most widely read article so far was the story of Victor de Bruijn, the Dutchman who recently "married" two women, Mirjam and Bianca, in one go. We explained in the article that in the Netherlands, as in Belgium and in Spain, homosexuals are allowed to marry, i.e. in a regular marriage which has been given the same legal value and follows exactly the same procedures as a regular marriage between a man and a woman. No pseudo-marriages or so-called "civil unions" are needed for this.
When more than two people are involved marriage as such is not (yet?) allowed in the Netherlands. Citizens who want to formalize their relationship with multiple partners can opt for what the Dutch call a samenlevingscontract or "cohabitation contract," which is the civil union that some in the US are proposing as a pseudo-marriage for gays. This is what Victor and his women did when they went to a notary in their wedding outfits to exchange rings.
A number of leftist and/or pro-gay American websites are now in complete denial. They are writing that we "made this story up." According to Andrew Sullivan the story is a "canard peddled by the religious right […] It's completely bogus." Wish that was the case.
Victor and his "wives" have meanwhile returned from their "honeymoon", which the three of them spent in typically Dutch fashion: in a caravan. In the Dutch Parliament an MP for the Reformed Political Party SGP, Cees Van der Staaij, has asked the Dutch minister of Justice, Piet-Hein Donner, to prohibit samenlevingscontracten between more than two partners.
The SGP also wants the minister to dissolve the union between Victor and Mirjam and Bianca. "If this construction before the notary is legal, then it is a means of circumventing the prohibition of polygamy. This can and may not happen," Van der Staaij says.
Van der Staaij's party, the SGP, a small Calvinist party, has problems of its own, however, which we have also reported. Last month a Dutch court ruled that the Dutch state should stop funding the party because it refuses to put forward women candidates for election. This, according to the court, is a violation of the UN Convention on the Elimination of All Forms of Discrimination Against Women.