Hate Crimes: The Importance of Lady Justice's Blindfold
From the desk of Thomas Landen on Wed, 2009-01-28 10:14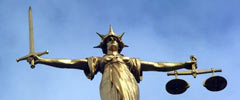 The introduction of hate crime legislation brings a subjective element into the legal system. Where typically Lady Justice is blind and only takes objective facts into consideration, disregarding the position and the opinions of those committing the crimes, she may now apply the law unequally and selectively. Our societies subsequently risk losing an important principle of Western law, viz. equality under the law. Europe has already gone further down this road than America, but the U.S. is following fast in Europe's tracks.
"If I talked about Muslims the way their holy book talks about me, I'd be arrested for hate speech," Pat Condell, a British stand-up comedian, says in a youtube video released earlier this week. Mr. Condell, though a comedian by profession, is not joking. He knows how two years ago a British television crew which went undercover in British mosques and taped sermons inciting to violence against non-Muslims, was itself charged by the police and Crown Prosecution Service for "stirring up racial hatred" against Muslims, while the preachers were left undisturbed. According to the police and the public prosecutor the words of the preachers had been "taken out of context," while the "context" of the makers of the television program was filled in by their accusers: their aim was said to be to stir up anti-Muslim feelings among the public.
Prosecutors and judges are no longer interested in what actually and objectively happened. Instead they focus on the intentions which they claim motivated those who acted. No longer is Lady Justice blind to anything except the facts; she is blind to the facts, but claims to be a clairvoyant about everything else.
Last week , the White House website announced that President Obama and Vice President Biden intend to "strengthen federal hate crimes legislation, expand hate crimes protection by passing the Matthew Shepard Act, and reinvigorate enforcement at the Department of Justice's Criminal Section." In the past, Europe was in the habit of imitating bad American examples (never the good ones). Now it seems the policies of "Change" in the U.S. mean that America will imitate Europe's bad examples.
The "Matthew Shepard Act," or "House Resolution 1592," is named after Matthew Shepard, a young homosexual who was kidnapped, tortured and murdered in 1998 by two heterosexual men near Laramie, Wyoming. Apparently the two men killed Mr. Shepard because they "hated" their victim for his homosexuality. Though the murderers were each punished with two consecutive life sentences, the fact that they "hated" their victim was not taken into account when the court decided the sentence. This caused much indignation among homosexual activists who argue that people who commit a crime out of "hate" should be punished more severely than those who do not.
Taking "hate" into account, however, brings a subjective element into the equation, allowing different punishments to be applied for exactly the same criminal acts. It is possible to objectively prove that someone has kidnapped, tortured and subsequently assassinated a victim, but is it also possible to prove that these acts constitute a worse crime if the perpetrator "hates" the victim (or the group he belongs to) than if the latter is totally indifferent towards the victim and only acts for the pleasure of torturing and killing a human being? If Matthew Shepard's killers had randomly picked him, because they wanted to kidnap, torture and murder someone – anyone – for the sheer fun of it, would they somehow have been less criminal? This is a question which Lady Justice does not normally need to consider, until hate crime legislation is introduced.
In Europe, where citizens lack the protection of a First Amendment, hate crime legislation is used to punish citizens for the expression of negative opinions concerning minority groups. In Europe the concept of hate crimes make sense because hate crimes are crimes of opinion and sentiment. Unlike America, Europe criminalizes opinions and sentiments. However, in the United States, with its First Amendment, it is difficult to see what purpose hate crime legislation can serve. The Matthew Shepard Act contains a "Rule of Construction" explicitly stating that "Nothing in this Act... shall be construed to prohibit any expressive conduct protected from legal prohibition by, or any activities protected by the free speech or free exercise clauses of, the First Amendment to the Constitution."
Hence, it is hard to see what the use of introducing hate crime legislation in America can be, unless one deliberately wants to bring in a subjective element into the legal system which abolishes the old principle of equal treatment before the law and which justifies arbitrary actions on the part of the authorities. This is exactly what has happened across the Atlantic. In Europe, hate crime legislation has been used to silence people with opinions that do not conform with official state policies. These include celebrities, children and even elected politicians speaking on behalf of their electorate.
One of the famous victims of hate crime legislation in Europe is Brigitte Bardot. Last June the former sex symbol, once considered to be the very icon of France, was given a two-month suspended prison sentence and fined €15,000 by a court in Paris. Mrs. Bardot was convicted for "instigation of hatred" towards the Muslim community because in December 2006 she had sent a letter to Nicolas Sarkozy, then the Interior Minister of France, to demand that Muslims anaesthesize animals before slaughtering them. In the letter she said, referring to Muslims, that she was "fed up with being under the thumb of this population which is destroying us, destroying our country and imposing its habits." Harboring and expressing such sentiments is a crime in France.
Dieudonné M'Bala is one of France's new icons. He is a French comedian who is known for his anti-Semitism. Mr. M'Bala claims Jews are "a mafia that controls everything in France" and harbors feelings about Jews which are similar Mrs. Bardot's feelings about Muslims: France is under the thumb of the Jews, who are destroying it and imposing their values. In 2004 Mr. M'Bala was taken to court in Paris for violating French laws against incitation to racial or religious hatred, but the court ruled that he was not violating the law. Why did Mrs. Bardot get a suspended prison sentence and a fine of €15,000, while Mr. B'Bala went free? Because Mrs. Bardot and Mr. M'Bala are no longer equal under the law.
In October 2006 Codie Stott, a 14-year-old schoolgirl from Salford, England, was arrested for racism and spent three-and-a-half hours in police custody because she had refused to study with a group of five Asian pupils who did not speak English. When the Asians began talking in Urdu, Codie went to speak to the teacher. "I said 'I'm not being funny, but can I change groups because I can't understand them?' But the teacher started shouting and screaming, saying 'It's racist, you're going to get done by the police'." A complaint was made to the police and Codie was placed under arrest. She was not prosecuted as she was too young, but the experience was traumatic for the young girl. The same applies to Jamie Bauld from Cumbernauld, Scotland, an 18-year-boy with Down's syndrome and the mental age of a five-year-old. In September 2007 he was charged with "racial assault" after he had pushed an Asian girl on the playground.
Hate crime legislation is used to silence the famous and the innocent, but also the people's democratically elected representatives. In January 2007 Christian Vanneste, a member of the French Parliament, was convicted by the Court of Appeal of Douai because two years earlier during a debate in the parliament and afterwards on television he had said that "homosexual behavior endangers the survival of humanity" and that "heterosexuality is morally superior to homosexuality." Mr. Vanneste, a member of the governing UMP party of President Sarkozy, was fined €3,000. The Court also ordered him to pay €3,500 in damages to each of the three homosexual activist organizations that had taken him to court, plus the expense of publishing the verdict in three newspapers. The three organizations welcomed the court ruling, saying that it "aims to punish homophobic comments which should be fought because they inspire and legitimize verbal and physical attacks."
Last week Susanne Winter, an elected member of the Austrian Parliament, was convicted by a court in Graz to a suspended jail sentence of three months and a fine of €24,000 for "inciting racial hatred and degradation of religious symbols and religious agitation." At a meeting of the Austrian Freedom Party FPÖ in January 2008, Mrs. Winter had said that the prophet Muhammad was "a child molester" since he married a six-year-old girl, and that he was "a warlord" who had written the Koran during "epileptic fits." She had also said that Islam is "a totalitarian system of domination that should be cast back to its birthplace on the other side of the Mediterranean" and warned for "a Muslim immigration tsunami," stating that "in 20 or 30 years, half the population of Austria will be Muslim" if the present immigration policies continue.
Following these remarks, Muslim extremists threatened to kill Mrs. Winter, who was subsequently placed under police protection. This did not persuade the judge, Christoph Lichtenberg, to be more lenient. He told Mrs. Winter: "You have only one goal: to gain votes by a despicable method, by appealing to xenophobic feelings." Judge Lichtenberg said a severe punishment was asked for in order to prevent Mrs. Winter from voicing similar opinions during her next election campaign.
Also last week, the Court of Appeal of Amsterdam, the Netherlands, decided to prosecute Geert Wilders, an elected member of the Dutch Parliament, for "the instigation of hatred against Muslims" as the producer of Fitna, a short documentary about the Koran. In his movie, which can be seen here, Mr Wilders says that the Koran calls for violence against Jews and other non-Muslims. Mr. Wilders lives under constant police protection following death threats from Koran readers.
A few weeks earlier, on 3 January, Harry van Bommel, a Socialist member of the Dutch Parliament, took part in a demonstration during which he called for an "intifada" against Israel and marched with demonstrators who were shouting "Jews to the gas." Will Mr. van Bommel, like Mr. Wilders, be charged with incitement to racial hatred? Will he be given the same treatment as Mr. Wilders? Considering that equality under the law is no longer guaranteed, this is far from certain. Indeed, while Mr. Wilders will be prosecuted, Mr. van Bommel is likely to go free.
One noticeable fact in hate crime prosecutions is that those prosecuted are often members of European majority groups, such as heterosexuals, non-Muslims or non-Socialists. Hate speech, racial slurs or religious insults directed against a majority group do not seem to be as equally punishable under hate crimes legislation as those directed against minorities. Unlike Susanne Winter, Alfred Hrdlicka, an Austrian "artist," who last year depicted Jesus and his apostles engaging in homosexual acts of sodomy during the Last Supper, has not been indicted, let alone sentenced. Depicting Jesus sodomizing his apostles is not considered to be a "degradation of religious symbols" in Austria, but referring to the historic fact that Muhammad married a six-year old girl is.
Last Friday, in a speech at the Islamic University of Rotterdam, Khalid Yasin, a radical Muslim leader, said that Geert Wilders "should be flogged for his crimes." While Mr. Wilders is critical of the Koran he has never advocated flogging Muslims. Nevertheless, Mr. Wilders is being prosecuted and Mr. Yasin is not. Why? Why do the British police arrest 14-year old children, such as Codie Stott, but do they not take action against Muslims such as Anjem Choudary who said in a television interview that anyone who insults Islam deserves "capital punishment"?
Is it because people such as Mr. Wilders, Mrs. Winter, Mr. Vanneste, Mrs. Bardot, though voicing strong opinions, never commit violence, while Muslims extremists threaten to kill everyone who opposes them and are consequently feared by the European authorities? Perhaps. Is it because members of majority groups are prosecuted for hate crimes, but hardly ever members of minority groups? Perhaps. In 2006, a heterosexual man in Belgium lodged a complaint against a media campaign that used the slogan "Dirty Heterosexual." The Belgian government's anti-racism and anti-discrimination body rejected the complaint, arguing that "stigmatization of a majority is impossible. Discrimination is something which by definition can affect only minorities."
Whatever the reason, however, it is clear that with the introduction of hate crime legislation Europe's citizens are no longer equal under the law. Some are harassed, prosecuted and sentenced, while others are not. Everyone who cares about freedom and democracy should demand that the law treats citizens equally, that Lady Justice does not discriminate, that she will again be blindfolded, so that Mr. Wilders is treated the same as Mr. van Bommel, Mrs. Bardot the same as Mr. M'Bala, Mrs. Winter the same as Mr. Hrdlicka, so that children and people with Down's syndrome are left in peace, and so that people are judged not by how they feel toward each other but by the way they treat each other.