From Meccania to Atlantis Part 8 – Drenched to the Bone
From the desk of Takuan Seiyo on Thu, 2009-02-19 16:06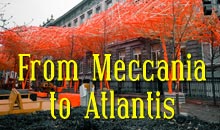 Squaring the circle

To square a circle is a common metaphor describing a futile attempt to solve the unsolvable. But a glance at the root of this metaphor may prove instructive.
Since ancient times, geometricians have tried to construct a square with the same area as a given circle by using only a finite number of steps with a compass and straightedge. Without going into the details, outside this author's competence anyway, the challenge was invalidated as per the Lindemann–Weierstrass theorem, which proved that pi (π) is a transcendental rather than algebraic irrational number.
It is the founding premise of this series that the central undertaking of Western Society in the last 45 years – the attempt to "diversify" itself and to equalize by fiat all people and categories of people, cultures, lifestyles, ideas and religions – has caused a catastrophic misapplication of human energy, attention and resources. And for the same reason as has foiled the squaring of the circle: the underlying π is a transcendental rather than merely rational or irrational constant.
In 1963, perhaps the year in which the West took the decisive step on the road leading to the crumbling Babel of now, Bob Dylan released a song that would become a hymn of the irrationalists of the Left (i.e. Pods): The Times They Are a-Changin'. It's been known ever since as the archetypical protest song, and has been recorded by every major leftoid singer with a big heart and a small left brain. There are versions by Peter, Paul and Mary, Joan Baez, Bruce Springsteen, John Mellencamp, Tracy Chapman, videos by miscellaneous Obama worshippers and so on. This is the song's opening stanza:
Come gather 'round people
Wherever you roam
And admit that the waters
Around you have grown
And accept it that soon
You'll be drenched to the bone
If your time to you
Is worth savin'
Then you better start swimmin'
Or you'll sink like a stone
For the times they are a-changin'.
Good poet though he is, perception and analysis of social reality have never been Mr. Dylan's strong points. And so, the "Civil Rights" struggle on behalf of America's blacks and egalitarian potheads that The Times are a-Changin' has come to symbolize would metastize into a cult of fraudulent equality of all and everything, allowing not even the distinction between the host-civilization's self-preservation and self-erasure. The process reached a symbolic closure with the release in 2005 of Things Change, a rap piece co-performed by a black multimillionaire named 50 cent on the soundtrack of a film entitled Get Rich or Die Tryin', about Mr. 50 cent's life.
The platinum soundtrack album with Things Change, produced by Mr. Black Jeruz and Mr. Sha Money XL, has sold 3 million copies. To compare, one of the great popular thriller book publishing successes of 2005 by a superstar author, Michael Crichton's State of Fear, had a print run of 1.5 million copies.
The opening stanza of the artistic effort of Messrs. 50 cents, Sha Money XL et al., was:
Nigga, things change
They dont stay the same
Now watch me come up
I hustle, I hustle even harder
I put that work in to win, no problem
The times have changed, and not for the better. The Western peoples whose lunch the Body Snatchers and their clients have been eating since the 60s should have tried harder to defend it from the hard hustlers. What remains now is to take Dylan's advice and either empty the pond or start swimmin'. But not in the direction he had in mind.
Circus Maximus
The grand circus never stops. On the early February 2009 day on which this is being written, a U.S. government watchdog group confirmed that under the 2008 Troubled Asset Relief Program (i.e. "bailout") the government had paid $254 billion for assets worth $176 billion, essentially sprinkling $78 billions of the U.S. taxpayer's money as extra feed for the piranhas in the Wall Street cesspool. Nevertheless, U.S. Pesident Barack Obama warned that unless another $938 billion (1) is poured down the rathole of favored constituencies and interests, America would plunge into an "irreversible" recession.
The porkulus bill (pork +"stimulus") includes, among many items fit only for late night comedy acts, provisos for $4+ billions to "stimulate" the morbidly obese and truculent members of ACORN -- the Association of Community Organizations for Reform Now. ACORN richly deserves the prize not only for helping Mr. Obama to the White House through a massive, nation-wide campaign of voter registration fraud, but also for having done so much to intimidate U.S. lenders and politicians to dole out real estate mortgages to unemployed people with no assets but with compelling skin tones.
It was that mortgage insanity, pushed by progressive political pimps, that triggered the falling economic dominoes, falling all over the world now. And it's the same pimps whose $0.9 trillion-sized "remedy" now includes items such as $88.6 million for new construction for schools in Milwaukee, where there are 15 vacant schools and enrollment is shrinking. Or $726 billion for an after-school snack program, and many other such stimulating items. As The Scotsman would eventually put it, "There is no terminology available to express adequately the appalling irresponsibility of this naked political banditry."
Also today, Eric Holder, a long-time black-by-ideology member of the Body-Snatching elite, was confirmed as United States Attorney General and as a "Chance To Right Racial Wrongs."
But Mr. Holder had already done plenty to "right racial wrongs." As deputy to U.S. Attorney General Janet Reno, he boasted that "The Civil Rights Division has ensured fairness in the lending process through the filing of discrimination suits resulting in record fines and damages." In other words, Mr. Holder and the bureaucracy he co-managed had done their utmost to push the United States into the Subprime Loan debacle of granting mortgages to unqualified "minorities" under the bogus claim of righting racial discrimination.
The same 1998 U.S. Justice Department, represented by Mr. Holder, crowed to the U. Congress that "three skinhead members of the Nazi Low Riders were charged with both assaulting an eighteen-year-old African-American man as he was getting into his car [snip], and attacking a sixteen-year-old African American man as he was walking along a street."

That was good work indeed. But a different crime fact should have been of far graver concern to Mr. Holder. As per his own department's 1998 crime statistics, blacks on Mr. Holder's watch were committing anti-white "hate crimes" at four times the rate of such crimes by whites against blacks (2). Should that not have merited at least a mention by Mr. Holder, along with his and Janet Reno's picaresque tale of three white Nazi Low Riders?
Moreover, Mr. Holder had played a key role in the gunpoint, night-time kidnapping of Elian Gonzalez by a commando-like unit of U.S. federal agents. On the other hand, he approved the commutation of the prison sentences of 16 unrepentant FALN terrorists. Naturally, Mr. Holder is a vehement proponent of disarming the peace-abiding citizens of his country (ibid.).
Also today, a leader of the American Body-Snatcher Party hinted of coming legislation that would curtail radio programs critical of Body of Snatching. Today again, it transpired that a group of 16 illegal aliens is suing an Arizona rancher for "racism" and "violation of their "civil rights" because he had held them at gunpoint and "inflicted emotional distress" after they had trespassed both on his property and on United States territory.
The pervasive lunacy infects Western society from top to bottom, on all the continents.
In Sweden we are told on this February day that Swedish schoolboy threatened by Irish gravel thieves. But we are not told – though we whose minds have not been Snatched know – what was the ethnicity of the Gangsters threatening shop owners at Stockholm mall or the rapist whose DNA evidence was insufficient for a conviction. And in Malmö, the police has been ordered not to interfere with Muslim demonstrators, no matter how aggressive they become.
In France, Ségolène Royal, who might well be the next President of France, said that there should be a unity of the "three lefts": the left of the government, the left of social movements, and the extreme left. That's like for a major American Presidential candidate to say that there should be a unity of the three rights: the Republican Party, the Christian Conservatives, and the Ku Klux Klan. Yet there were no public objections in France to Ms. Royal's pronouncement.
In Canada's Halifax, "It's almost impossible to see signs of racism because they're hidden in plain sight all around us." And to prove that not all madness is confined to government employees and MSM, it transpired today that Bill Gates had just unleashed a swarm of mosquitoes on a crowd, stating that "There is no reason only poor people should be infected."
Surely, there is no reason why only ugly people should be ugly either; something ought to be done about that too. Therefore, at the next Miss Universe audition Bill Gates will spray the candidates with sulphuric acid.
But it's not any of that that's most worrisome but rather the docile inertia of the silent majority of the Western peoples who continue marching behind their Pied Pipers toward "progress" even as their countries, societies, culture and future are receding and diminishing, manifestly and indubitably.
Cultural Marxist chicanery and intimidation of the white majority was what the U.S. electorate dealt itself when it elected Barack Obama to the Presidency by 53% of the votes, including 43% of the white majority's votes. And the overriding of the white majority vote by the votes of imported "minorities" has been in the cards since the 1965 Immigration Act, with nary a protest except against "illegals." But it's the "legals" who have overridden the votes of the actual heirs to those who have settled and built America.
There has been no noticeable opposition by the Swedish population to its elected Body Snatchers' robbery of the Swedes' own territory, heritage, solidarity, quality of life, peace of mind and safety of the body. Even now, the only Swedish political party that opposes immigration, Sverigedemokraterna (SD), has… 3,000 members (3).
This type of analysis can be made for every Western country. One reads that, finally, 25 years too-late, 60% of the Dutch people consider the importation of 2 million non-White immigrants (4), particularly Muslims, their country's worst mistake since World War 2. Yet, the Netherland's main champion of national sanity, Geert Wilders, is persecuted relentlessly by that country's ruling Body Snatcher cabal, and not even 1% of this wise-too-late majority of Dutchmen can mobilize to demonstrate in his support in front of the Dutch parliament.
It's not hostile Blacks, or Third World immigrants or militant Islam or greedy bankers that can be blamed for the decline of the West. It's the decline of the West that can be blamed for hostile Blacks, Third World immigrants, militant Islam and greedy bankers.
The West's' original population – what we call for brevity's sake "Whites" -- has given away the keys to its own home, and delights in being plundered. The ruling Body Snatchers have initiated and executed the plunder, but it's the demos of democracy that has chosen those Body Snatchers and keeps them at the trough.
The hundreds of millions of Pods converted to the Barack/ Ségolène cult have simply opted out of the examined life in order to live in a Kumbaya haze of "social justice," "racial justice," "gender parity," "GLBT empowerment," "Global Warming," bad music, aping the worse aspects of the worse cultures, and self-inflicted pain via piercing, plugging, "wire-imbedding," tattoo, unbearable music and anonymous copulation.
But the "normal," middle class people of Euro-heritage seem to lead lives just as futile and unexamined, if in a different way. Here is the White American upper-middle class as summarized in this critique of the hit reality television series, The Real Housewives of Orange County :
"Real Housewives" is [snip] a symbol of the vapid, mindless consumption that has sunk the economy and scrambled the American consciousness. [snip] Just look at these women and how they're presented, the raccoon eyes and the god-awful fake breasts, the fried hair and yanked-up faces. Are any of them ever shown reading a book or seeing a play? Visiting a museum (for the record, the Galleria is not one), picking up a newspaper or having a conversation about anything that mattered at all? Of course not. These housewives of Orange County are too busy downing tequila shooters, redecorating their redecorated houses, admiring their cosmetic surgery and wondering why their kids are so screwed up."
It's because of the ordinary people's willful disengagement from reality through vapid idealism or vacuous materialism that the West has become a runaway bus that is, I believe, unstoppable until stopped by the force of gravity.
There are, however, two ways to stop that are, at least theoretically, possible: impatient Revolution or hopeful Loyal Opposition. There are also three ways to get off the bus: Emigration, Separation, and Exodus. We shall examine all five henceforward (5).
Revolution
Wenceslas Square in Prague, an ancient horse market, is one of the largest urban plazas in the world. It is ¾ km long and its square metrage is 45,000 m². On 25 November 1989, each one of those square meters was occupied by 8 demonstrators. The total number of demonstrators in Prague that day was 800,000.
That was 5% of the population of Czechoslovakia. Given that the Slovaks held their own demonstrations in Bratislava, and considering the obstacles to travel in a Communist country, the more relevant statistic might be that the number of demonstrators in Prague that day constituted half of the population of the metropolitan area of Prague. Thus are velvet revolutions born.
Now, what is the chance that 5% of the 61 million population of the United Kingdom, let alone half of the 7.5 million population of greater London, show up in front of the Parliament to demand that their country be returned to them? And yet, is there a country whose inhabitants have been stripped of their identity and self-esteem, their cultural patrimony, their sense of community and belonging, their ancient traditions, their long-standing consensus of non-violent coexistence, their religion and freedom of exercising it, their freedom of self-defense from rampant and once-unknown crime, and their freedom of privacy from state surveillance, more thoroughly and relentlessly than the Britons have by their ruling elite? Not to speak of their impending national bankruptcy.
Where is the Western country whose population feels acutely enough what has been done to it by its Body Snatcher class to protest it vociferously and in great numbers? The people who march and protest in the West are the ones who are the cause of the dysfunction, not the ones who suffer from it. Thus, the largest public demonstration in the United States in a generation has been the "Million Men" March on 16 October 1995, organized by the Nation of Islam under the leadership of that great contributor to Western Civilization, Louis Farrakhan.
It is instructive that the march organizers estimated the crowd size at between 1.5 and 2 million people, but National Park Service that administers the National Mall where the demonstration was held, estimated the crowd at 400,000. The Park Service withdrew this estimate after Nation of Islam threatened to sue. To ensure that no further offense to the likes of Mr. Farrakhan be caused in the future, in 1997 U.S. Congress prohibited the National Park Service from conducting further crowd estimates. Thus are the interests of the too-silent majority served.
Should one discuss the viability of a non-velvet and considerably more painful revolution? In a 4 August 2008 forum, Thomas Fleming, one of America's pre-eminent paleo-conservatives, made this comment: "I do not recommend any plan because I regard the ethnic situation–like the cultural, moral, and spiritual situations–in this country as beyond all hope of remedy. Any call to direct action… is tantamount to terrorism" Dr. Fleming added, "It is pointless to recommend policies to a nation bent on self-destruction."
Even the Klan says on its Web page, "There is a race war against whites. But our people - my white brothers and sisters - will stay committed to a non-violent resolution."
One familiar with French or Russian history can understand why many preferred the dreadful carnage and chaos of revolution to the cruelly oppressive and unjust status quo. But it's not so easy to understand what drove colonial Americans to a revolution in 1776 but not 220 years later. If they rebelled then against taxation without representation, taxation in America is at least 600% higher now, and in Western Europe it's higher yet. And under the Tweedledum/ Tweedledee two-party system, the too-silent American majority and its most vital interests have no more representation than they did in the British Parliament of the 18th century.
All of Western Society is now ruled by Body Snatchers, who see the populace as a flock to be penned and sheared at will, with the fleece redistributed to favored client groups of Pods and "minorities." Moreover, as the favored "minorities" are the source of most violent crime in the West, they also serve as the Snatchers' proxy instrument for culling the flock. Whether unwittingly or deliberately is beside the point, as even the facts of this matter are censored by the Snatcher's laws and media.
George Orwell reminded us that if one has lost the freedom to say two plus two make four, one has lost one's freedom. But "Hate-speech" laws are proliferating in the West, to force people to live by prescribed and obvious lies relative to the effects of the epochal errors, if not intentional crimes, of the Body Snatchers' rule of the last 45 years.
This rule has been predicated on destroying the cohesion and social capital of the West via Third World immigration, destroying its financial capital via a giant expansion of social services to such immigration, and wasting much of what remainded through financial and moral profligacy toward the Third World in general.
The former manifests in ways ranging from state financing of mosques in France, to drivers license tests in 21 languages in Great Britain, to hundreds of billions in direct or securitized subprime mortgage loans in the United States. The latter manifests in the waterfall of money pouring from the West and dissipating in hundreds of Third World national, supranational, and NGO cesspools. The Western taxpayer's money props up causes as diverse as the Cyprus bank accounts of the leaders of the Palestinian intifada, and the rare-vintage wine collection of the Dear Leader of Pyongyang.
Pinned by pinstriped psychopaths to the Snatchers' demented balloon was a house of credit cards and other fraudulent debt instruments that allowed the besotted population, with the Snatchers' blessing, to buy the toys and pleasures that would divert it from examining too closely what was going on.
One day, perhaps a charismatic leader will arise in some Western country who will call "Give me Liberty, or give me Death," just before or after Body Snatcher State has sentenced him to a fine of 250,000 euros and a two-year confinement with compulsory re-education in Islam. But such a leader has not arisen yet, and no Western population exists currently that would follow him in large numbers.
Ron Paul was the preferred Republican 2008 Presidential candidate of Americans who were disgusted with their party's establishment. As part of his campaign, Paul published a book, The Revolution: A Manifesto, in which he advocated a return to the principles of the American Founding Fathers and the Constitution: liberty, self-government, a noninterventionist foreign policy, plus an end to inflatable paper currency.
Alas, the title was misleading, for the book contains no prescription for a revolution, but only for a change in policies. And such a change will never be adopted by the ruling cabal of mutually back-scratching "progressives" elites, corporate titans, labor unions and "minorities," except through a revolution.
Revolution does live in the hearts of people one meets in various Western countries, particularly via the Internet. In Europe, the steaming dissidents tend to be either hormonal crypto-Leninists or wannabe Himmlers. No salutary outcome can come from either kind of revolution.
In the United States, the revolutionaries-at-heart are usually older and nostalgic for the old days when the Federal Government was far away, there was no income tax, and one's bank did not handle phone calls or subprime mortgages in Spanish. These people often remark that the United States has been betrayed by its ruling elite and is finished. And one does not dump tea into the harbor for something that's finished.
Still, there are signs that even the docile majority may not remain so forever. With the economic system of the West in shambles, with 50 million expected to have lost their jobs by the end of 2009, with decibillion-dollar Ponzi schemes staged by financial capitalists, and trillion-dollar Ponzi schemes staged by governments, no one can predict what tragicomedy will play out on the West's political stage in the next decade.
What will happen in Spain, the country with perhaps the most inept and lunatic Body Snatcher government, living off sham bond sales to the European Central Bank that are bound to evaporate in the future? With its socialist-size social entitlements, insolvent banks, an unemployment rate coasting toward 20%, and tens of thousands of empty and unfinished condos that should never have been built, how long will it take before crowds of very angry Spaniards take to the streets?
Once the recession turns to hyper-inflation due entirely to the Western governments' 24/7 money printing and wasting what they print, at what point will the people demand in great and loud numbers that the swells who have caused all this – the banksters, hedgies, credit instruments swappers and their enabling politicians -- be arrested for fraud, have their assets confiscated and their lives forfeited?
Maybe that's why Thomas Jefferson predicted happiness for Americans on the condition that they be able to prevent their government from wasting their earnings under the pretense of taking care of them. And why this father of modern democracy counseled that the tree of liberty must be refreshed from time to time with the blood of patriots and tyrants.
But patriots are few nowadays and there appears to be no transgression that the West's elected tyrants can't get away with, as long as the advertising budget is large enough. The times, they have changed.

Loyal Opposition
The multiparty system of Western democracies no longer works in the interest of the societies that legitimize it. No matter which party is in power, it serves these primary causes to one degree or another:
(1) To rob the productive minority of citizens in order to fund the government's own interminable growth and to redistribute the confiscated earnings to the less productive or altogether idle majority, thereby buying its votes.
(2) To enlarge the voting franchise to every less productive or idle segment of society in order to find more clients for those confiscated earnings, and therefore more locked-in voters. Such targeted new constituencies include prisoners, teenagers, mental cases, legal resident aliens and illegal resident aliens.
(3) To enlarge the pool of locked-in votes further by importing more tax-eaters from Third-World countries.
(4) To stigmatize or punish by law any public discussion of racial, ethnic, religious and gender differences with respect to mean IQs and behavioral traits. Such differences are the primary cause for the disparities in educational achievement, income, criminality, social acclimatization and even health indicators in the multi-racial Western society. Therefore, the anathema ensures that the system will continue showering ever-greater sums of money to "solve" disparities that are unsolvable. Likewise, the system will impose ever-more repressive restrictions on the whole of society, because applying them just to the preponderantly dysfunctional segments would explode the central taboo on discriminating reality from ideology (6).
(5) To dumb-down public education in order to further disguise the racial and ethnic IQ differences and education-related cultural traits. An additional benefit of this dumbing-down is the politicians' enhanced ability to bamboozle most of the electorate most of the time.
(6) To dumb-down the electorate yet further through scrupulous noninterference in "Freedom of Speech" when it comes to the giant stream of puerile, moronic, decadent and degrading "entertainment" washing away the Western peoples' brains and culture, while interfering with the very same freedom of speech with an iron hand when it comes to people who speak the truth about the West's dire condition and its causes.

(7) To reward the ruling political elite's cronies, moneybag sponsors and key supporting factions at the expense of the larger society and its future generations.
(8) To implement a multi-level globalist agenda that satisfies the utopian urges of Muticulti Gramscians and the business objectives of multinational corporations and international bankers, at the expense of the people.
(9) To perpetuate the sham of fiat paper currency and metastized credit instruments in order to create an illusory prosperity in the present, no matter what the disastrous consequences in the future. It's a bone thrown to the electorate, to keep it busy with its Blue-Ray DVDs, Harley motorbikes and cheap fashions bought on cheap credit while the ruling elite executes its end pass relative to the preceding eight items.
As soon as a party that truly represents the will of the people has a chance at access to power, Body Snatcher International intervenes on a massive scale, to thwart it. Thus if Vlaams Belang enjoys an electoral success in Belgium, other Belgian parties form a cordon sanitaire, to deny it a share in the governing coalition, and the international press adds "far right" every time it mentions its name. If Ron Paul is the only Republican politician who will speak the truth about America's broken economic model, and Tom Tancredo the only one to speak truthfully about broken immigration, their own party will deny them access to the speaker's podium at its national convention.
If the Swiss People's Party (SVP) wins 29% of the popular vote despite a smear campaign by the entire European establishment, including MSM, the UN will send its ubiquitous Doudou Dienne to sniff for "racism" in Helvetia and report to the BBC. Mr. Dienne's title alone, Special Rapporteur on Contemporary Forms of Racism, Racial Discrimination, Xenophobia and Related Intolerance, conjures the job description of another famous hound of heretics, Tomás de Torquemada, the first Inquisitor General of Spain. As Mr. Dienne is the UN's designated hammer of "racists," Torquemada was "The hammer of heretics."
In the United States it's altogether impossible for great or even potentially great people to be elected or even nominated for the Presidency, except after a prolonged national disaster. It took the combined debacle of Johnson, Nixon and Carter for Reagan to be elected. The majority of the electorate is too dumb to discern good men or to decide correctly which candidate offers the better platform. And a third party is a non-starter in a country where elections are a long TV commercial requiring, as of 2008, half a trillion dollar brainwash budget in order to be a national "player."
In Europe too, the ruling elites know well how dumb, confused and docile the people have become after 50 years of Podism and rising standards of living. That's why the electorate wasn't even consulted in matters as crucially important as the establishment of Eurabia, massive Muslim immigration, and laws curtailing Freedom of Speech and enacted to spare the responsible Body Snatchers from criticism.
Democracy, ever since its Greek days, is really a logocracy – the rule of the glib of tongue. But the glibbest of tongue are not necessarily the stoutest of character and nimblest of mind. Maybe one day the electorate will understand that a beneficial diversity is not the one obsessed with race but the one that includes the quiet and the aloof, the grave and the guileless, the highborn and the short. But until that time, we will be governed by extrovert mediocrities with toothsome smiles and an instinct for the lowest common denominator. No solution to the West's problems can come from there.
Voting, therefore, is nearly useless. Biding one's time in the wings, waiting for the electorate's mood to change, is a waste of time. For the Body Snatchers, lunatics though they are, were extremely clever. They have changed the demographics of the electorate, rather than risking a change in the mood of the original electorate. For that part of the population they haven't replaced, they replaced its brain cells via a Long March through the schools and mass communication media. And to add a failsafe layer of redundancy, they bribed the hoi polloi of both domestic and imported origin via redistributive entitlements and cheap imports of time-killing and brain-numbing gadgets.
And so, what remains is to bid adieu in some form. More on that next time.


-------------
(1) Eight days after this was written, Porkulus, reduced after much public outrage to "only" $787 billion, would be passed in the U.S. House of Representatives 246 -183 by Democratic vote to unanimous Republican opposition. Not a single lawmaker voting had read this 1071-page bill.
(2) Per the 1998 FBI Crime Statistics, of 3573 anti-black "hate crimes," only 58% (i.e. 2084) were committed by whites. Of the 989 anti-white "hate crimes," blacks committed 57% (i.e. 567). What sheds the light of Reality on this is knowing that in 1998, whites were 68%, and blacks 15% of the U.S. population. At 58% of "hate crimes," whites were significantly underrepresented in the anti-black crime category. But blacks, who committed 57% of "hate crimes" against whites, were hugely over-represented. Blacks were committing anti-white "hate crimes" at four times the rate of whites' anti-black "hate crimes."
(3) Per Wikipedia.
(4) Based on Wikipedia data.
(5) At about the time the first installments in the series appeared, Fjordman published his book Defeating Eurabia. I have postponed reading it until after this work has been finished, so as to enlarge the field of relevant ideas and see, after the fact, how much of our analysis genuinely cross-validates.
(6) One of the foundations of the Snatcher's and all other ideological tyrannies is the manipulation of language. Hence the proper usage of "discriminating A from B" has been replaced by "discriminating against A or B."