Potter in the Polders
From the desk of Paul Belien on Mon, 2005-10-24 10:38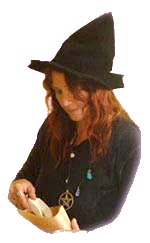 A Dutch witch has won a legal battle to make the cost of her witchcraft lessons tax-deductible. The witch took lessons at a witchcraft school in the province of Frisia which charges €2,067 euros (VAT included) for a 13 weekend course. According to Margarita Rongen, a teacher at the Appelscha School of Witchcraft, the school teaches students "how to make spells, prepare magic potions and heal with stones." Rongen, a 56-year old redhead and a self-declared 11th generation witch, says the ruling by a court in Leeuwarden that gave her trainees a tax break has brought in hundreds of potential new recruits.
On September 26 the court in the Frisian capital of Leeuwarden ruled that the cost of the witch course is tax deductible on condition that the training is part of a professional training for people who need it to earn their living . The witchcraft student was not allowed, however, to deduct the travel expenses for reaching the faraway school (perhaps the judge thought that she should have used her broom).
A warning for those interested: though tax deductible for those intending to be professional witches, the cost of the witchcraft course is higher than a master's degree at a university in the Netherlands. Payments have to be made in 13 monthly instalments of €159.