The Piggy Bank Ban and Selling Out to Muslims
From the desk of Paul Belien on Tue, 2005-10-25 10:02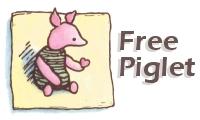 British banks are banning piggy banks because these may offend some Muslims. Halifax and NatWest banks have led the move to scrap the time-honoured symbol of saving from their children's products and from their advertising. Muslims do not eat pork, as Islamic culture deems the pig to be an impure animal. Salim Mulla, secretary of the Lancashire Council of Mosques, backed the bank move. "This is a sensitive issue and I think the banks are simply being courteous to their customers," he said.
Novelty pig calendars and toys are also being banned from social welfare offices in Britain. Workers in the benefits department at Dudley Council, West Midlands, were told to remove or cover up all pig-related items, including toys, porcelain figures, calendars and even a tissue box featuring Winnie the Pooh and Piglet. The pigs were offensive to Muslims during Ramadan.
Already infant schools have banned stories featuring pigs, including "The Three Little Pigs," in case they offend Muslim children.
Meanwhile, in the cesspit of moral decadence the leader of the Dutch Social-Democrats, Wouter Bos, announced that this week he is going to join the Muslims in the Netherlands in a day of fasting during Ramadan. He is doing so at the request of the Dutch Muslim Broadcasting Corporation. Bos's day of fasting will be recorded and aired on television. The reason why Bos is fasting with the Muslims is probably because there are municipal elections in the Netherlands on 7 March. Courting the Muslim vote has become increasingly important for Europe's leftist parties. It is probably just a matter of "being courteous to their customers."
The same Wouter Bos is very critical of the "Bede," the traditional prayer in the Dutch queen's annual speech at the opening of the Dutch parliament. Bos wants the traditional prayer to be abolished. Consequently it is very unlikely that Bos will join his Christian compatriots in a day of fasting during Lent next year. Whether the Dutch Socialist leader still eats pork or puts money in a piggy bank, we do not know.
Double-faced
Recently, however, Wouter Bos expressed criticism of immigration, which he blamed for a loss of common values as well of feelings of solidarity among citizens. On 7 October at a meeting of European Socialist parties in Amsterdam he said:

An increasingly diverse society makes it more difficult to sustain support for solidarity. Part of the problem is a perceived loss of common values. Tax paying citizens may then very well argue: Why should I make an effort for people I don't know, don't understand, or who don't do things the way I would?
Indeed, why should we pay taxes if we are no longer allowed to put money in the piggy bank, eat sausages, give our children Piglet dolls, and read them "The Three Little Pigs" at playschool?
And Bos continued:
And the other thing happening in a society like the Netherlands is this: migration may not only cause a loss of common values but it also seems to come with a loss of common interest. In Dutch society the facts speak for themselves. It is no longer true that we all run the same risks. For example migrants and people of migrant background in the Netherlands run a much greater chance than others to be poorly educated, unemployed, sick or end up with a criminal record. Here again the result, if we do nothing about it, will be that the white middle class tax paying citizen wonders: am I paying taxes for myself or am I paying for them?