The Flemish Claim To Sinterklaas In America
From the desk of David Baeckelandt on Wed, 2011-12-07 08:04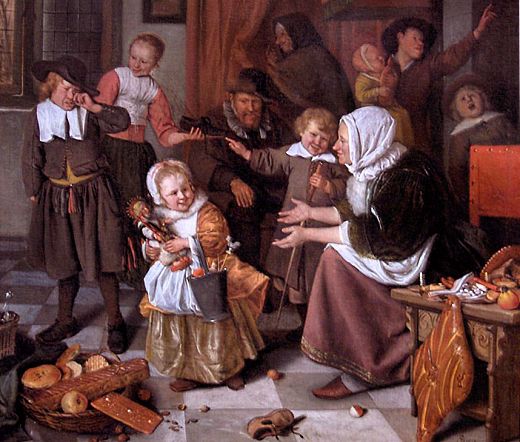 Yesterday, December 6th, children in Flanders received gifts. These gifts ostensibly come from Sinterklaas with the aid of his Moor assistant, "Swarte Piet". This tradition had strong Catholic origins, which of course made it anathema to 17th century convicted Calvinists. Thankfully, key members of the Dutch Reformed Church in Nieuw Nederland who had roots in officially Catholic Flanders, were unwilling to give up their cultural traditions.
One of these key individuals was Annetje Loockermans. Annetje was the sister of Govert Loockermans and together with several of her other brothers, represented the Brabantian town of Turnhout well in 17th century America.
Annetje married Olaf van Courtlandt and her children led the Netherlandic colony culturally, politically and economically: her son Stephanus was the first native-born mayor of New York City. Her daughter Maria married Jeremias van Rensselaer (son of Kiliaen, the founder of Rensselaerswyck and the subject of recent books). Later, when her husband died, the young widow raised her children and kept the patroonship profitable. She also kept the traditions alive she had picked up from her Turnhouter mother Annetje.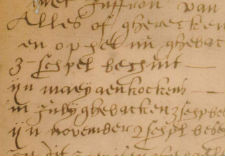 The earliest evidence of any practice related to Sinterklaas is found in the New York State archives. A surviving receipt from Wouter de Backer (Walter the Baker) to Maria van Rensselaer in 1675, (please see the embedded picture), lists (8 lines from the bottom) says that in addition to cookies ("koeken"), Mrs. Van Rensselaer purchased 2 guilders and 10 stivers worth of Sinterklaas "goet" ["goodies"] - please see the actual scanned image here.
Later descendants of Annetje Loockermans were to carry the Sinterklaas theme even further: they gave us here in America the poem we know as "Twas the Night Before Christmas" as well as pushed the date we celebrate Christmas from the evening of December 5th/6th to December 25th. Cultural influences being what they are, Christmas is now celebrated even in non-Christian countries like Japan (albeit as a cultural, not a religious, holiday).
So as you hum the latest Christmas jingle, bake your Christmas 'goodies', or scramble for those last minute gifts, take a moment to reflect, if you will, on the debt owed to a few hardy Flemish women in 17th century Nieuw Nederland who transmitted their cultural traditions to the world from Turnhout.
This article first appeared on the Flemish American blog.