Geert Wilders, Marked For Death
From the desk of Marc Huybrechts on Sat, 2012-04-21 08:05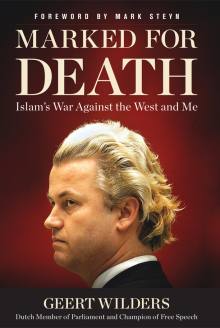 A review of Geert Wilders' latest book: Marked for Death - Islam's War Against the West and Me.
Following the defeat of fascism in World War II and the collapse of Soviet communism in the late 1980's, Fukuyama and others posited the 'End of History' thesis, by which was meant that ideas of freedom and liberal democracy had won the day. How wrong they were! During the long years of the 'Cold War' and of the 'Pax Americana' in Europe and East Asia, cultural changes were gradually taking place in sheltered countries whose cultural elites in media, academia and politics, began to lose touch with the realities of the world. Deep resentments, born from both envy and free-rider guilt, were taking hold in many minds and, after the fall of the Berlin Wall, anti-Americanism raised its ugly head even in official policies of various West-European countries. Freed from the fear instilled by an immediate external threat, Europeans came to believe in illusory 'soft power' and that freedom could be 'free'.
Much of the media and education systems preached moral relativism in countless ways, and multiculturalism became an explicit dogma and official policy in many political circles. Economic globalization and lax immigration policies opened the door to the rise of a new form of totalitarianism in Europe, islamofascism, facilitated by the immigration of millions of Muslims and sustained by the proliferation of legislated restrictions on freedom of speech. These restrictions usually took the form of so-called anti-hate, anti-discrimination, and/or anti-negationism laws, but they were inevitably selectively applied and all had the same deleterious effect on European cultures. They stifled free thought and speech, and they were abused by the powerful to silence their critics. A few selective examples of 'Kangaroo trials' in a couple of countries (Austria, Belgium, Netherlands, etc…) sufficed, and self-censorship has become the order of the day in Europe. That is the 'big picture' context in which this book by Geert Wilders should be seen.
Wilders paints a grim picture of daily life under constant death threat from radical Muslims and illustrates the craven responses from major contemporary political and cultural figures in the Netherlands, and more broadly in the West, to islamofascism. His claims about Islam as a violent intolerant ideology are well documented in this book through appropriate references to numerous Koranic verses, the Hadith, speeches, etc...He also contrasts the responses of contemporary Western politicians with quotations from major American historical figures like Thomas Jefferson, Teddy Roosevelt and the like. He explains well, and documents, that Islam does not really preach and follow the Golden Rule (that we would do unto others as we would have them do unto us), and thus clarifies why President Obama's Cairo speech on June 4, 2009, was so misguided. Such appeasement and projection of moral weakness can only strengthen Islam's political agenda and weaken courageous individual Muslims who resist intolerant Islamic doctrines.
While Wilders is right in claiming that Islam is incompatible with Western constitutional systems and attendant individual liberties, it is not always clear that he is willing to extend such liberties to Islamists and their ideas. That is understandable for someone who is (intolerably) "marked for death" by barbarous Islamists, but other free people can genuinely disagree about appropriate methods to fight this new fascism in our midst. By all means, debate, expose, speak freely, reject pc-speak and political correctness in general, assert your constitutional rights, insist on strict maintenance of 'rule of law', but beware of bans that would push this ideology underground and that would create 'martyrs' (in the minds of many naive Westerners). Wilders is very good at exposing how the ruling paradigms of cultural and moral relativism in the West are undermining our basic freedoms, and exposes the nefarious role played by Western apologists domestically and by the Organization of Islamic Cooperation (of 57 Islamic countries) internationally.
Wilders is not defeatist and believes that the tide can be turned, in part because of the recent political success of his new Freedom Party in the Netherlands and very recent courageous actions by the current Dutch government. While one could argue about some of his specific recommendations, the underlying principles he defends are solid and commonsensical: defend freedom of speech, reject cultural relativism, counter Islamization, and cherish national identity.
Americans, Canadians, Australians and others in the relatively 'free world', better take heed and learn from the recent experiences of Mr Wilders and of other brave singled-out Europeans, because their cultures too are displaying similar trends of preemptive capitulation to islamofascism, and they are going down the same ruinous cultural path that Europe has followed in recent decades to growing bondage. Mark Steyn wrote an excellent and entertaining foreword to this book. He puts it well at the end:
"Geert Wilders is not ready to surrender without exercising his right to know, to utter, and to argue freely—in print, on screen, and at the ballot box. We should cherish that spirit, while we can".
Indeed we should, while we still can, not only for our own sake, but for that of our progeny too.
__________________
Buy "Marked for Death - Islam's War Against the West and Me" from Amazon US or Amazon UK.