Health Care Cuts in Europe
From the desk of Paul Belien on Tue, 2005-11-22 23:08
When conversations turn to health care, I am always reminded of my grandfather. He was 91 when he died. He had never been ill. He had never needed medical treatment in his whole life. Upon reaching his nineties, however, he required prostate surgery.
Like all Belgians, my grandfather had paid wage-related contributions to cover health insurance throughout his entire professional life. The Belgian health care system is a so-called pay-as-you-go system. Today's young and healthy do not set money aside for their own future needs, but are compelled to pay for today's sick and elderly. As my grandfather had never needed much health care, he had been a net contributor to the system. Now was the first time he was going to claim something back.
He had his operation in May. In November he was dead. The prostate operation had gone fine, but afterwards the hospital had given him an antibiotic drug that caused complete deafness. Though there were other, but costlier, drugs available, the hospital gave the old man the cheapest one. They knew about the side-effects, but it did not strike them as an unreasonable and unjust thing to do. Why should it? A man who has already had 90 healthy years of life surely has no right to complain about deafness when some people get more seriously ill or die at a far younger age. When my grandfather left the hospital he was completely deaf. He lost his will to live. Six months later, he was dead.
In many Western European countries, health care is the fastest growing segment of government spending. Over the past forty years there has been a significant increase in health-care spending. According to the latest OECD figures (2003), Western European countries spend between 7.3 and 11.5% of their gross domestic product on health care. Ten years ago it was between 6.9 and 9.9%. In 1960 it was only around 4%.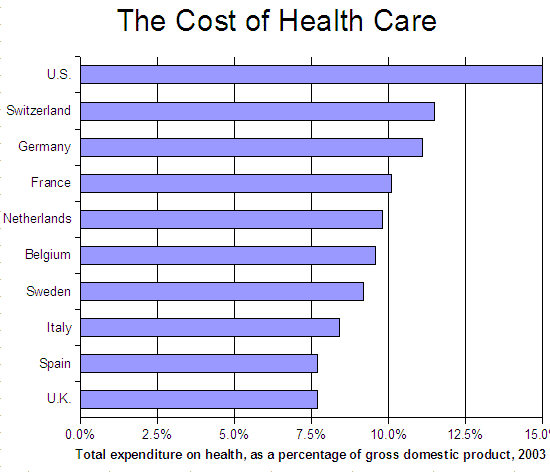 Source: OECD
Much of the rise in Europe's health-care costs is caused by factors beyond government control, such as demographic evolution. Another important cause of rising expenditure, however, is the advancement of better and newer – but more expensive – medical technology.
There are only two ways to keep the present government-run European health-care systems going. One can either drastically increase the financial burden on those at the paying end of the system – the young and healthy of today – or one can drastically limit the quality and the availability of health care for those at the receiving end – the sick and the elderly.
For decades governments increased the financial burden on the working population. When this burden became intolerable, they shifted their policies towards cutting back quality. In Europe there are medical treatments, operations or drugs which are not available to persons above a certain age, or to persons who are considered too sick, or to anyone at all. Political authorities, claiming to be the guardians of solidarity in society, decide who is allowed to get what kind of treatment, operation or drug. Soon euthanasia might be the price the solidarity principle of the welfare state imposes on those people whose health care is costing society the most. Politicians in Belgium and the Netherlands have already granted their citizens a "right to die" by means of a lethal (and cheap) euthanasia injection. Is this a new "freedom" that the state, which is constantly restricting every other aspect of our lives, generously bestows on us? Or does it boil down to "economic euthanasia," which enables governments to save money by eliminating those that cost the welfare state too much?
Other ways in which many governments in Europe have tried to control health-care spending has been by drawing up "negative lists" of drugs which doctors are not allowed to prescribe. Drugs are put on the "negative" list not because they are harmful, but because they are high-quality goods that are deemed too expensive.
For almost a decade now, governments have been stifling medical innovation in Europe. Last month the American drug company Pfizer decided not to build a new plant in Belgium because the Belgian government has been constantly raising taxation on pharmaceuticals. The government wants to reduce pharmaceutical expenditure by limiting drugs. They reckon that by limiting supply, demand will go down. In the same way, European governments discourage young people from becoming doctors, dentists or nurses. Many countries allow only a limited number of people to study for a medical profession, despite the fact that, due to the demographic development and the growing number of elderly, more doctors and nurses will be needed in the future.
Last week young physiotherapists demonstrated in the streets of Brussels. In Belgium physiotherapists, like doctors and dentists, need a licence to be allowed to set up a practice. Without a licence, the services provided by these medical professions are not reimbursed by the sickness fund – and without such reimbursement it is impossible to get any patients. The government has just limited the annual number of physiotherapy licences to 270. As 410 young people completed their (4-year) physiotherapy studies this year, it means that 140 of them will not be able to use their degree, unless they leave Belgium. The minister of Education says this is the fault of the universities: they are required to make the exams more difficult so that only the government prescribed number of 270 students can pass.
As is often the case, many of continental Europe's policies are of German origin. In the early 1990s the German government, in a move designed to cut health-care costs, limited – and in some cases completely blocked – access to new drugs and medical technology. Since 1993 the German government has set separate budgets for each segment of the health-care market, with provisions of heavy sanctions if these budgets are exceeded. The 1993 pharmaceutical budget was set at $15 billion – a 9.1% cut from 1992. The government ruled that money spent over the budget would be taken out of doctors' incomes. This caused a 25% drop in spending on medicine. Similarly, the sale of the seven largest research-intensive drug manufacturers fell by 16.5%, while the sales of generics (copycat drugs which are cheap because they were developped at least 15 years ago and hence no longer protected by patents) rose by 36%.
While these measures were successful in the field of cost control, they had devastating consequences for the pharmaceutical industry. The German pharmaceutical companies, no longer keen on developing new drugs, saw their world-wide share of drug patents drop to 8% from 16%. Doctors, afraid that they would have to pay the pharmaceutical bills out of their own pockets, started to refer their patients to specialists and hospitals. Patients with minor illnesses, requiring common and cheaper medicines were helped, but the doctors would "dump" their more serious cases instead of treating them in more costly ways. As a result, in 1993 Germany saw an increase of 10% in hospital patients and 9% in referrals to specialists.
The next year a similar phenomenon occurred at the level of the hospitals. They, too, were assigned budgets that they were not allowed to exceed. Consequently German hospitals, faced with patients who might cost too much, referred them to university clinics, which by law are not allowed to refuse patients. "Patients are being turned away, acutely ill patients are wandering from clinic to clinic, and expensive drugs are being withheld from cancer sufferers," the German weekly Der Spiegel wrote in 1994 (April 11). "Money is being saved – even if it costs lives to do so. Whenever possible many hospitals are turning away expensive patients covered by the sickness funds. The only good patient is a cheap patient."
Unfortunately, the German system has become the European model. Politicians in neighbouring welfare states, noticing the drop in German health expenditure, started to follow the German example. The only thing that mattered in their eyes was cost control. Many adopted the policy of adding drug volume control to price control and finally to prescription control. France introduced so-called negative recommendations, telling doctors what they are allowed to prescribe and what not. These recommendations have been made compulsory and doctors risk heavy financial penalties if they go against them.
At the root of these decisions is the understandable desire of governments to control health-care costs. But rationing is clearly not the answer. What many governments in Western Europe have overlooked is that there is nothing wrong with a society devoting more of its resources to health care. This even appears to be an indication of prosperity. The higher and the more developed a society becomes, the more its citizens are willing to spend on keeping healthy. Modern technology makes everything cheaper except the highest quality of medical care, which is constantly improving. To try to limit access to this technology in the name of "cost-control" is irresponsible.
Meanwhile, the larger and more fundamental problem of how to finance the health-care systems is not adressed. Instead of funding the provisions of today's sick with taxes from today's healthy and young, people should be building up reserves for their own future liabilities. What Europe needs is to replace its pay-as-you-go systems by privatized and capitalized health-care systems. This, however, would imply that the governments relinquish control over the system, which is the very last thing they are willing to do.