Hirsi Ali: Freedom of Education Hinders Integration
From the desk of Alexandra Colen on Mon, 2005-12-12 00:05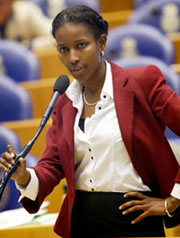 The 36 year old Somali-born Ayaan Hirsi Ali is the most famous member of the Dutch Parliament. She is not only a Naomi Campbell lookalike, but is an outspoken and courageous critic of Muslim extremists, who have consequently threatened to kill her. One can only admire her resolve. Two weeks ago, however, Hirsi Ali became controversial within her own party, the Dutch center-right Liberal Party VVD, with her proposal to abolish Article 23 of the Dutch constitution. This article guarantees freedom of education. Ayaan Hirsi Ali wants all religious schools banned.
Is Islam dangerous because it is a religion? Do Muslim values differ from European values because the latter are rooted in Christianity or because they are secular? These questions are at the heart of the debate in Europe today. Theo Van Gogh, the Dutch moviemaker who was murdered by a Muslim fanatic last year believed that religion was what made people intolerant. Van Gogh was anti-religious rather than anti-Islamic, as he had previously shown by insulting Christians and Jews and attacking traditional morality before shifting his attention to the growing segment of Muslims in Dutch society.
Van Gogh was a friend of Hirsi Ali's. He was murdered shortly after completing Submission, a ten minute documentary, written by Hirsi Ali, which dealt with the abuse of Muslim women. Hirsi Ali recently finished the script for a sequel to Submission, in which she criticises the oppression of homosexuals in Muslim societies.
In the secular Netherlands, the rejection of homosexuality by Islam is considered proof of its backwardness and intolerance. This argument was also used by the assassinated anti-immigration politician Pim Fortuyn, himself a theatrical homosexual, who argued that he was no racist because he had sex with Moroccan boys.
Hirsi Ali's demand that religious schools be abolished in the Netherlands has caused a row within her own Liberal Party (VVD), especially after she attacked Hans Wiegel, a former leader of the party and one of the VVD's most prominent members. In an interview last month Hirsi Ali called Wiegel "a reactionary," who "denies reality" by defending freedom of education. She said Wiegel has no idea about the problems relating to the integration of immigrants into Dutch society and compared him to a "Turkish or Moroccan father" who is "living in a country of yesterday." Hirsi Ali believes that Article 23 hinders the integration of Muslim children because they end up in Islamic schools. According to her, the state should educate all children in state schools in order to ensure that they learn tolerance.
The 64 year old Wiegel, who is considering running for the position of Prime Minister in 2007, said he did not mind being called a reactionary, "on the contrary." He said Hirsi Ali's proposal to abolish Article 23 of the Constitution was "intolerant" and suggested she should "not be so fanatic". The quarrel within the VVD, which is in government with Prime Minister Jan Peter Balkenende's Christian-Democrats, deepened when a third prominent party member, Frits Bolkestein, the former European Union commissioner, lended his support to Hirsi Ali. Bolkestein said that freedom of education was not essential for the Liberal Party: "My ideal is: all children in state schools. So, as far as I am concerned, Article 23 can be abolished." According to Bolkestein the VVD only supports freedom of education for the sake of its Christian-Democrat coalition partner.
Bolkestein has always protected Hirsi Ali. The latter started her political career in the Dutch Labour Party, but when the Socialists objected to her demands that Muslims should be forbidden from entering the Netherlands, Bolkestein, who was the leader of the VVD at the time, offered her a place in the Liberal Party.
After the assassination of Pim Fortuyn in May 2002, Hirsi Ali rode the tide of outrage that launched a fierce and comprehensive debate on immigration and multiculturalism. Hailed by a nation only newly released from the taboos of political correctness concerning immigration and the problems of multiculturalism, she captured the attention of the Dutch with her criticism of the attitudes of her fellow Muslim immigrants in the Netherlands. Hirsi Ali was raised a Muslim in a wealthy Somalian family, but fled from an arranged marriage and ended up in the Netherlands. She has been a fierce critic of Islam ever since, calling Mohammed a sexual pervert and a pedophile.
The Dutch were enchanted with this beautiful and outspoken black woman pleading the case for integration and pointing out where the policies aimed at integration had failed, and why. Unlike her white, indigenous compatriots, she could not be accused of racism, and she passionately devoted herself to the task of chastising the Muslim immigrants who refused to participate wholeheartedly in Dutch society. She left the feminist socialist circles where she had started her career and became the darling of the more conservative Dutch parties.
Hirsi Ali became known worldwide as a paragon of the successful immigrant: bright, loquacious, a modern woman readily assimilated into Western society, and aware of the necessity to adopt the values of the nation that she has made home. But how Dutch is she really? This seems to depend on whether or not secularism is seen as the core value of Western society, or rather the Judeao-Christian heritage.
Her recent clash with Wiegel revealed an appalling insensitivity to issues relating to religion but also to classical liberalism, where parents, rather than the state, have always been allowed to decide about the education of their children. Though Hirsi Ali exercises her freedom of speech to the full (and rightly so – it is an indication of the intolerance of certain Muslims that she needs constant surveillance at the expense of the taxpayers), she seems never to have heard of freedom of religion and freedom of education – basic freedoms which have always been as central to the concept of the free society as the freedom of the late Theo Van Gogh to shout abuse at people he did not like.
One may also wonder how much Hirsi Ali really knows about the history of the Dutch. Like other European peoples, they have waged fierce political battles over education and the right to organise independent schools where children could be educated in accordance with the religious values of their parents. Without this system, all traces of Christianity would have long since been eradicated from Dutch society by the secular, anti-religious, "enlightened" establishment. As it is, Dutch society has become largely secular and anti-religious. In all its "enlightenment" it has refused to procreate and, in the name of tolerance, it has accepted alternative lifestyles and multiculturalism. To compensate for the demographic void it created, it has opened its doors to millions of immigrants from an entirely different cultural background, thereby creating the problems that some, such as Ayaan Hirsi Ali and even Frits Bolkestein, now hope to fight by restricting the existing freedoms of the West even further for the small band of remaining Christians. Their children will be forcefully secularized by the state, because the latter is frantically searching for a means to forcefully secularize the children of Islam.