Blair Debacle. France Again Calls the Tune
From the desk of Paul Belien on Sat, 2005-12-17 00:33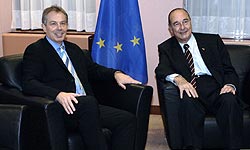 To prevent Britain's European Union presidency from becoming a failure, Tony Blair surrendered more of Britain's EU rebate on Friday night. The British Prime Minister increased his offer of foregoing £5.5 billion over seven years in return for a promise of French President Jack Chirac to review EU spending – including farm subsidies – in 2008. However, as the Roman poet Virgil wrote

"I fear the French, even though they offer promises" (or suchlike).
The deal was arranged in private talks between Blair and Chirac. They were later joined by German chancellor Angela Merkel. She seems to be making a habit of putting pressure on British politicians. Earlier this week she wrote a letter to Tory leader David Cameron to tell him what a naughty boy he was. Yesterday, she told Tony what a good boy he was for making his peace with Jack.
Blair's initial budget proposal had come under attack at the Brussels summit, which began on Thursday, for his attachment to the annual £2.7 billion rebate, negotiated by Margaret Thatcher in 1984. Blair initially said that he was not willing to discuss the issue unless France give up its opposition to reforming the EU's Common Agricultural Policy (CAP). The agricultural subsidies mostly benefit the French. They were defended by Chirac, who insisted that CAP payments have been fixed until 2014.
We Flemings have been living with French (a local variety called Walloons) in one country, Belgium, for 175 years and by now we know that what you give up to the French, you have lost, and what they have promised, you will never get. This is a lesson the British, apparently, still have to learn. The French, however, know the trick. Note that Jack did not offer a single cent.
Tony, however, is largely to blame for the debacle. "Failure to take charge early meant that Britain would be the victim of events," Ambrose Evans-Pritchard wrote in Friday's Daily Telegraph. "If Mr Blair had seized the lead, he could have forged an alliance of paymaster states, forcing a revolutionary change in EU thinking." Unfortunately, the British allowed themselves to be isolated, "pilloried across the Continent as a nasty, greedy, narrow- minded pariah."
Last year, Ambrose points out, Britain was still the "champion of the new states, it was the de facto leader of Europe's majority camp. For the first time since joining, Britain had out-muscled France." But Blair failed to flesh out his vision for Europe. The result today?
"We are at once the injured party, and the hated culprit – an unanswerable indictment of our diplomacy. [...] The rebate is so warped in design, it has misled Poles, Slovaks, Latvians and fellow Easterners into believing they are victims of a grievous injustice aimed directly at them."
If there was no deal on the EU budget, and if the British were not prepared to renounce a larger part of their rebate, there was less money for the others to share. As the EU is basically a welfare pot where everyone is positioned to grab as much as possible, the British insistence on keeping their money was considered highly egotistical behaviour – "a lack of solidarity" as it is called – by the new East European EU members, who all joined the EU in the hope of receiving vast subsidies. There is no higher moral imperative in the welfare state, at least for those at the paying end, than the obligation to "solidarity."
Several EU leaders had announced that they would consider vetoing Britain's budget proposals. Polish Prime Minister Kazimierz Marcinkiewicz said,
"This proposal, if it stays as it is, will be met by a veto from Poland. Everything in it is minimalist, and does not satisfy us at all. […] Tony, stop pretending you're making steps and I advise you, you'd better make a step or better, make two or three steps. This proposal is in no way satisfactory for Poland."
Algirdas Brazauskas, Lithuania's Prime Minister, said,
"I am authorised to vote against the [budget] proposal by Great Britain."
Things were so bad that the French, who have always been hostile to the Poles entering the EU (Polish plumbers "stealing" their jobs!), managed to wheedle the Poles into writing a joint letter. The latter was signed by the French and Polish Foreign Ministers Philip Douste-Blazy and Stefan Meller and published in Thursday's Financial Times. They wrote,
"The UK presidency has put forward a proposal that cannot become the basis of an agreement. In line with it, poorer member states are to make further, substantial sacrifices while one member state, the UK, would see its position considerably improved […] The UK has been a champion of enlargement. We trust it will also be willing to cover the costs it presents."
How the French are gloating, to be able to present themselves as the champions of the "poorer member states" while not contributing a single extra cent, and lecture Britain on its duties to the new member states while France has always opposed enlargement. The President of the European Commission, Barroso, even likened Tony Blair to the Sheriff of Nottingham, "robbing from the poor to give to the rich."
Subsidies constitute the only reason why countries aspire to be EU members. For this they are willing to sacrifice their freedom. Indeed, the only difference between the late Soviet Union and the EU is that the latter is disguised as Santa Claus. Unfortunately, only one politician in all the former Soviet bloc realizes this: Santa's namesake, the Eurosceptic Czech President Vaclav Klaus.