Send a Message to the Swedish
From the desk of Paul Belien on Sat, 2006-02-11 20:36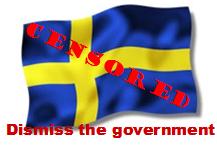 Vikings. Once they were brave. Today some are brave and some are cowards. The brave ones are the Danish and the Icelanders, the cowards the Norwegians and the Swedish (at least where the governments are concerned).
Yesterday the Swedish government shut down a website because it had published Muhammad cartoons. Has Stockholm ever shut down a website because it posted Jesus cartoons? No, it hasn't. During the past week a number of appeasing Western governments have said that they are not happy with papers and websites republishing the Danish Muhammad cartoons, but Sweden is the first Western country to exercise censorship.
In the age of internet, however, governments that do such things only make fools of themselves. Let them feel this by sending all your Swedish contacts an e-mail with a link to the twelve Danish cartoons. There are currently hundreds of these links, but here is ours: node/698 Send it to all the Swedish people you know with the message "This is the 'offensive' stuff that your 'democratic' government does not want you to see."
Yesterday in Cardiff, Britain, copies of a student magazine were recalled because they contained the Danish cartoons. The paper was recalled by the Student Union. Cardiff, by the way, is well-known to The Brussels Journal, since we receive death threats from there.