Carnival Parade Supports Denmark
From the desk of Paul Belien on Sun, 2006-02-26 21:44
Flanders' largest carnival parade, which was held today in the town of Aalst, 35 kms to the west of Brussels, became a statement of solidarity with Denmark. All the floats participating in the parade were adorned with at least one Danish flag, while many of the onlookers waved Danish flags as well.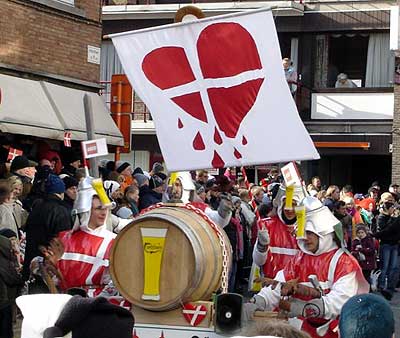 Last year the organizers of the annual carnival festivities, which have been held in Aalst for centuries, received an official letter of protest from the Saudi Embassy and the Arab League because the parade had been "offensive to Muslims and their culture." Participants of the parade had dressed up as Muslim women in burqas.
This year the authorities approached the organizers with the suggestion that it would not be wise to provoke Muslims by dressing up as the prophet Muhammad, though the authorities in Aalst did not go as far as some local Dutch authorities who banned all references to the Muhammad cartoon case. Though they refrained from "offending" Muslims the carnival participants in Aalst today made a clear statement of solidarity with the Danes in their resistance against Muslim censorship.