The Enemy in Our Midst
From the desk of Paul Belien on Sat, 2006-08-12 12:37
Suppose the foiled terror plot in the UK had not been foiled and thousands of innocents had perished aboard planes heading for the United States. I fear that one of the scenes we would have witnessed would have been one we witnessed following 9/11: scenes of celebration and jubilation in certain boroughs and banlieus of major European cities.
Never before has the West faced an enemy like this. It is an enemy who is prepared to blow up thousands of innocent people in suicide actions, but it is also one who lives in our midst. As in the 1930s the Europeans prefer to appease the enemy. Drawing people's attention to the fact that he is living in our midst is regarded as hate-mongering. Thou shalt not hate the enemy, let alone fight him, thou shalt appease him.
In a National Review Online comment on the foiled terror plot Frank Gaffney writes that "the terrorists we face are increasingly likely to be citizens of the countries they are attacking, rather than relatively easily identified aliens." They are, however, relatively easily identified by their names, which are hardly ever traditional European names such as Tony, Jan-Peter, Jacques, Angela or Romano, but have the exotic flavour of a thousand and one nights.
Following the foiled plot European governments seem to be as worried about rising islamophobia as about terrorist attacks. If islamophobia is on the rise, however, one should decide who is primarily to blame. As long as our governments refuse to do this, and blame their own people first, the chances of saving Europe from islamo-fascism are bleak.
In Turkey last May it struck me that the Turks have far more realistic views on the danger of islamism than the European political and media establishment. At least they do not equate criticism of islamism with criticism of religious Muslims. A Turkish friend told me that I would always be welcome in her country if the Belgian authorities should prosecute me for alleged "racism" or "islamophobia." She was a Muslim herself but said that she did not understand why the West European countries tolerate islamist extremism to a degree that is not tolerated in her country. She explained that it was easy to recognize who the fanatics are. "Just watch the way people dress," she said.
"I have seen you wear a headscarf myself," I said.
"I am not talking about headscarves, which are the traditional women's wear of the Turkish countryside, but about hijabs and burqas," she said.
"Are you saying that all the women wearing those are terrorists?" I asked.
"No, but you can be fairly sure that families where the women dress like that sympathize with the terrorists."
We see growing numbers of these women in our European cities. If my Turkish friend is right it is relatively easy for the police to establish where to find potential terrorists. I am opposed to thought crimes, but I wonder why European governments that introduce such crimes for so-called "racists" and "islamophobes" do not make it a thought crime to sympathize with terrorists. If one can be arrested for carrying a swastika flag, why is one allowed to demonstrate in front of Westminster with the Hezbollah flag (which depicts a machine gun)?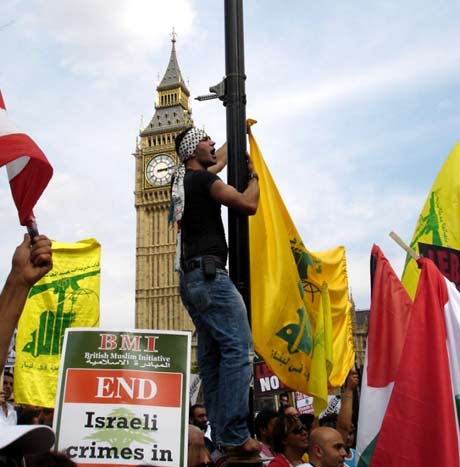 European governments dare not speak out against criminals intent on blowing up planes in flight without simultaneously threatening "islamophobes." They tend to blame their own people for fear of antagonizing the immigrant population. This attitude is dead wrong. Islamophobia is the result of islamism. The latter is a phenomenon within Muslim immigrant communities, which consequently can only be eradicated if the moderates in these communities refuse to tolerate it. "Youths" who rejoice when terrorists commit successful attacks or who demonstrate in the streets with Hezbollah flags should be clearly reprimanded by their own community and taught that such behaviour will not be tolerated. If their community fails to do so it is only natural – indeed sensible – that people begin to distrust the entire Muslim community.
Sensing the unwillingness of their governments to fight the enemy in our midst, a growing number of Europeans no longer feel they have a secure future in their own countries. The number of emigrants in the Netherlands and Germany has surpassed the number of immigrants. In Belgium the emigration figure has risen by 15 per cent in the past four years. "Elderly people leave to go and live abroad permanently," Prof Etienne Van Hecke of Leuven University says, "while young people emigrate for economic reasons." In the Netherlands, the rise in emigration figures was most marked after the assassinations of Pim Fortuyn and Theo van Gogh, which indicates that something more fundamental is going on than the desire of the elderly for the sunbelt and of the young for a job. The flight from Europe is more likely related to a loss of confidence in the future of nations that have taken in the trojan horse of islamism and that, unlike the Trojans, lack the guts to fight.