The Sinking Dutchman
From the desk of Paul Belien on Mon, 2005-10-10 22:34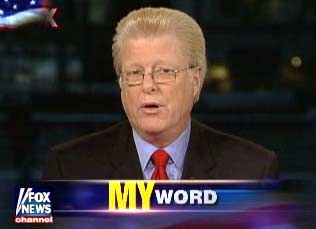 This website is drawing flak from some people in the Netherlands because Fox News columnist John Gibson referred to our story about the Dutchman "marrying" two women. Gibson's column is said to be an example of "braindead Holland bashing from neo-conservative quarters," in which we are implicated because the "Fox demagogue" was inspired by our story in his argument that Holland is a moral cesspit.
John Gibson was writing about a case which is a hot news item in the US at the moment: the disappearance of American teenager Natalee Holloway on the Dutch Caribbean island of Aruba last May. The girl was allegedly left drugged on a beach by a young Dutchman, one Joran van der Sloot, after abusing her. Van der Sloot, the last person to see Natalee alive, was detained but later released by the Dutch authorities. This has drawn considerable American criticism.
According to a Dutch weblog the Brussels Journal is one of those "English language weblogs established to put forward a biased and hysterical view of a country" with "Muslims and progressives as scapegoats." It is also implied that we have a secret agenda and are being funded by right-wing Americans. The Dutch reaction is a typical example of shooting the messenger. We are getting used to it, having been criticised in the Belgian "progressive" newspaper De Morgen a week ago because we translated and posted the lyrics of an anti-American song by a "progressive" hate mongering Belgian singer. According to some, what is "progressive" never incites to hatred, while those who simply report excesses – whether it be legally concluding a bigamist relationship (formally it is not a marriage but a "samenlevingscontract" or "cohabitation contract") or the arrogance of the left – must be biased right-wing hysterics on an American payroll. We wish the latter were true, but conservative America has become so exasperated with (Western) Europe that it is highly unlikely that it will put any money into efforts to talk sense into it. Moreover Europe is rapidly losing its relevance in the world. So, why would America bother?
In a comment on the Dutch weblog, one visitor says that the difference between America bashing (which they do) and Europe bashing (which they say Fox and we do) is that the America bashers "have reason to do so." We are left in the dark as to what that "reason" might be. Probably that America is just too conservative to condone all the "progressiveness" of Europeans like the Dutch.
John Gibson, however, has a point in his analysis of Dutch culture. It is no coincidence that the collapse of Western civilisation, complete with political assassinations, is most visible in the country which in the past three decades has taken secularization, multiculturalism, tolerance of alternative lifestyles, drug abuse and other fads to its furthest extremes. The murders of Pim Fortuyn and Theo van Gogh have led to some Dutch soul-searching. Voters have shifted dramatically to the right, but the collapse of Dutch society is most visible in its emigration figures. Since 2003 emigration exceeds immigration: 110,235 people (mostly Dutch natives) left the Netherlands last year, compared to 94,019 people (many of them Muslims) moving in. In the first half of this year 53,808 people moved out, compared to 40,842 moving in. To lose 100,000 natives a year is a lot for a country of 16 million, one million of whom already are Muslim immigrants. The emigrants are leaving for Western countries such as Australia, New Zealand, Canada, Scandinavia and the United States.
Last April was the first month since the Second World War in which the Netherlands saw its population decline. Once the Dutch ranked among the most fertile populations in the world. At that time the Netherlands was a Christian nation. Now its religious people are still the most fertile among its population, but these religious people are chiefly Muslims.
The emigration figures are rarely discussed in Dutch media or politics. They usually crop up in discussions about who will pay the pensions in the rapidly aging Dutch society. What the figures indicate, however, is that a growing number of Dutchmen realize that Holland is a sinking ship: a Titanic that is going down. While some are heading for the life boats, elsewhere the band plays on. The difference with the band on the Titanic is that the latter played "Nearer to Thee, my God" while the Dutch "progressives" play the Anti-American Dance.