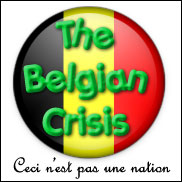 A quote from John Philips at Seeking Alpha Market Analysis, 14 November 2007

During the recent weeks of [political uncertainty in Belgium], Belgian government bond yields have been on an upward trend. The yield spread between the 2 and 10-year OLOs widened to its greatest margin in about 5 years. The spread between the 10-year OLO and the 10-year bund rose to its highest point since the third-quarter of 2002. The Yield on the 10-year OLO surpassed that of the 10-year note for the first time since late 2004. As political uncertainty persists in Belgium, government bond yields continue to follow an upward trend as investors sell bonds in an attempt to protect themselves from risk. While government backed investments are usually considered amongst the safer investments, the prolonged period of political unrest has led some spectators to believe that the Belgian government may split as both sides seem unlikely to compromise. In the event that the government disbands, debt holders run the risk of losing some or all of their investment. It is possible that the government will put a moratorium on outstanding debt for an unspecified period of time, during which the newly divided states of the former country settle. After settling, the two sides will debate over who is responsible for the repayment of the outstanding debt. Debt holders run the risk of losing all of their investments if the government defaults. The Belgian Treasury currently has approximately €223.3B outstanding held in OLOs, that is medium-term, long-term, and very long-term securities, just over 50% of which is held by investors outside of Belgium.
[…]
The implications of a downfall in Belgium on the Euro-Zone economy could be significant. The Belgian economy is the 17th-largest in the world according to statistics compiled in 2006 and ranks as the 10th-largest market for the export of U.S. goods. With France, the largest economy in the Euro-Zone next to Germany, already voicing concern over the Euro FX level, and with German companies slowly admitting that the exchange rate could have negative effects on business, political unrest in Belgium could push the Euro-Zone to face one of its first major tests since its inception. Whether the effects of a Belgian break-up could reach further than its borders remains to be seen. What is certain is that a break-up could have far-reaching economic consequences within the country, and would leave debt holders in a rather precarious position.