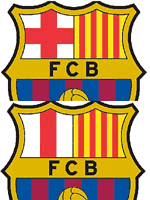 A quote from eNews2.0, 16 December 2007
According to the Catalan newspaper La Vanguardia, the Spanish football club Barcelona is altering its famous badge in some Arab countries in order to avoid offending Muslims.
The badge is especially altered in Saudi Arabia or Algeria, where the Barcelona shirts are being sold without the red cross of Saint George, the patron saint of the Catalan region which Barca claims to represent, the La Vanguardia newspaper found in a private investigation.
The badge, which was created in 1906, features a single vertical red line in Saudi Arabia and Algeria, due to the fact that there, the red cross represents the symbol of the brutal mediaeval Christian crusades against Islam.
See also:
Soccer Crusade, 12 December 2007