French Not Completely Convinced by Blair. He Isn't Our President Yet
From the desk of Michael Huntsman on Sat, 2008-01-19 21:40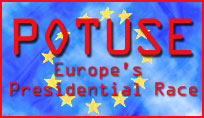 Until the Treaty of Lisbon, better known as the Constitution of the European Union, actually comes into force, the new post of President of the Council (President of the United States of Europe -- POTUSE), a two-and-a-half year position which may be renewed once, does not exist. Yet, with the process of ratification scarcely under way across Europe, horses are being trained for the race.
With the Treaty planned to come into force in early 2009, there is not, as yet, a legal vacancy for a post which does not exist. This has not stopped the backroom manoeuvring getting under way and the starting of a process which will have but one similarity to the USA Presidential Election: it will go on all year as this or that cabal of Euro Nabobs grooms its candidate and sends him or her into the parade ring prior to the serious business fixing the race.
I say 'fixing' since in no other way can a process which might see a President put in place by 18-20 people be described as 'democratic', given that Europe's 450 millions will have no say whatever in the election of 'their' president, unlike the tens of millions of Americans who will choose theirs come November.
First out of the starting stalls has been Britain's ex-Prime Minister, Tony Blair, the candidate of France's Nicholas Sarkozy. The new French President, much preoccupied with affairs of the heart just now rather than the more pressing business of running France, sees Blair as something of an ideal candidate, free and independent of the grubby business of mere politics. Sarkozy may also think of him as the most malleable candidate who will most easily fit with French aspirations.
The problem for Blair, and therefore Sarkozy, is that he brings, shall we say, some rather unfortunate baggage. He is the intimate of President George W. Bush whose policies generally make Europeans throw up their hands in horror and he, together with Bush, is seen as a man with blood, Iraqi blood, on his hands. Though we in the UK would see him as a Europhile who was only deflected from taking us into the Euro by Gordon Brown who was altogether more sceptical (or so it was said) of the worth of that particular adventure, European politicians see him as a failure precisely because he could not deliver the UK into the scheme. And given the UK is seen as always being somewhat at the margins of Europe, the majority may well feel disinclined to support him.
He has another recently-acquired bits of baggage: his appointment to a highly lucrative position as an international adviser to the American Bank JP Morgan which will be taken as further evidence of his closeness to the American establishment. Secondly he has also been taken on as an unpaid adviser to the Rwandan Government of Paul Kagame. This will not appeal to France who will see it as further proof of the Anglos-Saxons trying to muscle in on their patch.
Though the Kagame regime loathes France, suspecting her as it does of complicity in the 1994 genocide, France still harbours the delusion that as Rwanda is Francophone, it has a God-given right to be the mentor of Rwanda or rather that Total Oil has a God-given right to any oil which might be found in the Eastern Democratic Republic of Congo.
For over this zone Kagame exercises de facto control. Into it he sends his troops from time to time to rampage through the Hutu refugee camps, eliminating any potential resistance to his suzerainty over the oil and mineral resources that explain British interest in the area: not for nothing has Kagame been first the official guest of the UK and then the invitee of the Conservative party at their autumn conference in 2007, notwithstanding that he is a potential indictee of the International Criminal Tribunal for Rwanda (ICTR) on account of his egregious crimes in the 1994 war.
So France will be deeply put out by Blair's involvement with Kagame which they will see as reinforcing the suspicion that Rwanda is to be prised out of the French sphere of influence and into membership of the Commonwealth which is, theoretically, a club for ex-British colonies (though not if you are a criminal like Mugabe but have no oil to be exploited). Though Belgium's influence over its former colony has been relatively small for years, it too will look askance at an Anglo-Saxon take-over in Kigali.
So the opposing trainers, such as Giscard d'Estaing and Edouard Balladur of France, who take a more traditional French view of the world than the more modern Sarkozy, have already aired their distaste for Blair and are already looking to get into his stable and nobble him before any momentum can be put behind his candidacy.
As yet, though, no other candidate has been advanced. Perhaps when Guy Verhofstad has done what he can to save Belgium and with it Brussels as its capital, he will be rewarded by the Imperial Government which also thinks of Brussels as its capital city. Or Jan Peter Balkenende, for sparing the Netherlands the temptation to vote 'Nee' once more, might be their choice. Whatever the conclusion is, anything, they feel, would be better than Blair. Gordon Brown would doubtless be happy too not to have his old enemies, Tony and Cherie, lording it over him with impunity from Brussels.
Soon enough, then, a used European politician with impeccable credentials who will not rock the boat will emerge and will be ridden carefully to the winning post. Quite whether he or she will be a thoroughbred or not is far less certain.
Talking of Rwanda, I note with dismay that many of the Defendants at the ICTR have yet to have their trials completed, notwithstanding that they have been in custody for eight, nine and ten years or more. This is a disgrace.
Though the ICTR has of its own motion concluded that there is nothing wrong with this, they would, wouldn't they? After all most of its personnel are African and as such have no incentive whatsoever to halt one of the richest gravy trains in Africa: rather they do everything they can to slow it down so that they can go on picking up their enormous (by African standards) salaries and all the perks that go with a post in Arusha for ever and a day.
Even by the appalling standards of this singularly corrupt institution, this is a shameful state of affairs which undermines both its credibility and any claim it might make to dispensing justice and fair trials to those in its custody. Though some of its Judges (notably the excellent Judge Møse of Norway) have striven manfully to keep the thing moving, some of its judicial members and senior staff have not exactly contributed to the process of speedy trials, but then one might expect no better from an institution that is riven with nepotism and corruption from end to end.
The chances of the ICTR finishing its trials on time is small and the danger then is that the untried Defendants will simply be tipped into the back of a truck and driven off to the welcoming arms of Kagame and his henchmen. From that moment they will each and every one be dead men.