European vs American Healthcare Spending
From the desk of George Adair on Mon, 2005-10-10 09:29
If one is to believe the self-created haze of the media when it comes to healthcare the Europeans are pampered from cradle to grave while the vast majority of US citizens are:
Sick and dying
Lacking health insurance (implying a lack of actual healthcare)
Denied access to any form of healthcare
Being carted to a hospital every 15 minutes
One nanosecond away from a catastrophic health emergency at all times
In the 'minds' of many, all of these problems and more stem from the fact that public spending on healthcare is non-existant at any governmental-level in the US. A fringe group in Paris, the OECD, has a publication titled Factbook 2005. Factbook has a section regarding healthcare. How does the US stack-up against other industrialized nations when it comes to publicly funded healthcare? 'Other' industrialized nations who are reported to have perfect healthcare systems. Perfect in the mind of the left because the systems are largely government-controlled.
In 2002, how much public (ie. government) spending per capita on healthcare was there: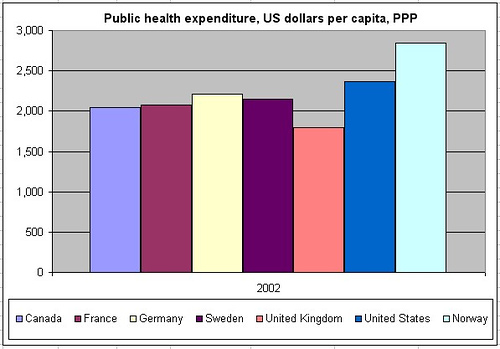 Source, OECD Factbook 2005.
Lest one think that 2002 is some sort of fluke Krugmanized year [Economist Paul Krugman has the habit of shaping, slicing and selectively citing numbers], a time series of public (ie. government) spending per capita on healthcare: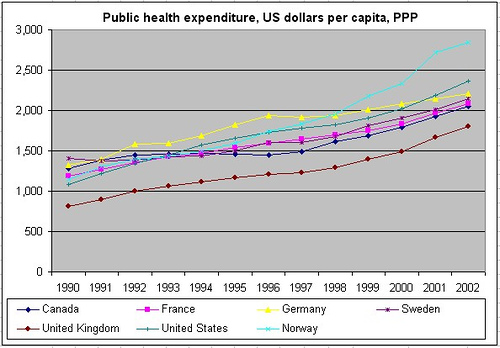 Source, OECD Factbook 2005.
The US also has the rather nasty habit of including private (ie. non-governmental) spending in the healthcare mix. What happens when private spending per capita is added to public spending per capita on healthcare in 2002: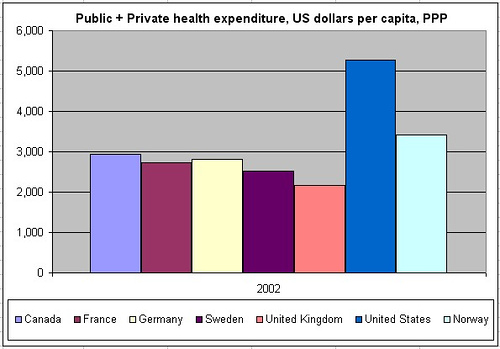 Source, OECD Factbook 2005.
Oh you say, the problem in the US is not public spending on healthcare but paying healthcare insurance premiums. Citizens in government-controlled healthcare systems don't have to pay these healthcare insurance premiums, they get healthcare for 'free'. However, citizens under the 'free' government-controlled system have premiums to pay as well, these premiums are called 'taxes':

Source, OECD Taxing Wages 2002-2003.
Of course the information above does not fit the end-of-the-world template of many on the left. But my goodness, if the information was the other way around ..."lowest per capita spending on healthcare of any industrialized nation" would be ringing throughout the newsrooms coast-to-coast on both sides of the Atlantic.
Just some information to remember the next time any media outlet decides to run a "Dead and Dying in America" type of series.