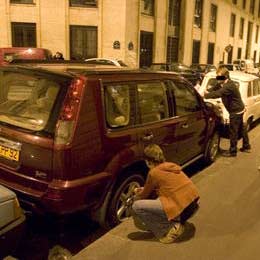 Last weekend a gang that calls itself Les Flagadas, deflated the tyres of some forty SUVs in Brussels. The Flagadas target four-wheel-drive vehicles because they want to make a political statement: "SUVs consume a lot of gas and pollute the environment," says a Flagadas spokesperson who describes herself as an "eco-activist." The Brussels Flagadas draw their inspiration from a French gang, Les Dégonflés, who have deflated the tyres of dozens of four-wheel-drives in the streets of Paris since early September.
The "eco-guerrillas" maintain they are doing nothing wrong because they deflate tires without damaging the tyres, let alone the cars:

"It would be difficult to take us to court," [the leader of the French groups says]. "We don't slash tires, we deflate them. Air doesn't cost anything. […] Our rules are to never run from the police. And always run from the owners." […] The deflators are on the fringe of a movement that has considerable support in the [Paris] City Hall, which is governed by an alliance of the Socialist and Green parties.
This also seems to be the position of the Brussels authorities. The Brussels police flatly refused to register the complaints of 4x4 owners "because the cars have not been damaged." Nevertheless, deflating people's tyres restricts their freedom. Moreover, the owner has to bear the cost and inconvenience of having the car towed away or having an air compressor brought over to inflate all the tyres again. It does not matter that the owner is rich. Rich people have rights, too.
The attitude of the police in Brussels and Paris is a dangerous one. In a democracy no-one is allowed to restrict another's movements except the democratically elected authorities. Never freewheeling political "activists." Sadly, there is a growing tendency in Europe to condone all types of violent political activism so long as no-one gets killed or wounded.
In two instances in Belgium in 2003 company managers were taken hostage by trade union activists and kept locked up for several days while local authorities refused to intervene. Afterwards the Belgian authorities decided not to press charges against the hostage takers.
In France, Belgium, the Netherlands and other West European countries hamburger restaurants, mink farms and gas stations have been arsoned by eco-terrorists. Though in these cases there were prosecutions, some tend to sympathise with the arsonists "so long as no-one gets hurt." In free societies, however, people also respect the property rights of others.
Are the European authorities still aware of this? Or does it all boil down to anti-Americanism again?

Christophe Delabre, the president of a French association of SUV owners, […] said: "You cannot stigmatize a category of the population with impunity under the pretext that they drive a particular type of vehicle. […] I do not understand how the police can arrest deflaters and let them go a few hours later."
Although city leaders do not condone vandalism, officials have gone so far as to propose that Paris ban sports utility vehicles. Deputy Mayor Denis Baupin, who oversees transportation programs, has called the SUV "a caricature of a car." […] "A SUV is totally useless for Paris," Baupin said in his speech and blamed the recent devastating hurricanes in the U.S. on climate change caused by pollution…. "We all feel sorry for the dead in New Orleans. But now maybe the United States should start considering that their development pattern is not to be repeated worldwide and that it causes environmental problems."