From Meccania to Atlantis - Part 7: The True Horror in Hitchcock Films
From the desk of Takuan Seiyo on Sat, 2009-01-31 18:23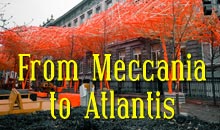 I used to live in San Francisco. The San Francisco that despite having been roiled by hippies, beatniks, anti-this-and-that, still had the feel of the charming, civilized town that it had been when Alfred Hitchcock was shooting his masterpieces there.
Observe the setting of Davidson's Pet Shop in The Birds. It's a staged scene, but this is San Francisco's Union Square in 1962-3 and that is the way middle class people looked and dressed in San Francisco. Tippi Hedren is an upper class society girl in this movie, so perhaps her suit has a finer cut and her clutch purse a higher price tag – but watch the other people milling about (and don't miss Hitch himself).
Union Square was where middle class San Franciscans, dressed in suits, white shirts and ties for men, and high heels, ankle-length dresses, gloves and often hats for women, shopped. I don't know what exactly was in the building that in this film is set up (1) as a pet store, but now it's Louis Vuitton. Only Japanese and Chinese tourists shop there, plus the significant others, female and homosexual male, of the ultra-liberal LeftoDemocrat chieftains of the city.
The latest hot Vuitton item, quite different from Hitchcock characters' footwear, is the Kanye West Vuitton Kicks. Who is Kanye West that he should be honored with an overpriced red sneaker? Forget it; it's not worth our time.
Union Square now reeks of urine and reverberates with the shrieks of lunatics who use its sidewalks and benches as their bedroom, kitchen and toilet. It's no longer politically acceptable to call them crazy or to put them in institutions. Besides, California doesn't have the money. It has given the bounty robbed from its taxpayers to Mexican and other "Hispanic" legal and illegal immigrants (now 37% of California's residents), and to public employees' unions who thrive from dispensing the ransom to the colonizing aliens.
Put Tippi Hedren, dressed so that only her calves are exposed, next to a 2009 spoiled rich girl, say Paris Hilton, whose body hundreds of millions of people know virtually in its entirety, save for a crevice or two. Which figure is charged with more female sexuality, not to use such no-longer-comprehensible terms as class and elegance?
Let's look at Vertigo. It's 1957, and Vertigo is a virtual paean to the beauty and niceness of San Francisco, serving as an effective backdrop to the twisted plot and the tortured characters playing out the drama in the foreground.
A friend, who was an 11-year old in San Francisco a decade after Vertigo was released, contributed this observation:

"Vertigo makes me wistful for the time when San Francisco was a decent town. I'm old enough to have caught the tail end of San Francisco's glory days, when it was a community. We had real neighborhoods where kids played ball on the street. We had the annual Cork County picnic that drew hundreds of people who were either family or friends. Cops walked the beat with a baton and called the paddy wagon to haul the drunks off to "the tank". Now one can drive for blocks in my old neighborhood without seeing a child. The "homeless" get free clean needles, and defecate between parked cars and no one thinks twice about it. I used to ride my bike all over the city, by myself. Now when I visit there I want to cover my children's eyes when they are riding in the car with me."
San Francisco had its upper crust, mainly of the demographic known as WASP, but it was also a town of immigrants and ethnics: primarily Irish and Italian, some White Russians, some Jews, some Chinese, some Californios harking back to the 19th century, and some blacks whom the currents of the U.S. military effort in World War 2 had deposited in Northern California. Its people had manners, and its working class had a touch of the contentment that comes from being able to support a large family decently on one blue-collar salary.
It was a town of peaceful ethnic neighborhoods and eateries, and exotic, for America, churches like the Holy Trinity Orthodox Cathedral. It was charming, beautiful and diverse. But not "diverse."
San Francisco is "diverse" now. And this is what it means:
In Vertigo, the character Scottie Ferguson, played by James Stewart, is a police detective who once dreamed of becoming Chief of Police. A traumatic experience when dangling from a rooftop has ended that dream, and leads him into a hallucinatory adventure with a twice-dead blonde beauty, Madeleine/Judy, played by Kim Novak.
Flash forward 50 years. A lanky blue-eyed Scot from Pennsylvania, whose ancestors fought in the American Revolutionary War, as James Stewart's did, has a lesser chance of becoming San Francisco's Police Chief than he has becoming the chief ballerina of the SF Ballet. This is no hyperbole, what with the T in the ubiquitous GLBT.
Scottie in a 2009 Vertigo would not dare harbor such an audacity of hope as becoming Chief of Police. Just to be hired as policeman is difficult now if you are a white heterosexual male.
San Francisco's actual Chief of Police now is an affirmative-action diminutive Chinese-American female from the accounting department who is the laughingstock of the police force. The rate of unresolved murder cases in San Francisco is so high that the city has tried, unsuccessfully, to solicit help by offering $100,000 rewards to people who would come forward with information.
At a loss, the city's leaders elected what else but a transgender person, Theresa Sparks, as President of the San Francisco Police Commission. Mr./Ms. Sparks' qualifications for the job consist in his/her managing a vibrator company which was recently running a special under the slogan, "August is Anal Sex Month; 15% off select Anal Toys."
To bolster this team with some serious dose of law-enforcing testosterone, San Francisco got itself a female District Attorney who bestows additional glory on the city by being half Tamil-Indian and half-black. Kamala Davis Harris refuses to seek the death penalty for murder, which is the law of the land, plea-bargains murder cases, and fails to prosecute criminals arrested with firearms. San Francisco police officers take a dim view of this, what with their own being murdered by criminals that the District Attorney has failed to prosecute. But the need to keep their jobs muzzles their mouths.
Of late, Ms. Davis Harris has made the news due to her office's failure to prosecute Edwin Ramos, a vicious Mara Salvatrucha gangbanger and illegal Honduran alien, who had been arrested on illegal gun possession charges, and then released instead of being at the least deported. One month later Mr. Ramos would be arrested for the murder of Tony Bologna, 48, and his sons, Michael, 20, and Matthew, 16. The murder weapon has since been linked to two other murders.
San Francisco's metrosexual mayor is given to utterances like, "You know we're the only city -- I think we're the only big city in America ... there may be an exception or two ... that women are running the Police Department, Fire Department and our emergency services. That's why I feel so safe."
In a town where reserved, well dressed men once wooed elegant, alluring women, in a society whose genders 45 years ago were still unmixed and whose cultural reference was still coherent, now weird hermaphrodites prance, proud penises parade, and penetrations of pumped-up poofters peek in public venues at perturbed families with children who just came for the baseball game or the Disney movie.
It's because homosexuals and other gender-benders have colonized San Francisco. After the hippies' Summer of Love in 1967, people with deviant (2) sexual preferences started streaming into the City by the Bay from all over North America and turned it into an orgiastic Anustown.
Now, 15.4% of San Francisco's population of 800,000 calls itself by the confusingly adopted synonym of 'joyful.' And their impact on the city and those who live in it is as though they were 54% of the population. You can find out more about that in the Passionate Struggle exhibit of the "GLBT community," including the aspiration for "hot living in the face of disease and sex negativity."
Now I never busy myself with another person's sex life, and as long as it's between consenting adults and not thrust in my face, I don't care where it's thrust. But when it becomes exhibitionist politics by people who live for hot living and sex positivity, when strange men in elevators start inquiring about my "equipment," when art is transformed into the public packing of feces into the orifices of bound subjects, when married couples of men demand the equal right of conceiving babies with each other, I feel harassed and disturbed. I want to fight to preserve my and my family's space and peace of mind.
But that's not the way the majority population of middle class white heterosexual San Franciscans reacted. They simply folded. They pretended not to see and not to hear, and they did not speak up about what they didn't see and hear. And the politicians, they just rode whatever trend would carry them, and eventually were replaced by "gay rights" and "minority rights" Body Snatchers. The majority that fails to protect its rights ultimately fades into ghosts that walk through frames of old movies. .
San Francisco is now the gay capital of the world, and the capital of Body Snatcher America. Nancy Pelosi, the U.S. Congresswoman who represents San Francisco and knows no bounds in her pandering to this centrifuge of the aberrant, is the second most powerful person in the United States. As to me, I just left, full of sorrow. This place could no longer be my home, and I knew only three other people who felt like me, so resistance was futile.
But the transformation of my city from the town Hitchcock loved to the town of hot GLBT living was but one in a cluster of symptoms. Let me take you to the cathedral where I attended service on many a Sunday for 25 years. Or rather, let Alfred Hitchcock take you there.
Here are James Stuart and Kim Novak in Vertigo, taking a walk in the fabled Muir Woods, a few miles north of San Francisco (3). This footage has been dubbed into Italian, but it doesn't matter. The main actors here are the magnificent redwoods.
On their walk, Scottie and Madeleine/Judy, stop by a cross section of a giant redwood. There are markers next to the tree's growth rings, to show how old it was when cut down. The tree was over-1,000 years old. To visualize that, there is an arrow close to the center, marked 1066 – Battle of Hastings. Other arrows, in an outward progression, mark 1215 – Magna Carta; 1492 – Discovery of America; 1776 – Declaration of Independence.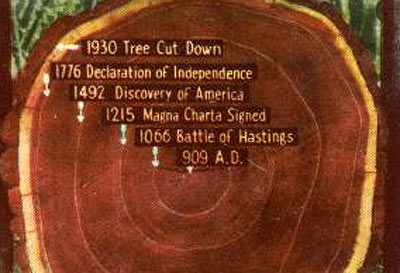 A pivotal exchange between the two characters takes place, prompted by the 1000-year calendar that the tree expresses. But what's important for our purpose here is that this is a real redwood section, and those arrows and dates are real, and they were there on my hundreds of walks in that forest.
One day, Body Snatcher State (4) that administers the park – for it is a U.S. National Monument – rearranged the arrows. The redwood calendar now looks like this: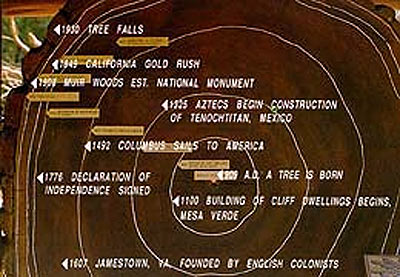 The Battle of Hastings is gone. Instead, marking the pivotal event of the 11th century, of the greatest significance to Americans, is the building of cliff dwellings by murderous, self-extinguishing cannibals in a rock in Mesa Verde, Colorado.
The Signing of the Magna Carta as the late Middle Ages event of most significance to Americans is gone too. Instead, there is a new arrow that wasn't there when Jimmy Stewart and Kim Novak visited. It's marked 1325 – Aztecs Begin Construction of Tenochtitlan, Mexico. Thus doth Body Snatcher State announce to its subjects, children of the people who walked through the frames of Hitch's movies, that their country has been snatched away from them.

Now, the Battle of Hastings is of no emotional significance to me. I don't have a drop of Norman or Anglo-Saxon blood in me, and until I was 20 I didn't even speak English. But I emigrated to the United States because it had been founded by descendants of those Normans and Anglo-Saxons, and its founding institutions embodied the virtues of those people and of their singular document, the Magna Carta.
So that we don't get our arrows confused, the way the U.S. Federal Government has, let us recall why the Aztecs began their construction of Tenochtitlan in 1325. Two years earlier, in 1323, these refugees, who had been welcomed and allowed to settle among the people of Culhuacan, and to intermarry and mingle with their hosts, had done something to celebrate their strength in diversity.
The Aztecs, or Mexica as they called themselves, asked the king of Culhuacan, Achicometl, for permission to make his daughter into their goddess. Their wish was granted. What the Culhuacan king didn't know was the details of this "canonization."
He would learn soon enough. At a feast celebrating the new goddess of the Aztecs, their priest appeared, wearing the flayed skin of Achicometl's daughter. That is why the Aztecs had to flee the wrath of their hosts to an island on Lake Texcoco, where they began to build their city Tenochtitlan in 1325.
Now if this is what the United States Government wishes to celebrate, instead of one of the founding documents of Western Civilization and of its own Constitution, things have gone seriously awry. But that's because the demographics have gone seriously awry. The people milling about in Hitchcock's train stations and train cars, streets and restaurants, office and hotel lobbies, were replaced, when not by the "GLBTA community," by Aztecs imported by bleeding-heart Body Snatchers and by fathomlessly greedy "capitalists."
Hitchcock gives us a glimpse into an earlier, better world that would transform within just 20 years into a grotesque Pod farm of twisted legumes. In America of 1960 that lives in Hitchcock's wide shots, little girls in blue dresses and white socks pass in train stations, hand in hand with their grandmas, on the way home for dinner. Now, the same girls, 12-years-old, talk the language of black pimps and give blowjobs to boys who record it on their cell phones for later flaunting on the Facebook pages of both blowed and blower.
But mine is a minority view. A small minority that's not recognized as "minority," does not enjoy a favored status and, in the coming Meccania, will soon be subject to state persecution as it already is in Western Europe. Recognized "minorities," on the other hand, have colonized by the dozen millions and pull the strings to much that goes on in the United States and the entire West.
Another historical record of how things were just 50 years ago is in the "crop duster scene" from Hitch's North by Northwest. It's one of the most famous sequences in film history, and it was shot in East Bakersfield, California.
What was in 1959 a sun baked, empty steppe is now a paved-over part of Bakersfield with a majority population of Mexicans, illegal "Hispanics," blacks and other "minorities." Bakersfield's population has grown from 55,000 in 1970 to 330,000 in 2009. It's one of the fastest sprawling cities in the United States, and one of the anchors of what Victor Davis Hanson, who lives not far from Bakersfield, called Mexifornia.

But underneath all that asphalt is still the parched flatland where Cary Grant once dodged the crop duster. California does not have the water or the electricity to accommodate a population growth of half a million people a year, most of them rapidly multiplying Third Worlders. It does not have the schools, the hospitals or the prisons – for its crime statistics have grown exponentially with its colonization.
Some parts of Hitchcocks' desolate flatland now have a crime rate 10 times that of California, and California has a crime rate that's almost 20% higher than the national median. That, of course, corresponds to the number of armed and often-illegal alien gangbangers, of whom there are about 6,000 in the greater Bakersfield area, several standing armies' worth in California, and one million – one million – in the United States. And that's the country that worries primarily about peacekeeping in Bosnia and the integrity of Iraq's borders.
A de rigueur map to have in Bakersfield shows the turfs of the various gangs. Frankly, I'd rather dodge a crop duster than a posse of the Colonia Bakers, on the same land, though populated differently 50 years later. But then, in addition to the bullets, one must elude the lethal cars, driven by license-less and drunk illegal immigrants. Fatal driving accidents in Bakersfield are up to 87% higher than the already-very high California average (5).
As the blogger Frosty Wooldridge has put it, "Does anyone understand that this nation immigrates itself into irreversible consequences with unsolvable problems?"
But no, they don't understand. To glimpse the majority's zeitgeist, you can read this comment on the Youtube page of Vertigo's rerelease trailer by, naturally, ObamaRules4Ever:
"James Stewart was a HUGE racist. Just ask Hal Williams or Hal Kanter. Even Leonard Gershe, one of his closest friends, admitted that Stewart was one of the most racsit [sic] men ever. He was also very anti-semitic as well. James Stewart was SCUM, and he was far too OLD for this crappy, dated movie."
It's a New World Order now, with Kanye West Vuitton Kicks as the highest cultural aspiration and "racism" as the greatest crime. And to oppose immigration or to mention crime rates statistics broken down by race is to be racist. End of discussion, you are allowed one phone call to your lawyer.
Hitchcock's films provide a rear window into a world recently lost, but still within memory. Because so many of the rotund master's films were shot in Northern California, and he was a pros' pro, the visual details of his settings provide a record that allows for gauging how Northern California has changed over the last 50 years.
But the change process itself, the ideologies, cultural influences, political power shifts, betrayals, false hopes and sad capitulations were the same in Bodega Bay (6) and Brussels, Bakersfield or Bremen. And what emerges most from the before/ after look one can take with Hitchcock's aid, is the power of colonization.
Occupation is 90% of possession. You allow a stream of colonizers onto empty land, or into a sophisticated city, you have set up the new demographics as the destiny of that land or city. But only if that be a Western country and the colonizers deviate greatly from the majority due to race, sexual orientation, and all those other qualities the discernment of which is not allowed under the rules of Body Snatcher playbook.
Because that playbook allows the colonizers to demand aggressively, to arrogate privileges and reject responsibilities, to "act up," shout, accuse and wrest control. The same playbook either criminalizes the proper response of the indigenous majority, or it changes the culture to stigmatize such a response.
But rewriting history books in England to please Muslims is no different from replacing tree ring markers on a Sequoia sempervirens in California to please Mexicans. It's base and cowardly treason.
Filling the suburbs of Paris with ugly concrete high-rises to house imported Algerians equals the paving-over of East Bakersfield as a playfield for imported Mexican low-riders. It's an economic and social miscalculation without parallel since the fall of Rome.
There are only five ways to exit this runaway bus: Emigration, Revolution, Loyal Opposition, Separation and Exodus. But if you consider how San Francisco has become Anustown steered by space aliens, how the majority of its normal, decent people just faded into the frames of Alfred Hitchcock's films, the range of actually viable choices becomes quite a lot smaller.
-----------------------------------------------------------------------
(1) Set up is the proper expression, for Hitchcock implies the location through Tippi Hedren's walk, but when he actually cuts to the pet store we are no longer in Union Square but on a sound stage.
(2) As always, I use the adjective "deviant" not to connote moral condemnation but to indicate a removal by a lot more than one standard deviation from the average, or the "norm."
(3) Sooner or later there will be a film buff posting indignant entries how not all of this sequence was filmed in Muir Woods. That's true, but the parts relevant to us here, were.
(4) The basic analogy reverts to Part 1, where we cited the film Invasion of the Body Snatchers. In the film, alien "Body Snatchers" produce giant legume Pods that replace living people while appearing to be identical to them. From the Pods develop the new Body Snatchers who cultivate further Pods etc. I use these terms interchangeably, usually preferring Pods as a catchall term, and Antipod as the antithesis of Pod.
(5) Sources: http://www.city-data.com/city/Bakersfield-California.html and http://www.worldnetdaily.com/news/article.asp?ARTICLE_ID=53103
(6) The town in Northern California where most of the plot of The Birds takes place.