Duly Noted: The Inevitable Rise of Islamism in Xingjian
From the desk of George Handlery on Sat, 2009-07-11 10:11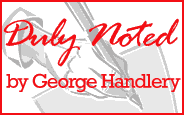 George Handlery about the week that was. To Moscow with Love. Is one law for all "discrimination"? From autonomy to separatism. Criminal is what is not understood. Who to support? Conformity in culture and its rewards. Limited power is the test of lived democracy.

1. Obama in Moscow. In dealing with foreign cultures, it is crucial to know their MO and their assumptions. The liberal bias is that people shaped by other political systems are "like we are". The related problem is that it becomes hard to accept that "looking in the eyes" of the other guy reveals little about his substance. What you see might be your own reflected image. Given the background of Obamists, the inclination to err in the direction of such projections is considerable. Regarding the Moscow visit, the problem is not the well-phrased intention to "reset" relations. The difficulty is that Obama operates under self-imposed pressure. He must bring home something that can be spinned as success.
Therefore, the need arises to pay a price plus a bonus, for an agreement. With that the advantage is on Moscow's side. The expressed intent to reduce nuclear arsenals is a flashy but symbolic act. The reductions are mutual and the measure is (fortunately?) of no material consequence. The weapons left are much more than what would be needed in any nuclear war. It is likely that one of the coins used to pay Moscow for its smiles will be the missile shield in Eastern Europe. Militarily, the planned installations in Poland and the Czech Republic are about peanuts. At best, the system protects an officially uncaring Europe from Iran's nuclear extortion. Politically, however, the concession of not erecting this system is in the "million" column. Everybody, Moscow included, knows that the "shield" would have been useless against Russia. Thus, the concession would hardly be a bow before the Kremlin's security needs. On the other hand, dropping the project can be taken to be a signal. Decoded: Washington recognizes the area of proposed deployment to be part of a special interest zone that Russia inherited from the USSR and its conquests.

2. China's troubles in Xinjiang are a useful object to make points. Some – such as the readers of DN's European version – might be reluctant to accept them in comparable cases that are nearer to home. Proximity enhances prejudice. Xingjian, inhabited by about 8-9 million Uighurs, has been for some time in the news but failed to make the headlines. The land of the Uighurs – Eastern Turkistan – is again part of China since the foundation of the PRC. Uighurs are not Han Chinese by language, culture, religion and ethnicity. There is some formal nominal autonomy limited by a "Socialist" reality and a "Chinese content". Peking perceives a threat of separatism in acknowledged diversity. Therefore, to avoid a major future problem, a minor immediate one is created. In theory, a civilized option is available. It would be to attach Xingjian to China by making the indigenous feel better in China than as a part of any other entity. It can be done. Just think of the ethnic Italian and French in Switzerland. These have excellent reasons to prefer to be a Swiss Canton to becoming a province of France or Italy. Instead, Peking is sending Han to Xinjiang to create a new ethnic majority there. By virtue of their race, the new settlers are predestined to be committed to China. Changing the demographic balance – securing a conquest by settlers – creates, as in the case of Tibet and elsewhere, resentment. The threatened indigenous majority begrudges policies that intend to make it a minority in its own homeland. In the case of such conflicts, the provoked instinct for self-preservation leads to the emphasis of a defining trait that differentiates native and intruder most clearly. In this case, this factor is Islam. Since hardly any country is willing to support the Uighur's cause, Islamism, as a movement without a state, lends growing support and ideology while it also underscores identity. Globally and locally, this is hardly a desirable development even if it happens to be a natural one.

3. A long-lasting negative derivate of the crisis might not be apparent to readers that live in an economy that has traditionally been (USA) inward directed. Border-transcending transactions and businesses, as well as corresponding financing arrangements, are an unavoidable derivate of our global economic system. At the same time, operations in an environment that responds to the needs arising from this process are about to become more difficult. Activities that these procedures demand, and the persons directing them, are now suspected of economic crimes that are hard to express and difficult to understand. The suspicion and the actions that are thereby provoked remind one of indictments alleging witchcraft. The main thing to be said in favor of the revived practice is that "it sounds good" if played to local audiences composed of innocents.

4. The practice of (indebted) states of stimulating the economy might be in order for the duration of the crisis. However, two criteria should be met. The stimulus should pump the prime only for enterprises that are market-capable and should not support activity to avoid creative destruction. This translates into giving some canvass to navigate with the breeze and withholding if from those who wish to sail against the wind. Equally important is that help advertised as temporary should not become habit forming and create permanent dependence. Nor should a friendly push uphill attempt to preempt the competitiveness that rules in an uncorrected market.

5. Germany's political parties are developing an appetite to blame the continued lack of economic recovery on the banks. Supposedly, these are now too niggardly in extending credits. Here we should remember something crucial. Politically ordered bad credits to unqualified and risky borrowers are the cause of the USA's contribution to what became a global crisis. Now the demand is made on the banks to risk the misinvestment of funds entrusted to their management. This is a good way to get votes and an even better way to undermine stability and ruin the health of the economy.

6. Liberty is what is legally possible and that is protected under law as a guaranteed right enjoyed by all. Currently we are being accustomed to an innovation. The laws are made relative by subjecting them to an application that considers the descent of individuals affected. Once the principle of one law for all is suspended, the public is in danger of being deprived of its freedom.

7. This matter deserves to be considered. How important is conformity for recognition as "outstanding" by organized culture's establishment? At any rate, the more state supported organizations become handing out money, awards and opportunity, the more caste-like will become the circle that that is deputized to determine what culture is. Not accidentally, the clan exploits whatever advantages the politics of PC have to offer. Concurrently, those who wish to make a living as licensed participants in recognized and rewarded art will conform to the extent that the rewards grow.

8. Once it is the basis of political decision-making, every idea will demonstrate its built-in corruptibility by attracting cynical exploiters. In the case of global ideologies, their decay also demonstrates that natural laws that determine reality have been neglected by the creed's speculations. This casts a shadow over the exclusive possession of the total truth that the movement implementing the "idea" claims is its fundament. Man's systems are as fallible as are the thinkers that conjure them up. To state the full truth about everything, and to be accordingly totally right, is not given to us. This is why good and sound political systems are based upon a corresponding assumption. It is a central foundation of democratic government. Uncontrolled elements (for instance those declared to be infallible) will misuse the power allotted to them. Therefore, a democratic system does not hinge on the power given to the rulers. Much rather, it depends on
the limitation of the authority of those that are temporary custodians of state power. There is, therefore, a critical question to be raised when we are to implement measures that are allegedly derived of an infallible insight into the mechanism that directs life. This question pertains to the system's ability that applies a Weltanschauung, to correct the abuses that "might" arise. The more dogmatic a world view, the more difficult is to create effective checks and balances to correct mistakes that, according to the "teaching" and its prophets, cannot arise.